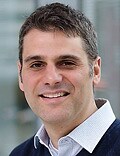 PHILADELPHIA — A unique, easily implemented, low-cost coaching program appears to improve adherence to brain healthy behaviors in patients with mild cognitive impairment (MCI), mild dementia, and subjective memory problems, preliminary research suggests.
Results of a small randomized controlled trial, known as the Brain Health Champion Study, show patients in the health coach intervention group had statistically and clinically meaningful differences in adherence to brain health behaviors in the realms of exercise, diet, cognitive and social activity, and improved quality of life (QoL) compared with their counterparts who received usual care.
"A program like this may be one effective model for achieving the brain health behavior changes that neurologists struggle with in clinical care, often limited by time and/or lack of knowledge about optimal techniques," principal investigator Seth Gale, MD, an instructor of neurology, Harvard Medical School, and associate neurologist at Brigham and Women's Hospital in Boston, Massachusetts, told Medscape Medical News.
The findings were presented here at the American Academy of Neurology (AAN) 2019 Annual Meeting.
Bridging the Gap
There is growing consensus among major medical organizations, including the AAN, that adoption of certain healthy behaviors is key to reducing the risk of age-related brain and vascular disease.
However, Gale said there is a wide gap between providers' knowledge of important lifestyle recommendations and their implementation in clinical practice.
"Although neurologists often advise patients to adopt healthy lifestyles, more immediate medical and psychosocial issues commonly become the focus during follow-up visits," the investigators note.
"Counseling patients about lifestyle recommendations for maintaining brain health to reduce the risk of cognitive decline should ideally be part of everyday practice. Even neurologists like myself who predominantly see patients with cognitive disorders in a specialty clinic do not counsel patients on brain health or behavior change in a standardized or evidence-based way. At our center, where mildly impaired patients are often only seen every 6 months, we frequently feel ineffective in helping them achieve these lifestyle changes," said Gale.
In light of consensus guidelines supporting strong epidemiological evidence showing aerobic exercise, social/cognitive stimulation, and diet in particular cut the risk of cognitive decline, the investigators set out to determine whether a "Brain Health Champion" (BHC) embedded in a neurology practice would boost patient adherence to brain healthy behaviors.
The investigators, led by Gale and included colleagues Kirk Daffner, MD, and Hope Schwartz, piloted a 6-month randomized controlled trial that included 40 patients with mild dementia, MCI, or subjective cognitive decline. In the active intervention arm, patients and caregivers worked with the BHC during weekly motivational interviewing phone calls and additional in-person visits every 6 weeks.
The BHC, said Gale, was a post-college, pre-health student who was hired as part of the memory clinic team and received basic training about brain health, consensus guidelines, and basic health psychology principles.
Approximately half of the study cohort had mild dementia, one third had MCI, and the remainder had subjective cognitive complaints but no memory deficits on formal testing.
The study's three primary outcomes were change from baseline in physical activity as measured by the International Physical Activity Questionnaire (IPAQ), adherence to a Mediterranean diet as measured by the Mediterranean Diet Score (MDS), and increased social and cognitive engagement using the Florida Cognitive Activities Scale (FCAS).
Secondary outcomes included QoL, global cognitive function as measured by the Mini-Mental Status Exam (MMSE), and neuropsychiatric status.
Clinically Meaningful Change
Participants were randomized to receive usual care or BHC support. Participants in the intervention group had an initial meeting with the neurologist and BHC.
Following the first meeting where the BHC gathered information about the patients' current lifestyle behaviors, the BHC had weekly 15-minute phone calls with each participant and caregiver, when appropriate, to develop and update individualized plans. In addition, the BHC helped study participants access cost-effective, community-based resources to achieve their goals.
The BHC also had in-person meetings with patients and caregivers every 6 weeks. Participants also had a one-time hour-long meeting with the staff dietician about the importance of following a Mediterranean diet and ideas on how to achieve adherence. Those in the health coach arm also continued to see their provider whenever medically necessary.
The usual care group, said Gale, received routine care with their neurologist without any additional team member or intervention to promote brain health adherence.
At the end of the 6-month pilot, results showed that compared with the standard of care control group, BHC participants had statistically significant and clinically meaningful increases in their brain-healthy behavior scores and QoL.
Effect sizes, the researchers report, were in the large to very large range for physical activity (d = 1.37; P < .001), Mediterranean diet (d = 0.82; P = .016), cognitive and social activity (d = 1.09; P = .003), and QoL (d = 1.54; P < .001).
"The results of the study were statistically significant between the two groups and the magnitude of the group difference certainly encourages future research and may represent clinical relevance," said Gale.
In addition, when researchers created a composite of all three primary outcomes they found that the intervention was highly predictive of an increased QoL in the intervention group versus the control group.
Gale acknowledged that the results are limited by the study's small size and short duration at a single center.
Nevertheless, he said, the findings provide a strong signal that this type of approach to clinical care in patients with memory problems is feasible and may improve adherence to healthy brain behaviors, which research shows are "tightly linked " to the prevention and slowing of cognitive decline.
Gale said his team has plans for longer and larger trials that employ mobile technology to increase frequency and enhance health coach communication of cognitively normal patients at risk for dementia that includes objective measures like fitness trackers and photographed dietary intake and examines the program's impact on cognitive outcomes.
"Our clinical experience showed us that we urgently need better systems to ensure people are following these widespread, evidence-based brain health recommendations and that the BHC/health coach model is one potential avenue to achieve that," he said.
Important, Well-Conducted Research
Commenting on the findings for Medscape Medical News, Richard Isaacson, MD, a neurologist at New York-Presbyterian Hospital and associate professor, department of neurology, Weill Cornell Medicine in New York City, described the study as "important and well-designed," adding that it may help scale dementia risk reduction in a more cost-effective way than a traditional clinic visit with a physician.
"Considering that at least one out of every three cases of Alzheimer's disease may be preventable through control of modifiable risk factors, it is essential to rigorously study ways to promote brain healthy lifestyle behaviors to people at risk.
"Overall, a health coaching model may help to augment and improve patient outcomes. However, considering the complexity behind causative factors of cognitive decline and the emergence of precision medicine as a therapeutic paradigm towards reducing risk, collaborative care by a coach along with a physician is essential at this time for optimal care," he said.
Isaacson added that at Weill Cornell's Alzheimer's Prevention Clinic, care is provided by a family nurse practitioner and/or neurologist.
"While we have not yet explored using a coach to assist in care due to a lack of reimbursement for these services, this study adds to the body of evidence toward the clinical practice of dementia risk reduction care. Advocacy efforts towards reimbursement for coaching will also be important, as coaching may be a very cost-effective way to provide care, improve outcomes, and reduce morbidity," he said.
Gale and Isaacson have reported no relevant financial relationships.
American Academy of Neurology (AAN) 2019 Annual Meeting. Abstract S9.003. Presented May 5, 2019.
For more Medscape Neurology news, join us on Facebook and Twitter
Medscape Medical News © 2019 WebMD, LLC

Send comments and news tips to news@medscape.net.
Cite this: Brain Healthy Behaviors Aid Patients With MCI, Mild Dementia - Medscape - May 07, 2019.