VIENNA — Although hepatitis C medications can cure infection, a vaccine is needed to eradicate the virus, Eleanor Barnes, MBBS, PhD, said here at the International Liver Congress 2019.
"The drugs are good — I often hear people say they're so fantastic you don't need a vaccine — but we still have 1.7 million new infections every year," she told physicians during a think-tank session.
And because the drugs are "very good," a hepatitis C vaccine can be tested in healthy humans who are then infected with the virus, said Barnes, who is from the Nuffield Department of Clinical Medicine at the University of Oxford, United Kingdom.
If the vaccine doesn't work, direct-acting antiviral drugs can be administered, she pointed out.
Barnes is all too aware of the ethical challenges this poses, especially because it is possible that "this first vaccine is not going to show 100% efficacy."
"I've put in three grant applications and they've all been rejected," she told Medscape Medical News. "But I don't see any other way forward. We need a vaccine and we need to be able to do a challenge test in humans."
Hepatitis C is the first virus for which a cure was developed just 30 years after discovery, but there is currently no vaccine. The opposite is true for hepatitis B, which has a vaccine but no cure.
Effective drugs for hepatitis C have brought treatment time down to 8 weeks, leaving many convinced that the road to eradication is to follow World Health Organization (WHO) targets to reduce the number of deaths by two-thirds and increase treatment rates to 80% by 2030.
But despite the medications, there were 71 million people living with the virus in 2015, according to the 2017 WHO global hepatitis report.
The Case for a Vaccine
The problem is that not all the infections look the same, said Barnes. Genetic variability is still a big challenge with this disease.
And even with a treatment-induced cure, patients are not protected from viral reinfection, she pointed out. For example, in some high-risk populations, such as people who inject drugs or prisoners, the 5-year recurrence rate is 10.67% (Clin Infect Dis. 2016;62:683-694).
Hep C is not going away.
"Since 2016, we've had a 1% impact on the numbers," she said. "Hep C is not going away."
Barnes is not alone in advocating for human testing.
In a recent review of hepatitis C, researchers from the ESCMID Study Group for Viral Hepatitis conclude that treatment alone will not eradicate the virus (Liver Int. 2019;39:416-426).
"Although elimination could be close to reality in selected virtuous countries, global HCV eradication appears to be a pipe dream without the development of an effective prophylactic vaccine, able to control the HCV epidemic in all populations worldwide," they write.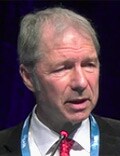 "We have the direct-acting antiretrovirals, but now a more sobering reality comes into play," said Ralf Bartenschlager, PhD, from Heidelberg University in Germany.
There has really been no change in total number of infections, he said, so we have to wonder whether we can really reach everyone. "Or do we need a vaccine?"
A good vaccine needs to be a vector that induces T- and B-cell response, have multiple antigens from different genotypes to overcome variability, and be a protein prime for E1 and E2, he explained during the think-tank session.
"We need to understand what's happening" with the people with hepatitis C — about 20% — who are able to resolve infection without any treatment.
Some vaccine candidates are already in trials. The first hepatitis C vaccine efficacy trial in humans, which Barnes was involved in, used chimpanzee adenoviral and MVA vectors to prime, boost, and sustain functional hepatitis C–specific T-cell memory (Sci Transl Med. 2014;6:261ra153). The AdCh3NSmut–MVANSmut combination induced antiviral immunity that worked much like the control of a natural infection, with broad and durable polyfunctional CD4 and CD8 T-cell responses across hepatitis C genotypes.
The AdCh3NSmut1–MVANSMut hepatitis C vaccine is now being tested in a two-stage, phase 1/2, double-blind, randomized, placebo-controlled clinical trial (NCT01436357). The trial of 500 at-risk uninfected intravenous drug-using volunteers followed for 18 months assumes that the drug users will continue their risky behavior, Barnes explained, although they are warned against such behavior when the vaccine is administered.
"The last patient was recruited in 2016," she reported, and results are expected in June.
And findings from a trial of a candidate vaccine that induces specific T-cell immune responses in humans — being conducted at the University of Oxford — are expected in the next few weeks, said Barnes.
But, she reiterated, to really develop an effective cross-reactive vaccine, a challenge in healthy humans is needed.
There is really no other way to test the vaccine effectively, said Naglaa Shoukry, PhD, an immunologist from the University of Montreal and director of the Canadian Network on Hepatitis C.
"We don't have a choice for hepatitis C," she told Medscape Medical News. "We don't have an animal model we can test this in; mice do not get infected with hep C."
The only animal that can be tested is the chimpanzee, "but there's a moratorium on chimpanzees," she explained.
The idea of vaccinating and then challenging people with a pathogen is not new. "It was done for malaria," she pointed out.
Although Shoukry said she is eager to see the AdCh3NSmut1–MVANSMut trial results, she is doubtful that the infection will be prevented altogether.
"This is unlikely," she said. "But if we see more spontaneous clearance in that group, it would be a huge leap forward."
Barnes, Bartenschlager, and Shoukry have disclosed no relevant financial relationships.
International Liver Congress (ILC) 2019. Presented April 10, 2019.
Follow Medscape Gastroenterology on Twitter @MedscapeGastro and Ingrid Hein @ingridhein
Medscape Medical News © 2019

Cite this: Need to Inject Then Infect a Human to Test Hep C Vaccine - Medscape - Apr 15, 2019.