NEW ORLEANS — A new study provides more support for giving a flu shot to all hospitalized patients during flu season to help prevent myocardial infarction.
Of the close to 30 million adults who were hospitalized in the United States during 2014 for any reason, those who received a flu shot before they were discharged were 9% less likely to have a myocardial infarction (MI) — including both ST- and non-ST-segment elevation MI (STEMI and non-STEMI) and unstable angina — during that year.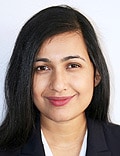 "The takeaway message is that flu vaccine should be used as a primary prevention method to lower the incidence of MI," lead study author Mariam Khandaker, MD, internal medicine resident, Icahn School of Medicine at Mount Sinai, New York City, told theheart.org | Medscape Cardiology.
"The flu vaccine is still underutilized," she said, "Especially in the in-hospital setting. Sometimes we are so busy with the basic prevention of MI — aspirin, statin, a beta blocker — that we forget that a simple, cheap intervention is there to prevent future MI."
Khandaker presented the research here at the ACC 2019 Scientific Session (ACC.19).
Invited to comment, Jacob A. Udell, MD, MPH, Toronto General Hospital and University of Toronto, observed that "in such a large sample size, you have that power to see even subtle effects — a [9%] difference between the two groups, after adjustment for differences between the two arms."
"That said, this is of course an observational study, with potential for confounding," he observed to theheart.org | Medscape Cardiology.
Moreover, the study did not provide details about the confounders, such as the age of the patients or the reason they were admitted to the hospital.
In addition, it did not distinguish between patients admitted outside of or during flu-vaccination season — which, according to the Centers for Disease Control and Prevention, runs from mid-September to the end of November, but could extend into January or even later.
Nevertheless, this analysis showed that "major heart attacks, more modest heart attacks, or just showing up with unremitting chest pain without a clear sign of heart attack...were all lower in the patients who got the vaccine, which is encouraging," Udell said.
Three large ongoing randomized trials, including one in which he is a coinvestigator with a target of 9000 patients, should help convince skeptics of the heart-heath benefits from a regular, annual flu shot.
"We've been undertaking a study to convince folks that a flu shot might be a heart vaccine," he said, which is known as the INVESTED study.
In the meantime, "there's no reason not to give hospitalized patients a flu shot during flu vaccination season...and if they've got a heart attack or congestive heart failure, there are good emerging studies that suggest that it's certainly not harmful and potentially beneficial."
Preventing More Than the Flu
"Influenza is one of the leading causes of mortality and morbidity worldwide, and some initial studies suggest that influenza-vaccinated patients have comparatively fewer instances of MI," Khandaker said.
"We think flu and other circulating infections can trigger an unstable plaque rupture in a susceptible patient who's prone to worsening, like someone with heart failure or heart disease or other chronic comorbidities," Udell said. "Even folks who are older can just be tipped over the edge by getting something as bad as a flu infection and superimposed pneumonia."
From the 2014 US National Inpatient Sample (NIS) database, Khandaker and colleagues identified 29,763,704 adults who were admitted to a hospital in the Untied States during that year.
Of these patients, 1.6% received a flu shot before they were discharged and 98.4% did not.
Patients who had received the flu shot while they were hospitalized in 2014 were less likely to have an MI that year than those who did not (3.4% vs 4.4%).
The risk of having an MI remained significantly higher in patients who did not receive a flu shot while they had been hospitalized, after adjustment for age, sex, race/ethnicity, socioeconomic status, insurance coverage, and hospital location, size, and type (adjusted odds ratio, 0.91; 95% CI, 0.87 - 0.96).
"When I was in training," Udell said, "they were looking at us appropriately treating patients, and it was one of our report cards on whether or not, when we were discharging patients, we did screen, did offer, and did vaccinate patients during flu-vaccine season."
Three Large Trials to Report Next Year
The Influenza Vaccine to Effectively Stop Cardio Thoracic Events and Decompensated Heart Failure (INVESTED) is the largest and longest study to assess whether high-dose (trivalent) influenza vaccine is superior to standard-dose (quadrivalent) influenza vaccine in reducing cardiopulmonary events in a high-risk cardiovascular population with recent hospitalization for heart failure or MI, Udell explained.
The trial, which will enroll approximately 9300 patients over four influenza seasons, is now in its third year and will report the outcomes in 2020.
Similarly, the Randomized Controlled Trial of Influenza Vaccine in patients with heart failure to Reduce Adverse Vascular Events (IVVE), led by researchers at McMaster University, Hamilton, Ontario, Canada, is the largest randomized trial to test whether influenza vaccine compared with a control vaccine reduces adverse vascular events in high-risk individuals.
That trial is enrolling patients with heart failure in 10 countries — China, India, Kenya, Mozambique, Nigeria, Philippines, Saudi Arabia, Uganda, United Arab Emirates, and Zambia — and randomly assigning them to receive either the influenza vaccine or placebo annually for 3 years. Final data collection is expected in December.
And last, the Influenza Vaccination After Myocardial Infarction (IAMI) trial is the largest randomized trial to date to evaluate the effect of in-hospital influenza vaccination on death and cardiovascular outcomes in patients with STEMI or non-STEMI. The trial is expected to provide highly relevant clinical data on the efficacy of influenza vaccine as secondary prevention after acute MI.
It is ongoing in Denmark and Sweden, and final results from three influenza seasons are expected in August 2020.
The authors have no relevant financial disclosures.
American College of Cardiology (ACC) 2019 Scientific Session. Presented March 17, 2018.
For more from theheart.org | Medscape Cardiology, follow us on Twitter and Facebook.
Medscape Medical News © 2019

Cite this: In-Hospital Flu Shot Associated With Lower Risk for MI - Medscape - Mar 20, 2019.