HONOLULU — Carotid stenting and endarterectomy have similar rates of composite procedural complications and 4-year ipsilateral stroke, according to the largest analysis of standard-risk, asymptomatic patients younger than 80 years with severe carotid stenosis.
In a patient-level, pooled analysis of the CREST and ACT 1 trials, the primary composite end point of periprocedural death, stroke, myocardial infarction (MI), or 4-year ipsilateral stroke was 5.3% with stenting and 5.1% with carotid endarterectomy. The difference was nonsignificant (hazard ratio [HR], 1.02; 95% CI, 0.7 - 1.5), according to results presented at the International Stroke Conference (ISC) 2019.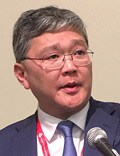 "There is a perception that carotid stenting is worse for the stroke end point and that's based a lot on the fact that symptomatic patients constituted the majority of the studies," study author Jon Matsumura, MD, University of Wisconsin–Madison, told theheart.org | Medscape Cardiology. "But symptomatic and asymptomatic patients are different enough that we should be analyzing them differently, both morphologically and in terms of future risk."
"What we've discovered with this pooled analysis is that when you look at these asymptomatic, nonoctogenarian patients, the procedures are nearly identical on that primary end point," he said.
Although asymptomatic severe carotid stenosis is the most common indication for carotid intervention in the United States, only two of the five recent, large randomized trials have compared carotid stenting with endarterectomy in asymptomatic patients, explained Matsumura.
The main results of CREST, reported in 2010, showed similar net outcomes with the two procedures but a higher stroke rate at 30 days with stenting, at 4.1% vs 2.3% with surgery. In ACT 1, reported at ISC 2016, carotid stenting was noninferior to endarterectomy for the primary composite end point, which included 1-year ipsilateral stroke, with no difference in stroke/death at 5 years.
"Our group decided a pooled analysis may better inform decision making for providers, patients, and other stakeholders about these procedures," Matsumura told the delegates.
The new analysis involved 2544 patients (1637 stenting, 907 endarterectomy) — 1091 from CREST and 1453 from ACT 1. The stenting and endarterectomy groups did not differ significantly with regard to age (mean, 67.7 vs 68.25 years), male sex (62.4% vs 63.3%), white race (91.8% vs 93.2%), or presence of hypertension (89.8% vs 88.5%), hyperlipidemia (90.3% vs 89.9%), or diabetes (35.0% vs 33.7%). About a quarter of patients were current smokers.
Still, there were differences in the individual components of the primary end point that likely will be debated, he said.
Periprocedural Component Rates
Outcome
Carotid Stenting
Endarterectomy
P Value
Stroke (%)
2.7
1.5
.07
MI (%)
0.6
1.7
.01
Death (%)
0.1
0.2
.62
Stroke or death (%)
2.7
1.6
.07
After the periprocedural period, the rate of ipsilateral stroke was similar for stenting and surgery (2.3% vs 2.2%; P = .97).
"In a field where there are often very strong opinions, I think this is one where trialists across the world in their trials have found that the durability after the periprocedural hazard is very similar with both of these interventions," Matsumura said.
The cumulative 4-year rate of stroke-free survival, including ipsilateral and nonipsilateral events, was 93.2% with stenting and 95.1% with endarterectomy (P =.10). Cumulative 4-year all-cause survival was also similar (91.0% vs 90.2%; P = .923).
During a discussion of the results, Matsumura said the lower rate of periprocedural stoke compared with historic findings are likely related to the lack of embolic protection in many of the early trials or when included, protection was distally placed, which requires the operator to traverse the lesion unprotected.
"We certainly have new methods of protection but I think in asymptomatic patients, it's a different group of patients; so you're not passing this fresh thrombus, biologically active lesion," he said. "In addition, when you treat that with a balloon angioplasty or something, the embolic protection may not be entirely effective. So I think our differences [are that] we're studying asymptomatic patients and we're also studying them in the context of second-generation devices."
Matsumura also observed that the periprocedural stroke hazard rate of 1.5% for endarterectomy is one of the lowest anywhere and well below the traditional American Heart Association guideline of 3%.
"Even in the stenting group, at 2.7%, this is a very low rate, and I think that also has a lot to do with the amount of training we did and using single-stent dedicated carotid systems," he said.
Nada El Husseini, MD, Duke University, Durham, North Carolina, said the analysis provides valuable information on asymptomatic patients, who have far less follow-up than symptomatic patients, but it doesn't address the question of medical management.
Going forward, "the main research for asymptomatic carotid stenosis is whether medical therapy is equivalent to any intervention," she said.
During the discussion, Matsumura said detailed information was not available to determine whether there were differences in medical management between the stenting and surgery groups. "I would love to answer that with a whole slide deck of data," but "we don't have a good handle on the medical management that was delivered."
CREST was sponsored by National Institute of Neurological Disorders and Stroke and Abbott Vascular. ACT 1 was sponsored by Abbott Vascular. Matsumura reported research grant support from Abbott, Cook, Medtronic, Endologix, and Gore.
International Stroke Conference (ISC) 2019: Abstract LB13. Presented February 7, 2019.
Follow Patrice Wendling on Twitter: @pwendl. For more from theheart.org | Medscape Cardiology, follow us on Twitter and Facebook.
Medscape Medical News © 2019

Cite this: Pooled Data Put Stenting, Surgery on Par in Asymptomatic Carotids - Medscape - Feb 14, 2019.