HONOLULU — In a phase 3 randomized trial, a single injection of an investigational sustained-release nimodipine formulation significantly reduced the risk for vasospasm after aneurysmal subarachnoid hemorrhage (SAH) but did not improve the primary functional outcome.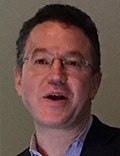 "It will be interesting for us to continue to look at the data to try to understand why we tended to see more efficacy with the intervention among the poor-grade patients and this puzzling effect of worse outcomes in the good-grade patients that received the study intervention," study author Stephan A. Mayer, MD, chair of neurology, Henry Ford Health System, Detroit, said here at the International Stroke Conference 2019.
Vasospasm develops in up to 70% of patients with SAH and leads to delayed neurologic deficits in about 20% to 30% of patients, he noted. The calcium-channel blocker, nimodipine, has been the standard of care in aneurysmal SAH for decades and is approved in the United States at a dose of 60 mg given orally every 4 hours for up to 21 days or until discharge.
The new intervention, known as EG-1962, "was designed to deliver much higher amounts of nimodipine to the central nervous system and spastic vessels," Mayer explained. It is a combination of nimodipine and a biodegradable polymer suspended in hyaluronic acid administered as a single intraventricular injection that releases nimodipine 600 mg into the subarachnoid space over 21 days.
Pharmacokinetic studies have shown greater effectiveness getting into the cerebrospinal fluid than with oral nimodipine, and dose-ranging studies indicated that the 600 mg dose has the best delivery, he said. Also, there has been no evidence of hypertension, which can limit or interrupt treatment with oral nimodipine.
Primary Outcome Quirk
The phase 3 NEWTON-2 study was conducted at 65 centers in 11 countries and was prematurely stopped in March 2018 because of a low likelihood of meeting the primary outcome. The trialists had planned on 374 patients, but the final number of patients was 282.
After aneurysm clipping or coiling, patients were randomly assigned on postoperative day 1 to either an EG-1962 injection plus oral placebo (n = 138) or oral nimodipine at locally approved doses plus a saline intraventricular injection (n = 144). All patients had an external ventricular drain for hydrocephalus, not simply for drug delivery, noted Mayer.
The EG-1962 group had more patients with a World Federation of Neurological Surgeons (WFNS) score of 2 than the oral nimodipine group (55% vs 47%) and fewer poor-grade patients with a WFNS score of 3 or 4 (45% vs 53%). Three-quarters of patients were female (69% vs 71%).
The primary outcome, defined as an extended Glasgow Outcome Scale (eGOS) score of 6 to 8 at day 90, occurred in 46% of the EG-1962 group and 43% of the oral nimodipine group (P value not reported).
Unexpectedly, more patients with a WFNS score of 3 or 4 achieved the primary outcome with EG-1962 at 3 months (46% vs 32%; P = .09), but fewer patients with a WFNS score of 2 had a good outcome (46% vs 55%; P = .19), Mayer said.
Rates of the primary outcome also trended higher when EG-1962 was administered at centers inside the United States, compared with outside, but did not differ for patient age, in the prespecified subgroup analyses.
There was no difference between the EG-1962 and oral nimodipine groups at day 90 in raw Montreal Cognitive Assessment (MoCA) scores (mean, 23 vs 22; P = .33) or when dichotomized as a favorable outcome based on a MoCA score of 26 or higher (44% vs 46%; P = .66).
Promising for Vasospasm
The biologic results proved more promising, with the presence of any vasospasm, either symptomatic or identified on imaging, reported in 56% of the intervention group and 70% in the oral nimodipine group (P = .013). Centrally reported angiographic vasospasm was also significantly lower with EG-1962, at 50% and 63%, respectively (P = .025).
Vasospasm as an adverse event trended in favor of the intervention group (38% vs 48%; P =.11), as did delayed cerebral ischemia, albeit with a slightly lower treatment effect (23% vs 28%; P = .38).
"So we did see a promising trend signaling efficacy, unfortunately the result of the primary outcome did not show efficacy for EG-1962," Mayer said.
Safety signals also trended in favor of EG-1962 over standard nimodipine, with less need for any rescue therapy (27% vs 35%), less hypotension (7% vs 10%), and fewer treatment-emergent serious adverse events (46% vs 48%).
Rates of hydrocephalus were slightly higher with EG-1962 (26% vs 22%), but both groups had low rates of bacterial meningitis (3% vs 2%) and aseptic meningitis (4% vs 4%).
Drinking the Kool-Aid
During a discussion of the results, delegate Wade Smith, MD, PhD, professor, University of California, San Francisco, lamented, "I really, really wanted this study to work. There's so many positive things about it, not to mention the very simple creature comforts of being able to give a single dose of the drug on day 1 and then no more oral nimodipine gives our nurses something better to do every few hours."
"If there's no treatment difference between the treatment arms, you still might have an effect with the drug, or maybe nimodipine does nothing," he said. "We've been drinking this Kool-Aid for a long time but we've never revisited whether oral nimodipine really works or not, especially in the era of better critical care management. So has this study changed your opinion about the efficacy of nimodipine in general for vasospasm?"
"We did show the effects on the angiographic spasm, the same way that clazosentan, the same way that nicardipine has been shown," Mayer responded. "My own feeling as a clinician-investigator is that this study may be encouraging for us treating that niche of the extremely sick patient with highly refractory vasospasm and, as you know, intrathecal injections of nimodipine and nicardipine are sometimes used as a Hail Mary, last-ditch type of treatment."
"We do have a biologically active agent. I think the problem is that it's very hard, as we see yet again, to prove efficacy in trials basically because we don't fully understand who the responders are going to be."
Commenting to theheart.org | Medscape Cardiology, Carolyn Brockington, MD, Mount Sinai West and St. Luke's, New York City, said, "For a long time, we've been using oral nimodipine for the treatment of vasospasm in subarachnoid, so it's nice to see people looking outside the box to improve things."
It is unclear why the subgroup with a higher WFNS score seemed to derive greater benefit from EG-1962, but it might be related to the different modes of drug delivery or the patient numbers, given that the trial was stopped early, she said.
"Maybe this also highlights for us that it's not just vasospasm," Brockington said. "Maybe there's something else going on that obviously is playing a role in terms of outcomes not just the actual vasospasm or maybe that causes something down the line that we're not picking up."
Mayer reported consulting fees from Idorsia and Edge Therapeutics, the sponsor of the study. Senior author Robert Loch MacDonald, MD, PhD, was chief scientific officer for Edge Therapeutics from January 2009 to May 2018, and remains a board member and equity interest holder in the company.
International Stroke Conference (ISC) 2019: Abstract LB15. Presented February 7, 2019.
Follow Patrice Wendling on Twitter: @pwendl. For more from theheart.org | Medscape Cardiology, follow us on Twitter and Facebook.
Medscape Medical News © 2018

Cite this: Single-Injection Nimodipine Reduces Vasospasm After Subarachnoid Hemorrhage but Misses Primary Outcome - Medscape - Nov 05, 2018.