SAN DIEGO — The gut flora can make all the difference when it comes to allogeneic hematopoietic stem cell transplantation (HSCT).
The risk of complications from HSCT is greater if a patient has a lower diversity of microbes in the gut prior to beginning the transplantation process, according to a new study.
Patients with the lowest microbial diversity had poorer overall survival and a higher risk for graft-versus-host disease (GVHD), and this was observed across many different countries.
"The association of diversity with overall survival is reproducible over time and across geography," said lead study author Jonathan U. Peled, MD, PhD, of Memorial Sloan Kettering Cancer Center in New York City.
Peled presented the findings here at the American Society of Hematology (ASH) 2018 meeting (abstract 811).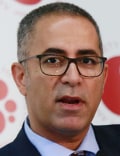 "Looking at the microbiota of our gut helps us understand the prognosis of patients undergoing HSCT," commented Joseph Mikhael, MD, of the Translational Genomics Research Institute (TGen), City of Hope Cancer Center, Phoenix, Arizona.
One of the challenges patients face is the development of GVHD, where donor immune cells attack the patient's cells as foreign tissue and often the gastrointestinal system as well. "So we've come to appreciate that the microbiome of patients undergoing transplant can help us appreciate the nature of GVHD," said Mikhael, who moderated a press briefing during which the findings were highlighted.
Lower Diversity Common Pre-HSCT
Intestinal microbiota composition has already been associated with important outcomes after allogeneic HSCT including survival, relapse, GVHD, and infections. These observations, however, have been made almost entirely by characterizing the microbiota during the first weeks after transplantation and in single-center studies.
Peled and his team have previously reported that intestinal diversity measured peri-neutrophil engraftment is predictive of overall survival in a multicenter cohort. In the current study, they hypothesized that pre-HCT microbiota configuration may also be an important determinant of post-transplantation outcomes.
They tested their hypothesis in a multicenter analysis involving four independent international institutions, which included 1922 stool samples collected weekly from 991 unique allogeneic-HSCT patients.
The cohorts varied in geographic location, ethnicity, underlying diagnosis, donor–graft sources, conditioning intensity, and GVHD prophylaxis. Cohorts 1 and 2 were located in the United States, cohort 3 in Europe, and cohort 4 in Japan.
Overall, patients from all four groups had reduced microbiota diversity prior to undergoing HSCT, with values 1.7-to-2.5-fold lower compared with healthy controls.
Although microbial composition showed variation among the cohorts, the diversity and types of microbes detected in the samples of transplant patients in all countries were markedly different from that of the healthy controls. Further analysis showed these differences were associated with lower calorie intake, use of broad-spectrum antibiotics, and use of high-intensity treatments given prior to transplantation.
Domination as a microbiota injury was defined as any class of organism that comprised more than 30% of the bacteria in the gut. At all four institutions, the cumulative incidence of intestinal domination by any organism was over 50% by day 0 and over 87% by day 28. Thus, severe microbiota injury as revealed by domination was shown to be quite common, with its development beginning before allograft infusion.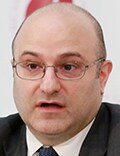 "What was striking was the similarity of intestinal domination across cohorts," said Peled. "Even though each of the centers uses different antibiotic strategies, and people in Japan have a diet that is different than those in the United States, the patterns of microbiota injury are nearly superimposable."
The authors also found that pre-HSCT microbiome diversity was associated with patient survival. Among 501 patients in the cohort from Memorial Sloan Kettering, those with the lowest pre-HCT diversity had a lower overall survival compared to those with the highest diversity (hazard ratio, 0.69; P = .002).
These observations, note the authors, suggest that the pre-HCT period is a window of opportunity to assess microbiota injury as part of comorbidity evaluation; inform selection of antibiotic prophylaxis, gut-decontamination, GVHD-prophylaxis, or conditioning regimens; and intervene with microbiota injury remediation or prevention strategies.
"If we can come up with a way to remediate microbiome injury there might be time to implement it prior to transplant it," said Peled.
Peled has disclosed financial relationships with Seres Therapeutics, Parker Institute for Cancer Immunotherapy, and Merck/Society for Immunotherapy of Cancer.
American Society of Hematology (ASH) 2018. Abstract 811. Presented December 3, 2018.
Medscape Medical News © 2018 WebMD, LLC

Send comments and news tips to news@medscape.net.
Cite this: Microbiome Before HSCT Predictive of Survival and Complications - Medscape - Dec 03, 2018.