NEW ORLEANS — The United States is the only developed country in the world in which maternal mortality rates are rising, so resolutions on education and strategies to curb deaths are anticipated at the upcoming American Academy of Family Physicians (AAFP) 2018 Congress of Delegates.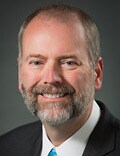 "The issue is critically important for us," said AAFP President Michael Munger, MD.
About 700 women die from complications related to pregnancy or delivery each year in the United States, according to the Centers for Disease Control and Prevention. This rate is higher than in any other developed country, and research suggests that nearly half the deaths are preventable.
Medicare and Medicaid parity will also be addressed in resolutions at the meeting as part of the AAFP effort to ensure that reimbursements appropriately reflect the cost of service and the expanded roles that family physicians are taking on under new payment models.
"We understand that this is directly related to access," Munger told Medscape Medical News.
Administrative burden relief, and particularly the burden of prior authorization, will also be a hot topic at the congress. "It's the number one issue members tell us we can help them with," Munger reported.
For all physicians, paperwork and administrative burdens are the top contributor to burnout, according to the 2018 physician compensation and satisfaction survey known as the Medscape Family Physician Compensation Report. And 77% of family physicians reported that they spend at least 10 hours per week on administrative tasks, up from 62% the year before.
Delegates will advocate for the reinstatement of, and permanent funding for, the National Guidelines Clearinghouse, a public website for evidence-based clinical practice guidelines run by the Agency for Healthcare Research and Quality (AHRQ).
When the website was shut down in July, the AHRQ cited a lack of federal funding as the reason.
"It's an essential database for information evidence-based clinical practice," said Munger.
Discussion of health system reforms will likely invite debate from various factions, he pointed out.
Controversial Health System Reforms
AAFP policy calls for healthcare for all and recognizes that health is a basic human right; this includes universal access to timely, accessible, and affordable care. But members differ on whether that should come from a single payer or be part of a pluralistic approach.
The lively debate on the topic at last year's congress will likely continue this year, Munger said.
Resolutions already submitted will go to various reference committees for testimony and debate and, during the congress, delegates and alternate delegates will generate a report that will recommend what should happen to those resolutions. Resolutions will then be approved, not approved, or referred.
Munger has disclosed no relevant financial relationships.
Follow Medscape Family Medicine on Twitter @MedscapeFM and Marcia Frellick @mfrellick
Medscape Medical News © 2018

Cite this: Maternal Mortality Taken on by AAFP Congress - Medscape - Oct 02, 2018.