CHICAGO — A lighting intervention that closely mimics natural light improves sleep efficiency and reduces depression and agitation in nursing home residents who have dementia. These effects appear to increase over time, new research shows.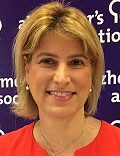 "This is a simple intervention that can be implemented in every nursing home," and it's not expensive, author Mariana Figueiro, PhD, director and professor, Lighting Research Center and Rensselaer Polytechnic Institute, Troy, New York, told Medscape Medical News.
The findings were presented here at the Alzheimer's Association International Conference (AAIC) 2018.
Sleep Disruptor
Light helps control circadian rhythms, said Figueiro. "Every day, when you get light in the morning, you reset your biological clock."
Exposure to daytime light helps consolidate sleep and improve behavior in patients with Alzheimer's disease (AD) and related dementia. However, lighting fixtures in institutions don't deliver the relatively high level and the spectrum of lighting that best affect the circadian system.
Some people may not get enough light during the day but get too much at night, "which is the wrong time to be getting light," said Figueiro.
"Light can be a disruptor," she said. She noted that circadian disruption leads to sleep disruption, and AD patients, in particular, are susceptible to such disruptions, which is "hard on caregivers and on patients."
Some studies have shown the benefits of a light intervention. Figueiro cited a landmark 2008 study in which dementia patients were given high levels of light therapy for up to 3.5 years.
Results showed that cognitive deterioration was lessened by 5% and depressive symptoms by 19%, and there was an overall improvement in activities of daily living.
However, not all studies have shown positive effects of light therapy. Those that did not show a positive effect may have lacked the scientific rigor needed to develop and deliver the light, said Figueiro.
"It's very important to control the stimulus, to deliver the light that actually activates the biological clock, which is different from the light that activates vision. So it's very important to deliver the stimulus correctly," she said.
The investigators have developed a calibrated meter that measures light and that allows them to calculate the circadian stimulus over the waking period.
The device they created "is more tuned to how the circadian system is responding to light," she said.
They have been testing the impact of this tailored light system on sleep disorders, depression, and agitation in nursing home residents.
"Biological Darkness"
In one study, Figueiro and colleagues recruited 60 patients with dementia. The patients' mean Mini—Mental State Examination score was 15.9, and the mean age of the patients was 85.7 years. This crossover, randomized, placebo-controlled study included 4 weeks of active, or tailored, light intervention followed by a 4-week washout period and then 4 weeks of placebo intervention.
The placebo involved a "nonactive" light intervention that Figueiro described as "warmer" and more yellow in color than the bluish hue of the active intervention.
The active light is comparable to natural light, although it is not as bright, said Figueiro. "But in terms of how it activates your system, it's very comparable to what daylight would do," she said.
The light is emitted from a tabletop or upright fixture that illuminates the entire room. The light was added to spaces in which patients spent most of their waking hours, such as a TV room or bedroom. The light was activated from wake time to 6 pm.
The researchers measured sleep disturbances using the Pittsburgh Sleep Quality Index (PSQI), mood using the Cornell Scale for Depression in Dementia, and agitation using the Cohen-Mansfield Agitation Index. Of the 60 participants, 44 completed the study.
"We saw that the tailored light intervention improved sleep," said Figueiro. Sleep disturbance scores changed to below the PSQI cutoff value of 5, she said.
"We also saw a significant decrease in depression scores with the active lighting intervention, and a significant decrease in agitation scores compared to the placebo," she said.
The depression score changed from a score indicating minor depression (8 or above) to one indicating no depression (less than 8), said Figueiro.
A second, ongoing study is assessing only the light intervention in 60 patients who will be followed for 6 months. So far, this longer-term study "has some of the most impressive results," said Figueiro.
"We are seeing significant improvement in all the outcome measures, including sleep measures and depression and agitation scores. Clearly, the lighting is helping them overcome some of the symptoms that are associated with this disease," she said.
Asked if this light intervention is better than melatonin, Figueiro referred to the 2008 study that compared melatonin with light. The results showed that melatonin helped with sleep but was associated with apathy and depression, side effects that light therapy did not have.
Although the light intervention is not expensive, Figueiro acknowledged that "the easiest thing is to take people outdoors and to have outdoor activities every morning."
The lighting in long-term care facilities is typically too low, said Figueiro.
"People in nursing homes are basically in biological darkness," she told Medscape Medical News.
"Fantastic Research"
Commenting on the findings for Medscape Medical News, James Hendrix, PhD, director of global science initiatives, Alzheimer's Association, described this and other work on new treatments for noncognitive dementia symptoms as "fantastic."
"We know that the circadian clock controls so much of our health," said Hendrix. He noted that "really strong research" is showing how people living in extreme latitudes with longer periods of darkness experience higher rates of depression.
"So light really does have a profound impact, and certainly has a profound impact on sleep," he said.
The brain is stimulated by light, so "I can't imagine" that living in a long-term care facility with fluorescent lighting wouldn't have an impact on the sleep cycle. "We aren't made to be inside day after day after day," said Hendrix.
It's "great" that researchers are developing a light intervention for nursing homes, said Hendrix, but he agreed that having residents spend time outdoors, where they are exposed to natural light, is probably the best thing to do.
The study was funded by the National Institute on Aging.
Alzheimer's Association International Conference (AAIC) 2018. Abstract 21390, presented July 24, 2018.
For more Medscape Psychiatry news, join us on Facebook and Twitter
Medscape Medical News © 2018

Cite this: Light Therapy Improves Sleep, Cuts Depression in Dementia Patients - Medscape - Jul 27, 2018.