Cancer in adults younger than 50 years is occurring with more frequency. The increase may be due to obesity, according to a new study.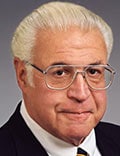 As overweight and obesity have become a major public health problem almost everywhere around the globe, cancer in young adults is also increasing, writes Nathan A. Berger, MD, Hanna-Payne Professor of Experimental Medicine, Case Western Reserve University School of Medicine, Cleveland, Ohio, in a review article published online March 23 in Obesity.
With the worldwide obesity pandemic, there could be an "explosive increase" in obesity-associated cancers in people younger than 50 years, Berger told Medscape Medical News.
Obesity is associated not only with an increase in the incidence of certain cancers but also with a worse prognosis for patients with cancer who are obese, Berger said.
"By the way, only 50% of the public are aware of that, and I don't know what percent of physicians are aware of that. Certainly the public is aware that obesity is associated with heart disease, they're aware that obesity is associated with diabetes, some people think that obesity is associated with problems with your knees, but only 50% are aware of the fact that obesity is associated with cancer. This knowledge should be an added impetus to maintain a normal, healthy weight," he said.
In addition to its association with an increase in the incidence of cancer and worse prognoses, obesity hastens the development of cancer.
"That is why we are seeing cancers that normally are seen in much older individuals occurring with more frequency in younger people. So you should stay at a normal weight throughout your life, because obesity can have cancer-promoting effects that accelerate the development of cancer," Berger said."
It has been clearly documented that excess weight is associated with an increase in risk for many malignancies, but scant attention has been paid to the impact of overweight and obesity on the timing of the appearance of cancer in younger individuals, Berger said.
"My aim in writing this article was to increase awareness of the link between obesity and cancer and to show how obesity and obesogenic diets are contributing to the earlier occurrence of malignancies in younger people," he said.
Berger searched PubMed and Google databases and found preclinical, clinical, and epidemiologic evidence from more than 100 publications linking obesity, defined as a body mass index ≥30, with cancer in young adults.
He found that the obesity-related cancers usually seen in older adults that are now occurring with more frequency in younger adults include cancers of the colon and rectum, thyroid, esophagus, pancreas, and kidney in men and in breast, colon, kidney, endometrium, esophagus, and gallbladder in women.
The review notes that obesity speeds the development of cancer in several ways:
It stimulates low-grade inflammation and oxidative stress through increased levels of proinflammatory cytokines.

It alters levels of growth-promoting factors, especially insulin and insulinlike growth factor, which increase in association with metabolic syndrome and insulin resistance.

The increased adipose tissue in obese persons alters sex steroid hormones by producing aromatase, thereby increasing conversion of androgens to estrogens.

It alters adipocytokine proteins and increases growth-promoting and proinflammatory components, such as leptin, retinol binding protein 4, resistin, and visfatin, and it reduces growth-controlling adipokines such as adiponectin.

It alters the intestinal microbiome by increasing the numbers of tumor-promoting organisms such as Fusobacterium spp.
In addition, obesity can lead to hiatal hernia and gastroesophageal reflux disease, which can predispose to esophageal adenocarcinoma.
"Obesity promotes cancer by multiple simultaneous pathways. Even if one pathway is successfully blocked, obesity-induced cancer takes another path," Berger said.
He cited a study of over 1.1 million Israeli men who were tracked over time. Those who were obese in adolescence had a 1.5-fold increased risk of developing colon cancer by age 48.
"The thing about the Israeli study is they have a national health system, so everybody goes through health exams, and they are all recorded, so they know the weight of these individuals. We have a situation here where if we have a 50-year-old or a 60-year-old come in with colon cancer, it's hard to find out whether that person was obese when they were younger," he said.
"Quite frankly, I think this is another impetus to be sure that children are a healthy weight," he said. "What used to be the adage, 'Oh, they are chubby little kids, and they'll lose their weight when they have a growth spurt in their teen years' — that's not good. That might happen, but the thing is, physicians, pediatricians have to be aware that normal weight is important throughout life."
The study was supported by the National Institutes of Health. Dr Berger has disclosed no relevant financial relationships.
Obesity. Published online March 23, 2018. Full text
Medscape Medical News © 2018

Cite this: Obesity Linked to Increased Cancer Frequency in Young Adults - Medscape - Mar 29, 2018.