UPDATED March 11, 2018 // ORLANDO, FL — Patients who started wearing the LifeVest (ZOLL Medical) within 7 days of an acute myocardial infarction that left them with a low ejection fraction did not show a significant reduction in the primary endpoint of sudden death during the next 3 months in a randomized trial.
The risk for death from any cause, a secondary endpoint, did fall significantly for patients using the wearable cardioverter-defibrillator (WCD), a harness with monitoring and shock-delivery electrodes worn under clothing, in the 2302-patient Vest Prevention of Early Sudden Death (VEST) trial.
"We failed to meet our primary outcome," said Jeffrey E Olgin, MD, from the University of California, San Francisco, presenting the study here at the American College of Cardiology (ACC) 2018 Annual Scientific Session.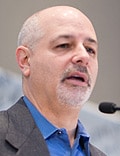 Still, he added, "Despite a negative result for sudden death, based on the associated lowered total mortality, it is reasonable to prescribe the WCD in patients who are post-[myocardial infarction (MI)] and have reduced ejection fraction, until further evaluation for an implantable cardioverter-defibrillator [ICD] at 40 to 90 days."
The benefit in the secondary endpoint of all-cause mortality "needs to be interpreted with caution," Olgin acknowledged when speaking with theheart.org | Medscape Cardiology.
"That said, even with that caution, the likelihood that it is spurious is quite low."
Some will see the trial as outright negative, while others will see it in more positive terms, Dhanunjaya R Lakkireddy, MD, from the University of Kansas, Kansas City, who isn't connected with VEST, told theheart.org | Medscape Cardiology.
"It's not a resounding success. I think it's still positive for total mortality, but it didn't meet its primary endpoint," he said. The device has been and will continue to be used in clinical practice, but it's possible that "enthusiasm" for the device "would be tempered to some degree," now that the VEST trial results are known.
Lakkireddy said his group uses LifeVest now in early post-MI patients, but in a narrower, higher-risk group than that entered in VEST. "Not everybody that has an ejection fraction of less than 35% should walk out of the hospital after an MI with the vest."
High-risk early post-MI patients for whom he'd still recommend its use after the trial include low–left ventricular ejection fraction patients with other high-risk features such as frequent premature ventricular contractions or nonsustained ventricular tachycardia. That is, he said, "those in whom the risk of ventricular tachyarrhythmia events is very high."
Others saw the trial as resoundingly negative.
Aside from the major point that the trial was negative for the sudden death primary outcome, only 20 patients wearing the LifeVest received appropriate shocks, pointed out Suneet Mittal, MD, from the Valley Health System, Ridgewood, New Jersey, who also was not connected with VEST.
Therefore, Mittal told theheart.org | Medscape Cardiology, a large number of people used the wearable cardioverter defibrillator and didn't derive any benefit from it, but did experience inappropriate shocks and a lot of discomfort. He pointed to the high prevalence of torso itching and rashes in the LifeVest group compared with those assigned to the control group.
And the number needed to treat is high, "Even if we believe the total mortality data," Mittal said. "This is important, given the costs inherent to the wearable cardioverter defibrillator."
Echoing other observers of VEST here at the ACC sessions, David J Wilber, MD, from Loyola University Medical Center, Maywood, Illinois, speaking on a panel after Olgin's presentation, pointed to the "relatively small absolute effect of the device in this large population" that suggested a need to target the device at patients who would most benefit. A subgroup analysis would be welcome to identify predictors of such patients.
Wilber and others on the panel also challenged Olgin regarding LifeVest's lack of effect on the primary endpoint.
"It is concerning that by the most obvious mechanism of reduction of sudden death or documented tachyarrhythmias that there was very little benefit, yet we still have in the combined analysis a difference in mortality," Wilber said.
Olgin proposed that there may have been sudden deaths that were misclassified as death from other causes. "There's often minimal documentation, and very low autopsy rates. This would reduce power for sudden death, but not for total mortality," he said during his formal presentation of the trial.
Overall event rates were low in the study, he explained, "So any small number of misclassification of sudden death is going to dramatically reduce our power to see a difference. So I think that is the main driver."
Also speaking from the panel, Patrick T O'Gara, MD, from Brigham and Women's Hospital, Boston, Massachusetts, said he wanted to push back on Olgin's conclusion that it's "reasonable" to use the WCD in patients such as those entered into VEST.
O'Gara said it might more appropriately be said that the device's "usefulness is uncertain" in that setting, "at this early stage, not having met your primary endpoint, being uncertain about the signal of an association with a reduction in total mortality."
Olgin replied, "I think it's hard to ignore the total-mortality data, given the caveats of adjudicating sudden death." VEST combined with previous observational data for the WCD supports saying such a use for the device is "reasonable."
Why a WCD Early After MI?
Guidelines have long recommended against using implantable cardioverter defibrillators for primary prevention of sudden death for at least 40 days after an MI, or at least 90 days if the MI was treated with percutaneous coronary intervention.
The proscriptions stem primarily from two trials, DINAMIT from 2004 and IRIS from 2009, that found no survival benefit and possibly an increase in all-cause mortality when implantable defibrillators were used in the early post-MI period.
VEST follows observational experience suggesting that the LifeVest successfully delivered appropriate shocks to 1.4% of more than 8000 patients who wore the device during the early post-MI period in which implantable cardioverter defibrillators are avoided.
Patients enrolled in VEST at more than 100 sites in the United States and Europe were randomly assigned 2:1 to use or not use the LifeVest (1524 and 778 patients, respectively) on top of guideline-based medical therapy starting within a week of an acute MI.
The patients who were given the device were asked to wear it as much as possible, removing it only for bathing, the researchers said. Ultimately, they wore it an average of 14.1 hours per day.
During a mean follow-up of 84.3 days, sudden death occurred in 1.6% of patients assigned to the device and 2.4% of those receiving standard medications only (P = .18) by intention-to-treat.
Mortality was 3.2% in the LifeVest group and 4.9% of the control group, for a relative mortality risk reduction of 35.5% (P = .04).
There were no fatal strokes in the device group, but four in the control group (0.5%; P = .01).
Table 1. Primary and Secondary 90-Day Outcomes in VEST
Endpoints
LifeVest (n = 1524), %
Control (n = 778), %
P
Sudden death (primary endpoint)
1.6
2.4
.18
Any nonsudden death
1.4
2.2
.15
Death from congestive heart failure
0.7
0.6
1.0
Fatal recurrent MI
0.1
0.1
1.0
Stroke death
0.0
0.5
.01
Death, any cause
3.1
4.9
.04
Cardiovascular rehospitalization
22
22
.81
There were no fatal strokes in the device group, but four in the control group (0.5%; P = .01), arguably another anomaly in the VEST outcomes data. Why would the WCD cut the risk of dying from a stroke?
Perhaps many patients using the WCD were given reasons to see their physicians more often, proposed Sana Al-Khatib, MD, from Duke University Medical Center, Durham, North Carolina, who was also on the panel.
She speculated that patients who received inappropriate shocks, or the many who were able to abort an impending inappropriate shock by pressing a button on the LifeVest, then went to the physician to be evaluated.
Perhaps they were discovered to have, for example, atrial fibrillation, and were put on oral anticoagulation, thereby gaining some protection against ischemic strokes.
Speaking with theheart.org | Medscape Cardiology, Olgin accepted that scenario as one speculative, potential explanation for the reduced risk for stroke death.
Shocks, Appropriate and Inappropriate
In the LifeVest group, 13 patients had one appropriate shock during the follow-up, and seven had at least two (1.4% had at least one shock). Eight and two patients, respectively, had one and more than one inappropriate shocks (so 0.6% had at least one inappropriate shock).
There were no significant differences between the groups in symptoms such as fatigue, trouble sleeping, dizziness or fainting, nausea or headache, or chest pain. But patients assigned to the device experienced a significant excess of some symptoms, several of which were related to the LifeVest as a wearable device.
Table 2. Prevalence of Notable Adverse Effects by 90 Days in VEST
Endpoints
LifeVest, %
Control, %
P
Shortness of breath
38.7
45.4
.003
Chest pain
18.7
21.4
.14
Rash, any location
15.2
7.1
<.001
Rash on torso
12.9
3.8
<.001
Itch, any location
17.2
6.4
<.001
Itch on torso
14.5
3.1
<.001
Olgin said that about 19% of patients assigned to use the WCD chose not to use the device. Among those who wore the device at all, the average usage time per day was 22.1 hours.
"We were quite stunned at the bimodal distribution. The people who didn't wear it, didn't wear it at all. And those that wore it, wore it quite extensively," he said.
Olgin observed that one goal for using the WCD in practice would be to promote greater compliance.
"As we do with the decision around ICDs, the patient should be brought into the decision whether they should have this therapy," Olgin said.
"So I do think there's some shared decision making that needs to happen in prescribing it in this patient population. Secondly, as with every therapy, I think there's room for improvement, to make the therapy more tolerable and easier to wear by everybody."
VEST was funded in part by the National Institutes of Health and Zoll Medical. Olgin discloses receiving consulting fees or honoraria from VivaLink. Wilber reports receiving fees for consulting or honoraria from Biosense Webster, and Medtronic, and serving on a data safety monitoring board for Thermedical. O'Gara discloses unspecified relationships with Edwards Scientific and Medtronic. Mittal, Lakkireddy, and Al Khatib have disclosed no relevant financial relationships.
American College of Cardiology (ACC) 2018 Annual Scientific Session: Abstract 401-10. Presented March 10, 2018.
Follow Steve Stiles on Twitter: @SteveStiles2. For more from theheart.org | Medscape Cardiology, follow us on Twitter and Facebook.
Medscape Medical News © 2018 WebMD, LLC

Send comments and news tips to news@medscape.net.
Cite this: VEST: No Sudden Death Benefit Early Post-MI From Wearable Defibrillator - Medscape - Mar 10, 2018.