Chronic traumatic encephalopathy (CTE) may be present in 10% of relatively young patients with intractable epilepsy, a new pilot study suggests.
The study was small and can't really determine whether relatively young patients with epilepsy who sustain head trauma because of their disorder are at higher risk for CTE. However, "this is a start," study investigator Gregory D. Cascino, MD, Department of Neurology, Division of Epilepsy, Mayo Clinic, Rochester, Minnesota, told Medscape Medical News.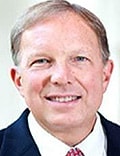 CTE is a progressive neurodegenerative disorder that has been linked to contact sports such as football, "but it may be that it's not unique to football or hockey or soccer and other individuals who are predisposed to head and neck injury, or head trauma, may have a similar pathology," said Dr Cascino.
The study was published online January 10 in Neurology.
Severe Epilepsy
CTE pathology is characterized by the accumulation of phosphorylated tau protein in neurons and astrocytes that begins focally as perivascular neurofibrillary tangles and neurites at the depths of the cerebral sulci. It then spreads to involve superficial layers of adjacent cortex and other cortical and subcortical structures.
Individuals with CTE eventually develop multiple neurologic and psychiatric symptoms, including dementia, substance abuse, behavioral problems, and sleep and personality disorders.
Patients with epilepsy can have convulsions that involve unusual head and neck movements.
"These can be very profound, abrupt, and develop without any warning or anticipation, and patients may suddenly lose postural tone and fall to the ground," said Dr Cascino.
"The question is whether there's a relationship between the unique neuropathology that has been identified in individuals involved in sports and patients who may have medical problems that predispose them to head injuries and maybe to unusual torsion of their head and neck."
The current study included 10 randomly selected patients with intractable epilepsy, ranging in age from 23 to 43 years (mean age, 32.5 years), who underwent surgical treatment. Five patients had a temporal lobe resection, and 5 had a fontal lobe focal cortical resection.
Dr Cascino pointed out that such young patients are unlikely to have tau pathology because it typically develops at a much older age.
One patient had focal impaired awareness seizures, 2 had tonic-clonic seizures, and 7 had both seizure types. Seizure frequency ranged from 2 to 3 per day to 1 to 2 per year.
Two patients reported mild concussions before the onset of seizures, 6 had documented "head trauma" related to seizures, and 2 had no history of head injury. No patient had a traumatic brain injury that required medical care, and none had played tackle football.
But Dr Cascino stressed that detailed information on other contact sports was not available.
Before surgery, patients received a comprehensive evaluation that included a detailed neurologic history, video-electroencephalographic monitoring, MRI of the brain, and neuropsychological studies.
Testing showed mild to moderate cognitive impairment in 80% of the patients. It's not unusual for patients with intractable seizure disorders to have cognitive problems, which can include issues with memory, learning, or alertness, said Dr Cascino. He added that it's not clear whether these problems are due to the seizures, the medications, or something else.
Findings Not Definitive
Samples from the 10 patients underwent "appropriate staining" to look for signs of CTE.
Pathological examination of a single frontal resection showed focal sparse tau-immunoreactive lesions that suggested CTE. This patient was 35 years old, had seizure duration of 28 years, had focal impaired awareness seizures about twice a day, and had a history of mild head injuries related to seizures.
The other nine samples had no tau deposition and no evidence of CTE.
Dr Cascino noted that the patient with tau deposition did not have unique characteristics compared with the other patients. However, he stressed that the lack of tau deposition does not exclude the possibility that young patients with epilepsy might develop CTE pathology later on.
It's not clear from this study how the 10% rate compares to a similarly aged group in the general population, said Dr Cascino.
This rate in the current study differs from findings in two previous studies evaluating the presence of CTE in patients with drug-resistant epilepsy. One study showed that 24% of patients, and the other about one third of patients, had confirmed tau accumulation indicating CTE.
However, these earlier studies included older patients who had a longer duration of epilepsy and tended not to have focal seizures, which might help explain the difference in rates, said Dr Cascino. He also noted that one of the studies was an autopsy study.
In addition, based on the 10% rate of pathologically verified CTE in the current study, the 95% confidence interval is 2.5% to 44%. So if the study were extended to more patients, the rate of CTE "could range anywhere from 2.5% to 44%" said Dr Cascino.
The new results suggest tau deposition is unlikely to be an important contributor to cognitive impairment in younger patients with drug-resistant focal epilepsy. The authors noted that 8 of the 10 patients had reduced cognitive performance, and only 1 of them had tau deposition.
Dr Cascino stressed that this is a "preliminary pilot study" and is "not definitive."
Larger, long-term prospective studies are needed to determine the prevalence of CTE in younger patients with epilepsy, he said. He and his colleagues are now organizing such a study.
Not Surprising
Michael R. Sperling, MD, Baldwin Keyes Professor of Neurology, Thomas Jefferson University, director, Jefferson Comprehensive Epilepsy Center, and director, Clinical Neurophysiology Laboratory, Philadelphia, Pennsylvania, and fellow of the American Academy of Neurology commented on the findings for Medscape Medical News.
The results, said Dr Sperling, aren't surprising.
"The patient who had CTE findings had very frequent seizures and a history of minor head injuries," although no specific details of this are provided in the paper, he said.
"We know that repeated minor head injury can lead to such changes at a young age in people who engage in sports that are associated with head injury, such as soccer and football. The person with epilepsy who has repeated falls, striking the head, could easily be at similar risk."
A previous study suggested that seizures might lead to tau, independent of traumatic brain injury, said Dr Sperling.
He noted that in the current study, the examination of the brain was "highly restricted" to just the small area that was resected.
"It's possible that other areas of the brain that were not resected could contain tau or CTE findings," he noted.
Autopsy studies "set the gold standard" for assessing tau and CTE as they allow a more comprehensive evaluation, said Dr Sperling.
He also pointed out that while this new study is "interesting," it's the third to report about CTE in epilepsy and so "is not really groundbreaking."
But he recognized the difficulty of carrying out such research.
"Studying CTE in the setting of epilepsy is more complex because of the potential interaction of the two conditions, and sorting out the relative contribution of seizure frequency, seizure severity and trauma caused by seizures is complicated."
Dr Cascino reports he receives a stipend in his capacity as an associate editor for Neurology. Dr Sperling has disclosed no relevant financial relationships.
Neurology. Published online January 10, 2018. Abstract
For more Medscape Neurology news, join us on Facebook and Twitter
Medscape Medical News © 2018

Cite this: Evidence of CTE Discovered in Young Patients With Epilepsy - Medscape - Jan 11, 2018.