ANAHEIM, CA — Although high-dose statin therapy isn't widely used in clinical practice in Asia, it's efficacious and well-tolerated in patients from Japan who have stable CAD, according to new research[1].
The open-label Randomized Evaluation of Aggressive or Moderate Lipid Lowering therapy with Pitavastatin in Coronary Artery Disease (REAL-CAD) trial included more than 13,000 patients from 733 centers in Japan, making it one of the largest to compare high- and low-dose statin therapy—and the first randomized controlled trial in Asia to do so.
Results showed that the participants who received pitavastatin (Lovalo, Lovazo, Kowa Pharmaceuticals) 4 mg/day for 5 years had significantly greater reductions in the primary composite end point (CV death, nonfatal MI, nonfatal ischemic stroke, and unstable angina requiring hospitalization) than those who received pitavastatin 1 mg/day.
They also had greater reduction in the primary end point plus coronary revascularization and in the secondary end points of MI or death from any cause. Although the most commonly reported adverse event was new onset of diabetes mellitus, this did not differ significantly between the treatment groups (4.5% vs 4.3%, respectively.)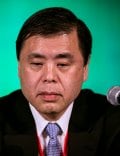 "Asian doctors are reluctant to use a high-intensity statin because they believe a moderate-dose is enough to reduce outcomes; but REAL-CAD clearly demonstrated that this is not the case," Dr Hiroaki Shimokawa (Tohoku University Graduate School of Medicine, Sendai, Japan) told theheart.org | Medscape Cardiology.
He presented the findings here at the American Heart Association (AHA) 2017 Scientific Sessions.
Early Termination
"Current guidelines call for high-intensity statin therapy in patients with . . . CAD based on several previous 'more-or-less-statin' trials," write the investigators.
"However, no clear evidence regarding more vs less statin has been established in Asian populations," said Shimokawa during a press briefing.
He reported that several previous studies showed a reduction in plaque volume and carotid intima-media thickness after use of high-dose statins, but none have shown mortality benefits.
Nevertheless, the hypothesis was that clinical outcomes would be improved, "even for Japanese patients in whom cardiovascular event risk is lower than for Western patients."
Beginning in January 2010, 14,774 patients with stable CAD between the ages of 20 and 80 years (mean age 68 years; 83% men) were enrolled in REAL-CAD. All received pitavastatin 1 mg/day for at least 1 month as part of the run-in period, with an LDL-C target of <120 mg/dL.
After exclusions and dropouts, the investigators investigated 13,054 patients who were randomly assigned to continue the 1-mg/day therapy (n=6528) or to take it at the higher 4-mg/day dose (n=6526).
In October 2015, the steering committee decided to terminate the study 2 years early, "despite the original event-driven trial design, because a substantial number of centers were reluctant" for the study to be extended further, reported Shimokawa. This led to the noncompletion of the final follow-up in "a substantial proportion" of patients.
Reduced Risk
Still, there was a significant risk reduction for the primary end point. The hazard ratio (HR) was 0.81 for the high- vs low-dose statin group (95% CI 0.69–0.95, P=0.01). In addition, 4.3% vs 5.4%, respectively had a CV event. The number needed to treat (NNT) for 5 years was 63.
The HR for the primary end point plus coronary revascularization was 0.83 (95% CI 0.73–0.93, P=0.002), with 7.9% vs 9.7%, respectively, having an event; and the NNT was 41.
Other end points significantly reduced in the 4-mg group included all coronary revascularization (P=0.008), non–target lesion revascularization (P=0.003), death from any cause (P=0.03), and MI (P=0.004).
The mean LDL-C at baseline was 87.7 mg/dL in the high-dose group vs 88.1 mg/dL in the low-dose group; it was 76.6 vs 91.0 mg/dL, respectively, at 3 years.
The only safety outcome that was greater in the high- vs low-dose group was muscle complaints (1.9% vs 0.7%, respectively, P<0.001). Only one person in the 1-mg group and two in the 4-mg group had rhabdomyolysis.
"The present study provides support for the notion that administration of higher doses of statins within the range of local approval would be the preferred therapy in patients with established CAD regardless of the baseline LDL-C levels," summarized Shimokawa.
He added that although the study was done in Japan, the findings are "of course" generalizable and would apply to any clinician treating an Asian population, including in the US.
"Comforting" But Questions Remain
Official discussant Dr Karol E Watson (University of California, Los Angeles Program in Preventive Cardiology) noted afterward that this was an "excellent trial," but while the study results were positive, there are still several unanswered questions.
"What would have happened if we got greater LDL-C reduction?" asked Watson. She also wondered if outcomes would have been improved with high-intensity statin therapy, as recommended by the 2013 AHA-American College of Cardiology cholesterol guidelines, or if that would have decreased tolerability.
In addition, "do these data translate to other statins? And what happened to the participants lost to follow-up? There are some things we still don't know."
She added that tolerability of higher statin doses in Asian populations has been a big question that has given way to a substantial reluctance to use them, but these new results should be comforting.
"This trial should give us a lot of comfort that this strategy is safe, well tolerated, and beneficial," said Watson.
Former president of the AHA Dr Dan Jones (University of Mississippi Medical Center, Jackson) later commented to theheart.org | Medscape Cardiology that he was impressed with the research.
"I think others will want to test a more potent statin with more LDL lowering, but these results are very reassuring that you can use higher doses of statins in Asian patients," said Jones.
"We're learning more and more that there are ethnic differences in response to drugs. Generally, there's been a shyness about pushing the LDL cholesterol too low in these patients; and I think this is a good indication that we need to test that."
Shimokawa reports receiving funds from Tohoku University. Disclosures for the coauthors are listed in the abstract. Jones reports no relevant financial relationships. Watson reports receiving research grants from the National Institutes of Health, consultant and speaker's bureau fees from Boehringer-Ingelheim, and consultant fees from Amgen.
Follow Deborah Brauser on Twitter: @MedscapeDeb. For more from theheart.org | Medscape Cardiology, follow us on Twitter and Facebook.
Medscape Medical News © 2017

Cite this: REAL-CAD: High-Dose vs Low-Dose Statins Decrease CV Events in Asian Patients - Medscape - Nov 14, 2017.