A Facebook Messenger alert popped up on Saturday just after I landed at LAX for the American Heart Association (AHA) 2017 Scientific Sessions in Anaheim.
"When are you getting in to AHA? I will be presenting research tomorrow and Monday. I hope I get to see you," she said.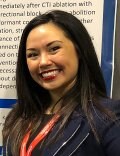 And there begins the story within the story. Katrina Bidwell, a third-year internal-medicine resident at the University of Kentucky, is presenting cardiology data, specifically electrophysiology data, at the AHA 2017. Her poster, S3134, supports the use of adenosine to prove that an atrial-flutter ablation has been successful. "The implication," Katrina said, "is that an adenosine challenge may decrease the time under general anesthesia and can free up an EP lab sooner by shortening the standard 36-minute wait. If a permanent bidirectional block across the cavotricuspid isthmus has been achieved, then the procedure is complete."
I asked if this practice would favorably affect cost.
"Remains to be seen," she stated knowingly, with a broad smile.
Proud Mentor
That was a proud moment for me. As a high school student, Katrina asked if she could shadow me for a few weeks. She followed me around the office, on rounds at the hospital and into the cath lab. She came after school and during times allotted by her high school schedule for mentoring opportunities. She was and is extremely enthusiastic. Her questions were better than some of those from the medical students.
Katrina told me that this experience showed her what a female could do in the world of cardiovascular medicine for the first time and that even someone who came from "Podunk, Kentucky could become extremely successful." I was more self-conscious about the word extremely than Podunk—Katrina knew that I was raised on a farm in the south-central portion of the state where there were no traffic lights.
Because I had two male partners, Katrina assumed that the ratio of female-to-male cardiologists was 1:3. "Boy, was I surprised," she said of her first day at medical school. When she told people during orientation that she was going to be an interventional cardiologist, she was met with skeptical looks, a reaction that continued during her interviews for residency.
Apparently, those skeptical glances didn't deter her one bit. "I had you as an example and other great women who went before me," she explained.
I asked her if there was a particular incident or moment when she knew for certain that she wanted to pursue cardiology.
"I remember vividly one day scrubbing into the cath lab with you. I remember you taking off your beautiful rings. You were doing a cath on a patient when they went into Vfib. You thumped the patient and they came right back. That was literally the moment. I was like, wow! You don't have to be the biggest or the strongest, but you can still have a family and be feminine and make a big impact on patients and their lives," she recalled.
I remember the three times I delivered a precordial thump during a cath like they happened yesterday. I remember the conversations with those patients afterward, while they were still on the table. I vividly remember their cath results, but I confess that I did not remember Katrina ever being there. It just shows not only the importance of mentoring, but also the impact of our passion.
Katrina's career choice was also strongly influenced by her mother, who is a nurse. "She was a house supervisor. I loved getting to spend time in the hospital with her, but I wanted to be 'in charge,' " she said. That is why she ultimately decided to pursue medical school.
It is the proudest moment for a mentor when the student surpasses her teacher. As a resident, Katrina was invited to moderate a poster) at a major medical meeting, something I didn't do until late into my career in private practice, and she will present two posters at AHA.
Why I Do It
When I decided to pursue cardiology, there had been no female cardiology fellows at the University of Louisville in the 10 years prior to my fellowship, and there were no female cardiology fellows there for the 10 years following my fellowship. It would have been great to have another woman as a mentor, to boost my morale, to share parenting challenges, and to talk about issues from a woman's perspective. Fortunately, the male fellows were completely supportive and became my professional family. I had caring female mentors in internal medicine who were invaluable.
In the first week in December, Katrina will learn her cardiology fellowship match. I know she will make me proud no matter where she lands. Her choice to actively pursue a cardiology career makes me continue to say "yes" to mentoring other young women who are considering this same road less taken. I know when it's Katrina's turn, she will pay it forward as well.
Any views expressed above are the author's own and do not necessarily reflect the views of WebMD or Medscape.
Cite this: Melissa Walton-Shirley. Mentoring and Paying It Forward for Women in Cardiology - Medscape - Nov 13, 2017.