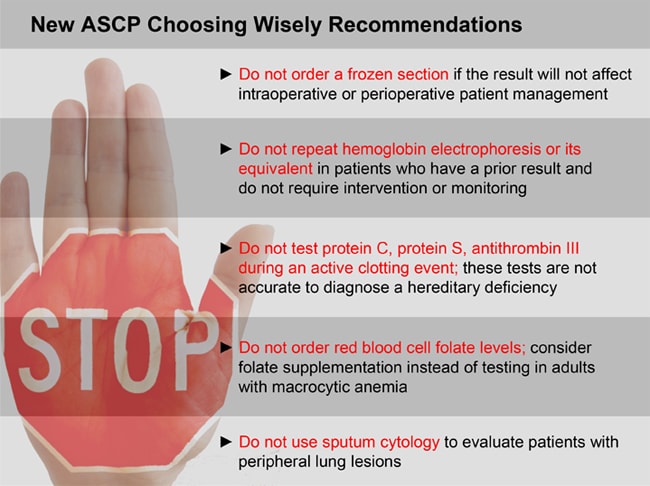 The American Society of Clinical Pathology (ASCP) has added five tests to the list it considers unnecessary or potentially harmful, as part of the Choosing Wisely campaign. The list has now grown to 20 recommendations.
The goals of the campaign are to improve patient care by limiting inappropriate tests and to reduce healthcare costs so that available resources are used on the right tests. It is estimated that at least 30% of tests ordered across all specialties are a waste of time and money.
The Choosing Wisely recommendations fall into four categories: tests that have merit in some circumstances but not others, tests that have no clinical utility, tests that have been replaced with a better test, and emerging diagnostics that lack evidence.
New on the list is the recommendation that frozen sections not be ordered for a pathology specimen unless the results will have an immediate effect on patient management.
"Normal processing yields a better specimen. If you use up all your tissue trying to do a frozen section, you may compromise the ultimate diagnosis," said Lee Hilborne, MD, from the David Geffen School of Medicine at UCLA in Los Angeles, who is chair of the ASCP effective test utilization subcommittee.
It is also recommended that sputum cytology not be used to evaluate patients with peripheral lung lesions.
Sputum comes from the bronchial tree that is anatomically more central. If an x-ray indicates that a lung lesion is peripheral, "you probably aren't going to get anything on sputum," Dr Hilborne explained. "You need a better strategy, such as image-guided needle aspiration."
The other new recommendations are to avoid hemoglobin electrophoresis; protein C, protein S, and antithrombin III during an active clotting event; and red blood cell folate levels.
Cutting Cost, Improving Healthcare
"The Choosing Wisely campaign was initiated in 2012 to drive effective utilization of medical services," Dr Hilborne explained.
The ASCP list is spearheaded by pathologists and experts in laboratory medicine, who bring a unique perspective.
"Pathologists and laboratory medicine specialists don't look at one patient at a time, which is what most physicians do," said William Schreiber, MD, a consultant pathologist at Vancouver General Hospital in British Columbia, Canada, who is immediate past president of the ASCP.
"We take a systems approach to decide which tests are the most sensible and provide the greatest value," he pointed out.
"While we don't generally order tests, we perform them, and our goal is to make sure we provide the best pathology and laboratory medicine backup we can for physicians in all specialties," he emphasized.
More than 75 specialty medical societies in the United States have joined the Choosing Wisely campaign. And the phenomenon has caught on; Australia, Canada, and the United Kingdom have their own Choosing Wisely campaigns.
Dr Hilborne works for Quest Diagnostics. Dr Schreiber has disclosed no relevant financial relationships.
American Society for Clinical Pathology (ASCP) 2017 Annual Meeting
Follow Medscape on Twitter @Medscape
Medscape Medical News © 2017 WebMD, LLC

Send comments and news tips to news@medscape.net.
Cite this: More Lab Tests Deemed Inappropriate - Medscape - Oct 26, 2017.