OXFORD, UK — Researchers are reporting that changes in the adipose tissue surrounding areas of inflammation in coronary arteries can be quantified from a routine coronary CT angiography scan[1].
They have also developed a new metric that could potentially be used to detect inflammation and perhaps vulnerable plaques that cause cardiovascular events. Based on perivascular adipose-tissue samples and coronary CT images from more than 400 patients, they developed a "fat-attenuation index" (FAI) that correlates with coronary artery inflammation and then validated this index in another 273 patients.
The study by Dr Alexios S Antonopoulos (University of Oxford, UK) and colleagues was published July 12, 2017 in Science Translational Medicine.
This represents a new way of looking at coronary CT scans. Instead of looking for blocked coronary vessels or deposits of calcium seen in stable plaque, this novel biomarker, FAI, might be used to identify areas in the arteries where there are vulnerable, soft plaques that are prone to rupture, they suggest.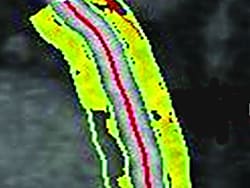 "Heart arteries are surrounded by fat tissue, and our team in Oxford has found that this tissue has the unique ability to 'sense' inflammation coming from the vessels. As a result, it changes its composition, becoming more 'watery' and less 'fatty,' " coauthor Dr Keith M Channon (University of Oxford) explained to theheart.org | Medscape Cardiology.
This allows us "to detect coronary inflammation for the first time noninvasively on routine coronary CT scans," he said.
"This method detects the vulnerable patients and the vulnerable plaques, and if it is proven to predict hard end points, it would allow accurate restratification in both primary and secondary prevention," senior author Dr Charalambos Antoniades (University of Oxford) told theheart.org | Medscape Cardiology in an email.
The team expects to have results from a retrospective analysis of CT scans from about 2000 patients with up to 10-year outcome data by early 2018, he added.
This was a very careful, detailed study, as reflected by the fact that it has 80 figures, Dr James K Min (Weill Cornell Medical College, New York, NY) who was not involved in the study, commented to theheart.org | Medscape Cardiology.
"It's really exciting," he said. This is not just an incremental finding, Min added. "They really came up with a brand-new CT metric that potentially identifies not only plaques at risk, but patients who are at risk as well. That I think is a big step forward for the field of CT."
On the other hand, "it's early, and we have to figure out so much" to see whether it can be used as a radiomic biomarker to predict risk or guide therapeutic decision making, he cautioned.
A New Research Approach
"In recent years, it has become known that inflammation is the biological process that causes plaque to become unstable or vulnerable, and those are the ones that are at highest risk of causing a heart attack," Channon said.
The team hypothesized that they could use CT angiography to quantify changes in perivascular adipose tissue induced by vascular inflammation.
They obtained fat tissue samples from different body sites from 433 patients who were undergoing cardiac surgery, and they compared the CT scans of these fat explants with CT scans of coronary artery tissue.
They found that fat beside inflamed areas had smaller adipocytes and higher water content and a higher FAI.
"When you go back and look at the CT scan using a specialized algorithm, which we designed, you can show quite clearly discernible changes in the fat around the coronary arteries where there is an inflamed plaque in the coronary artery," Channon said.
Next, the team validated the ability of the FAI to detect CAD in a cohort of 273 patients undergoing routine CT angiograms for clinical indication (156 with plaque and 117 without plaque).
In a further study of patients with acute MI who were matched with patents having stable coronary artery disease, FAI along vessels with atherosclerotic plaques had a very high sensitivity and specificity for detecting unstable plaques.
Study Limitations, Upcoming Research
A current limitation to this method is it takes a skilled technician 45 minutes to compute the FAI. "The analysis is complex because it needs to generate 3D gradients of attenuation around the coronary arteries," said Antoniades, but they are working on ways to use machine learning to speed up the process and they expect to be able to compute FAI in real time.
An advantage of this biomarker is that "you can even analyze the fat on CT coronary scans that have been done years ago," Channon said
They are currently analyzing CT scans in a large cohort of patients to see if FAI can predict hard clinical end points, and they plan to then validate this in additional cohorts, with results expected early next year.
They also plan to start a prospective trial to see whether treatments that affect cardiovascular risk can modify FAI.
FAI measures inflammation and is a dynamic marker, unlike the coronary calcium score, also determined by CT, which detects calcification that is not reversible, the researchers point out.
Using FAI, "we believe this will enable us to stratify patient risk much more precisely, enabling us to target the right treatment for the right patient at the right time, and it will enable us to monitor the response to treatment and could provide a whole new type of end point for clinical trials of new drugs," Channon summarized.
The authors and editorialists report that they have no relevant financial relationships.
For more from theheart.org | Medscape Cardiology, follow us on Twitter and Facebook.
Medscape Medical News © 2017

Cite this: Imaging Perivascular Fat May Flag Coronary Inflammation - Medscape - Aug 04, 2017.