CHICAGO — New results establish a new standard of care for patients newly diagnosed with ALK-positive non-small cell lung cancer (NSCLC), say researchers.
The newer anaplastic lymphoma kinase inhibitor alectinib (Alecensa, Genentech) dramatically increased progression-free survival compared with the current standard of care, crizotinib (Xalkori, Pfizer) and also dramatically reduced the risk for brain metastases.
The results come from the ALEX study, presented here at the American Society of Clinical Oncology (ASCO) 2017 Annual Meeting and simultaneously published in the New England Journal of Medicine.
Median progression-free survival was 25.7 months with alectinib compared with 10.4 months with crizotinib.
"Nobody imagined it would be possible to delay advanced lung cancer progression by this much. Most targeted therapies for lung cancer are associated with a median progression-free survival of roughly 12 months," said lead author, Alice Shaw, MD, PhD, director of thoracic oncology at Massachusetts General Hospital Cancer Center in Boston, Massachusetts.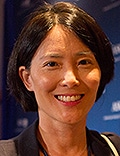 Commenting on the study, ASCO expert John V. Heymach, MD, PhD, from the University of Texas MD Anderson Cancer Center in Houston, said he "firmly agrees with the researchers' conclusion that this is a new standard for first-line ALK fusion in lung cancer."
In fact, he went further and declared this to be "a watershed moment for the treatment of ALK mutation–positive lung cancer."
"Often, studies preparing different similar-type agents will show incremental improvements," he said. "This study shows dramatic difference in efficacy. Treatment more than doubled the time for cancer progression or death, accompanied by improved tolerability. The drug also is better tolerated by patients who require dose reductions."
Dr Heymach also pointed out that advances in treatment can often come at the cost of decreased tolerability, but in this case, in terms of efficacy and tolerability, "it is a clear win on all fronts."
Better Efficacy and Safety
Alectinib is a next-generation ALK inhibitor approved by the US Food and Drug Administration (FDA) at the end of 2015 for patients with advanced ALK-positive NSCLC that is no longer responding to crizotinib. The new results will likely propel it into first-line use in this patient population.
The new data come from the ALEX study, an open-label multicenter phase 3 trial in 303 patients with stage IIIB/IV ALK-positive NSCLC, who were randomly assigned to receive alectinib 600 mg twice daily or crizotinib 250 mg twice daily.
The primary endpoint was investigator-assessed progression-free survival with systematic central nervous system (CNS) imaging in all patients. At the primary data cutoff (February 9, 2017), alectinib showed superiority to crizotinib and reduced the risk for progression/death by 53% (hazard ratio, 0.47; P < .0001), a statistically significant decrease.
The median investigator-assessed progression-free survival was not reached for alectinib and was 11.1 months for crizotinib.
Secondary endpoints also showed superiority for the newer drug. Alectinib significantly delayed time to progression in the CNS compared with crizotinib (cause-specific hazard ratio, 0.16). At 12 months, the incidence of brain metastases was lower with alectinib than with crizotinib (9% vs 41%).
The objective response rate was 83% with alectinib vs 76% with crizotinib (P = .09), and overall survival did not differ between groups; however, data are not yet mature.
Rates of adverse events leading to discontinuation, dose reduction, and interruption were lower with alectinib than with crizotinib. Grade 3/4 adverse events were about 20% less frequent with alectinib than crizotinib (41% vs 50%), and the incidence of fatal adverse events was also lower (3% vs 5%).
New Standard of Care
Another expert also agreed that alectinib will become the standard of care in ALK mutation–positive lung cancer.
"There was a pronounced difference in showing the efficacy of progression-free survival. In addition to longer progression-free survival, it can prevent the onset of brain metastases longer and that is an improvement," said Ashish Saxena, MD, PhD, an oncologist at Weill Cornell Medicine and New York-Presbyterian in New York City.
"I think that alectinib will be the standard to begin with because the efficacy is so much better," he told Medscape Medical News. "The data is compelling enough for the FDA to expand the indication to the first-line setting."
However, he pointed out that more drugs are coming down the pipeline and on the market, "so we will have to see how those will fit in. It seems that we will have a lot of drugs available for the ALK-positive population."
The study was funded by F. Hoffmann-La Roche. Dr. Shaw has disclosed consulting or advisory role with Pfizer, Novartis, Genentech, Roche, ARIAD, Ignyta, Blueprint Medicines, Daiichi Sankyo, EMD Serono, Taiho Pharmaceutical, and KSQ Therapeutics; honoraria from Pfizer, Novartis, Roche/Genentech, and Foundation Medicine; and research funding from Pfizer, Novartis, and Roche/Genentech. Several coauthors have also disclosed relationships with industry. Dr Heymach has disclosed relationships with Cardinal Spine, Abbvie, ARIAD, AstraZeneca, Boehringer Ingelheim, Bristol-Myers Squibb, Calithera Biosciences, Genentech, Medivation, Novartis, Oncomed, Synta, and Bio-Tree.
American Society of Clinical Oncology (ASCO) 2017 Annual Meeting. Abstract LBA9008. Presented June 6, 2017
N Engl J Med. Published online June 6, 2017. Full text
Follow Medscape Oncology on Twitter: @MedscapeOnc
Medscape Medical News © 2017

Cite this: Alectinib: New Standard in ALK-Positive Lung Cancer - Medscape - Jun 09, 2017.