CHICAGO — The investigational agent dacomitinib (Pfizer) showed potential as a new treatment option for patients with advanced EGFR mutation–positive non–small cell lung cancer (NSCLC).
In a head-to-head trial, this second-generation EGFR inhibitor proved superior to one of the first of these targeted agents, gefitinib (Iressa, AstraZeneca), in progression-free survival (PFS) and duration of response.
"Dacomitinib should be considered as a new treatment option for first-line management of patients with advanced EGFR-mutated NSCLC," said lead author Tony Mok, MD, professor and chair of the Department of Clinical Oncology at the Chinese University of Hong Kong, in China, who presented the results of his study at the American Society of Clinical Oncology (ASCO) 2017 Annual Meeting.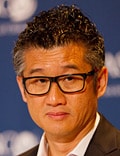 However, toxicity was higher with dacomitinib, with 66% of patients requiring a dose reduction, compared to 8% for those receiving gefitinib.
Thus, patients should be aware of the potential side effects when making treatment decisions, Dr Mok noted.
ASCO expert John V. Heymach, MD, PhD, from the University of Texas MD Anderson Cancer Center, Houston, also highlighted the toxicity that was seen.
"In this study, we see more than a 5-month difference in progression-free survival," he said. "From the perspective of doctors who treat lung cancer, this is a substantial advance, and I think it really puts dacomitinib at the front of the pack in terms of efficacy."
But, that said, the efficacy does come at the cost of some toxicity. "About 10% of patients had grade 3 toxicity involving skin and diarrhea, and a substantial number had dose reductions, but I'd like to emphasize that these aren't life-threatening toxicities," said Dr Heymach. "These are toxicities that doctors who treat this for a living become accustomed to managing. This drug clearly requires close monitoring and careful surveillance by experienced care providers to manage toxicities."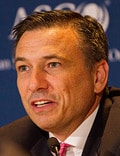 Overall, dacomitinib appears to be a clear, potential option for patients, he added. "And as a physician, I think discussing the different options in the trade-off of toxicity vs efficacy would be entirely appropriate if the drug were approved in the United States," he said.
First Head-to-Head Study
The new results come from the ARCHER 1050 study, the first randomized phase 3 study to compare a second-generation and a first-generation EGFR inhibitor head to head for first-line treatment of patients with advanced EGFR-mutated NSCLC.
The study randomly assigned 452 patients who were newly diagnosed with stage IIIB or IV EGFR-positive NSCLC to receive dacomitinib (45 mg PO QD) or gefitinib (250 mg PO QD).
Nearly two thirds (64%) of patients in both arms were never smokers; 59% had an exon 19 deletion, and 41% an L858R mutation in exon 21.
The median PFS for dacomitinib was 14.7 months, as compared to 9.2 months with gefitinib, an increase of 5.5 months. Overall survival data are not yet mature.
Duration of response was 14.8 vs 8.3 months in favor of dacomitinib, and the overall response rate was similar for both study arms (74.9 vs 71.6, P < .3883).
Dose Reductions Needed
The most commonly reported grade 3 adverse events with dacomitinib were dermatitis acneiform (13.7%) and diarrhea (8.4%); for gefitinib, increased ALT levels (8.5%).
No new safety signals were identified for dacomitinib, Dr Mok explained, but dose modification was significantly higher among patients in the dacomitinib cohort.
A total of 87 (38.3%) patients who received dacomitinib required a dose reduction from 45 mg to 30 mg, and 63 (27.8%) required a further reduction to 15 mg. The median duration of dose reduction was more than double that required for gefitinib (11.3 months vs 5.2 months).
"We do have high toxicity due to the high rate of inhibition," said Dr Mok. "We do require dose reduction of dacomitinib, and this has been done successfully."
Dr Mok explained that dacomitinib is a more potent, second-generation EGFR inhibitor that is associated with increased side effects in the skin and gastrointestinal tract, such as those with another second-generation drug, afatinib (Gilotrif, Boehringer Ingelheim). "But in spite of this, the activity seen in this study should allow for consideration of this effective therapy in this patient population," he said.
He added that for the patients treated with dacomitinib, improvements in patient-reported measures of key disease-associated symptoms were similar to those reported in the gefitinib group.
Great Benefit but High Toxicity
Commenting on the study, Yanis Boumber, MD, PhD, assistant professor at Fox Chase Cancer Center, Philadelphia, Pennsylvania, noted that although the newer drug was more effective than gefitinib, more than half of patients who received the new drug had to reduce the dose because of moderate to severe diarrhea and skin rash.
"The results with dacomitinib are encouraging and could provide an additional effective option to this category of patients, but the significant side effects make it somewhat less appealing," he told Medscape Medical News. "Caution would be needed when deciding on the best treatment option in this patient population."
The study was funded by Pfizer and SFJ Pharmaceuticals Group. Dr Mok has has received honoraria, fees, or research funding from AstraZeneca, Roche/Genentech, Eli Lilly, Bristol-Myers Squibb, Boehringer Ingelheim, Novartis, Pfizer, Merck Serono, Clovis Oncology, Vertex, SFJ, ACEA BioSciences, MSD, geneDecode, Oncogenex, Celgene, Ignyta, Taiho Pharmaceutical Co, Ltd, and Eisai Co, Ltd, and he holds stock in Sanomics Ltd. Several coauthors also have relationships with industry. Dr Heymach has relationships with Cardinal Spine, AbbVie, ARIAD, AstraZeneca, Boehringer Ingelheim, Bristol-Myers Squibb, Calithera Biosciences, Genentech, Medivation, Novartis, Oncomed, Synta, and Bio-Tree.
American Society of Clinical Oncology (ASCO) 2017 Annual Meeting. Abstract LBA9007. Presented June 6, 2017.
Follow Medscape Oncology on Twitter for more cancer news: @MedscapeOnc
Medscape Medical News © 2017

Cite this: Dacomitinib: Potential New EGFR Inhibitor for First-Line NSCLC - Medscape - Jun 06, 2017.