SAN DIEGO, California – Adding levothyroxine (T4) (multiple brands) to mood stabilizers may decrease mood episodes and reduce symptoms in a select group of female patients with refractory rapid-cycling bipolar disorder (BD), new research suggests.
A retrospective study conducted by investigators at the University of Texas at Austin found that thyroid supplementation in women with rapid-cycling BD who tested positive for antithyroid antibodies was associated with a reduction in mood episodes and significantly reduced manic and depressive symptoms.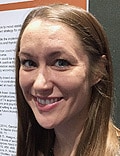 "If you have a female bipolar patient that you suspect is rapid cycling, it's very easy to just add thyroid function tests and the antibody screen to their baseline labs, and if they're positive, go ahead and supplement them up front, because they are likely going to benefit," lead investigator Jennifer Jacobson, MD, told Medscape Medical News.
The findings were presented here at the American Psychiatric Association (APA) 2017 Annual Meeting.
Mood Episodes Reduced
The link between thyroid disease and mood disorders has been studied for decades, and thyroid supplementation has often been used to accelerate the effect of antidepressants or to stimulate a response in refractory depression.
When the investigators examined practices at their own center, they found that neither the faculty nor residents were using thyroid supplementation for patients with BD.
"If this is something that works, why aren't we using it?" Dr Jacobson, a third-year psychiatry resident, told Medscape Medical News.
To determine the potential utility of thyroid supplementation, the investigators examined a cohort of female patients with rapid-cycling BD who were being treated with mood stabilizers and T4 and who had screened positive for antithyroid antibodies.
Of approximately 1000 clinic patients, six individuals met all of the study's inclusion criteria. Charts were reviewed for clinical visits 6 months before T4 augmentation began and up to 6 months after the maintenance dose was reached.
The number of mood episodes was calculated, and symptom severity was categorized as severe, moderate, mild, partial remission, or full remission on the basis of DSM-5 criteria.
The baseline and final thyroid-stimulating hormone (TSH) and free thyroxine levels and percent TSH suppression were also calculated, and trends on Patient Health Questionnaire-9 (PHQ-9) scores were tallied.
The researchers found that total mood episodes decreased from 2.17 in the pretreatment period to 0.33 6 months after reaching the maintenance T4 dose.
The severity of depressive symptoms decreased in all patients from 1.59 on the four-point Likert scale to 0.81. The severity of manic symptoms decreased in all but one patient, from 0.54 to 0.38 on the Likert scale. PHQ-9 scores decreased from 10.56 to 6.58.
The average final dose of thyroxine was 100.33 μg — far less than the 300 to 500 μg used in previous studies. In three patients, TSH suppression was 10% to 15%; one patient experienced a 10% increase in TSH. No adverse events were reported.
Dr Jacobson said the benefits of T4 supplementation appear to outweigh the risks in this very specific group of female patients.
Limited Evidence of Efficacy
Commenting on the findings, John Mann, MD, Paul Janssen Professor of Translational Neuroscience at New York-Presbyterian/Columbia University Medical Center, New York City, described the research as "a small ideographic study which basically helps to draw our attention to this area but doesn't answer any important questions."
Dr Mann and others have shown that people with depression have a deficiency of transthyretin, a transporter of thyroxine and retinol, in the cerebrospinal fluid. Thus, they may not have enough thyroid hormone in the brain and could possibly benefit from supplementation to raise levels in the brain, Dr Mann told Medscape Medical News. But thyroid hormone cannot be measured in the brain, which means it is not possible to determine efficacy.
In addition, thyroid supplementation carries some risk, especially if TSH levels are in the normal range, he said.
"Clinicians need to weigh all these factors in deciding whether or not to take a treatment-resistant patient and add Synthroid [T4] to try and get an antidepressant response," said Dr Mann.
The same goes for giving T4 "to try and stabilize a rapidly cycling bipolar patient who's not responding to standard mood stabilizers," or for adding triiodothyronine to accelerate the antidepressant response, he added.
For patients who do not respond to standard medications, clinicians may be "forced to consider [supplementation] as one of the tools in the toolbox," said Dr Mann, but he added, "All of these options are only modestly supported by evidence of efficacy and need to be considered in the total medical context of the patient."
For patients with mood disorders, reviewing thyroid function should be part of the initial evaluation, said Dr Mann.
Dr Jacobson and Dr Mann have disclosed no relevant financial relationships.
American Psychiatric Association (APA) 2017 Annual Meeting. Abstract 133, presented May 20, 2017.
Medscape Medical News © 2017

Cite this: Thyroid Supplementation May Help in Bipolar Disorder - Medscape - Jun 02, 2017.