VIENNA, Austria — Patients with enlarged brain ventricles and clinically suspected idiopathic normal-pressure hydrocephalus (iNPH) may be at increased risk for dementia, new research suggests.
In the study of more than 450 patients in Finland with ventricular enlargement and at least one baseline symptom commonly associated with iNPH, such as gait problems, urinary incontinence, or cognitive deterioration, 59% of the participants had dementia at the 5-year follow-up.
In addition, 46% of the patients who received a shunt and responded to the procedure went on to develop dementia, while 73% of those who were not shunted developed the condition.
"The interesting finding is that lateral ventricular enlargement with neurological symptoms appears to be a risk factor for dementia — even after an initially successful surgery," lead author, Anne M. Koivisto, MD, PhD, Departments of Neurology at the University of Eastern Finland and Kuopio University Hospital, told Medscape Medical News.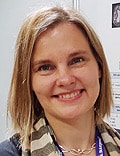 She presented the findings at the International Conference on Alzheimer's and Parkinson's Diseases and Related Neurological Disorders (AD/PD) 2017.
Collaboration, Cognitive Assessments Needed
The investigative group, which included a neurosurgeon, assessed 468 participants in the Kuopio NPH registry who had large lateral ventricles and underwent 24-hour intraventricular pressure monitoring and a frontal cortical biopsy.
Results showed a high risk for dementia at the 5-year follow-up. The incidence rate ranged from 77 per 1000 person-years for those with iNPH who were shunted to 141 per 1000 person-years for those who had enlarged ventricles because of brain atrophy.
In the 236 patients who received shunts after confirmation of NPH, 193 were shunted for iNPH and 43 for secondary NPH. Of the 146 patients with iNPH who were shunt responsive and had adequate follow-up data, 67 developed dementia after 5 years and 40 had mild cognitive impairment (MCI).
In those who developed dementia, the most common causes were Alzheimer's dementia (AD, n = 18), vascular cognitive impairment (VCI, n = 9), and dementia not otherwise specified (NOS, n = 6). In addition, there were 14 cases of probable iNPH-related dementia.
The investigators also assessed the 232 patients who were not shunted "because their ICP [intracranial pressure] monitoring and further examinations did not support NPH," Dr Koivisto reported.
In this group, 165 developed dementia, 36 developed MCI, 25 developed neither, and 6 had inadequate follow-up data.
The most common dementia causes for these patients were also AD (n = 69), followed by VCI (n = 43) and dementia NOS (n = 25). Interestingly, there were 9 cases of probable NPH-related dementia in this group.
The findings showed that patients with one NPH symptom and ventricle enlargement, "especially due to central atrophy, have a very high risk of dementia, often caused by AD or VCI," the investigators summarize.
Collaboration with neurologists and neurosurgeons is important whenever iNPH is suspected, and both short- and long-term cognitive assessments should be conducted after a shunt procedure, they write.
"Interesting" Observations
When asked for comment, session co-chair Huaxi Xu, PhD, professor and director of the Neuroscience Initiative at the Sanford Burnham Prebys Medical Discovery Institute, La Jolla, California, told Medscape Medical News that this was "a very interesting study," especially because of recent research done by his group.
Their preclinical study, published in December in the Journal of Neuroscience, showed that deleting the gene for sorting nexin 27 (SNX27), which is a cause in the development of Down syndrome, can cause hydrocephalus.
"And ventricular enlargement is similar to hydrocephalus," said Dr Xu.
In 2013, his investigative team also found that "SNX27 can direct trafficking of SORLA and the Aβ precursor APP to the cell surface to limit the production of Aβ… [which] may represent a complimentary strategy for future development in AD treatment," they wrote at the time.
Dr Xu noted that Dr Koivisto and colleagues' study has some limitations, and he would like to see more details on the methods and results. But he agreed that there should definitely be more collaboration and consultation with neurologists for these types of patients.
"This study was an observation, and not really a mechanistic study, but people should probably pay attention to it," he concluded.
Dr Koivisto and Dr Xu have disclosed no relevant financial relationships.
International Conference on Alzheimer's and Parkinson's Diseases and Related Neurological Disorders (AD/PD) 2017. Poster 206 and Symposium 26, Presentation 5. Presented March 30, 2017.
Follow Deborah Brauser on Twitter: @MedscapeDeb. For more Medscape Neurology news, join us on Facebook and Twitter.
Medscape Medical News © 2017

Cite this: Ventricular Enlargement Plus Idiopathic NPH Symptoms May Up Risk for Dementia - Medscape - Apr 06, 2017.