SAN ANTONIO ― Two agents that inhibit cyclin-dependent kinases 4 and 6 (CDK4/6) have yielded unprecedented results in progression-free survival in clinical trials involving postmenopausal women with estrogen-receptor (ER) positive, HER2-negative metastatic breast cancer.
One drug, palbociclib (Ibrance, Pfizer), is approved by the US Food and Drug Administration in this metastatic setting, and the other agent, ribociclib (Novartis), is under priority review by regulators for use in the same setting.
Now, new data on the third agent in this class, the still experimental abemaciclib (Eli Lilly), show that the strategy of inhibiting CDK4/6 has effectiveness in even more patients – those with early-stage disease.
In the first randomized neoadjuvant trial of a CDK4/6 inhibitor in early-stage patients, twice-daily abemaciclib, either alone or in combination with anastrozole (Arimidex, AstraZeneca), significantly reduced Ki67 expression after 2 weeks of presurgery treatment in comparison with anastrozole alone. Thus, the three-arm, 223-patient study met its primary endpoint.
"Ki67 is a well-validated surrogate endpoint for disease-free survival," said lead study author Sara Hurvitz, MD, of the Jonsson Comprehensive Cancer Center at the University of California, Los Angeles.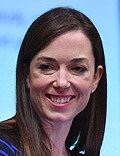 She spoke at a press conference here at the San Antonio Breast Cancer Symposium (SABCS) 2016.
These new findings are akin to results from two earlier, single-arm neoadjuvant trials with palbociclib and ribociclib that also showed reductions Ki67 levels among patients with early-stage disease. Together, these results raise the question: Is CDK4/6 inhibition well suited to be a curative therapy for early-stage disease?
Dr Hurvitz wants to find out: "We need to push this into early-stage disease," she told Medscape Medical News concerning adjuvant and neodadjuvant studies.
Echoing other experts, she said the results in metastatic disease are important and represent a new standard, as reported by Medscape Medical News.
"It's the biggest thing that's happened in the last decade [in metastatic ER-positive disease]," said Dr Hurvitz, referring to the success of CDK4/6 inhibitors. "It's a very important class of drugs."
Tufia Haddad, MD, a medical oncologist at Mayo Clinic, in Rochester, Minnesota, who is not involved in these clinical trials, is looking forward to more results in early-stage disease.
"We are all very hopeful about this class of drugs in this setting," Dr Haddad told Medscape Medical News, adding that any improvement in overall survival and progression-free survival will be challenging because results with standard endocrine therapies are already good in these patients with early-stage disease.
The large international PALLAS study addresses this question, said Dr Haddad. Now enrolling patients, the adjuvant trial examines standard endocrine therapy alone or in combination with palbociclib for the treatment of pre- and postmenopausal women with stage II and stage III disease that is HR positive and HER2 negative.
Aditya Bardia, MBBS, MPH, a medical oncologist at the Massachusetts General Cancer Center in Boston, believes that CDK4/6 inhibitors will eventually be used in patients with early-stage disease.
"This is a bit speculative, but I think CDK4/6 inhibition would be effective in the right setting of early-stage disease," said Dr Bardia, who was not involved in this new study.
The right setting for curative use would "probably" be in higher-risk patients in whom endocrine therapy alone is unlikely to be sufficient, he told Medscape Medical News.
However, adverse events are a concern, because the adjuvant setting would involve longer-term use than the metastatic setting, Dr Bardia pointed out.
In the current study of abemaciclib, 55% of patients experienced some grade of diarrhea – and that occurred while the patients were receiving a prophylactic agent, per study design. Also, 37% experienced nausea (all grades). Notably, patients in the study were receiving twice-daily therapy only for up to 4 months. "Now imagine for 5 years, or even 1 year of daily therapy," said Dr Bardia. "This does impact the quality of life," he said.
"These are patients with early breast cancer ― the safety profile is very important," concluded Dr Bardia.
One of the selling points of abemaciclib is that it is associated with much less neutropenia than the other two CDK4 inhibitors, as reported in the literature.
In the current study, grade ≥3 neutropenia was reported in only 8.2% of patients, stated Dr Hurvitz. However, Dr Bardia pointed out that 66% of patients still experienced a decrease in neutrophil count.
At the SABCS press conference, Carlos Arteaga, MD, of the Ingram Cancer Center at Vanderbilt University in Nashville, Tennessee, said that abemaciclib was not just an imitation of the more extensively investigated palbociclib. "This is not like Pepsi-Cola and Coca-Cola," he said.
Dr Hurvitz explained that "this is a fairly unique drug in that it can be given continuously."
She said: "We do not need to take a 1-week or more break every month in order to allow neutrophil recovery," she added, referring to the higher rates of neutropenia seen with the other two agents, with their 3-week-off and 1-week-on regimens.
"During that 1 week off...there is this concern that there will be a rebound in [cancer] cell cycling that may actually promote resistance to this therapy," said Dr Hurvitz. "This is a theoretical benefit of abemaciclib."
The study was funded by Eli Lilly and Company. Dr Hurvitz has financial ties to Amgen, Bayer, Biomarin, Boehringer Ingelheim, Dignitana, Eli Lilly, Genentech, GlaxoSmithKline, Medivation, Merrimack, Novartis, OBI Pharma, Pfizer, Puma Biotechnology, and Roche. Dr Haddad has disclosed no relevant financial relationships. Dr Bardia has ties to Genentech and Novartis.
San Antonio Breast Cancer Symposium (SABCS) 2016. Abstract 24-06. Presented December 8, 2016.
Follow Medscape senior journalist Nick Mulcahy on Twitter: @MulcahyNick
For more from Medscape Oncology, follow us on Twitter: @MedscapeOnc
Medscape Medical News © 2016 WebMD, LLC

Send comments and news tips to news@medscape.net.
Cite this: Next Big Thing in ER+ Breast Cancer: For Early-Stage Too? - Medscape - Dec 08, 2016.