Nearly 9 of 10 authors of various National Comprehensive Cancer Network (NCCN) guidelines reported at least one financial conflict of interest (FCOIs) in 2014, new research shows.
"It is not a given that industry funding leads to undue influence," study coauthor Stacie B. Dusetzina, PhD, assistant professor at the University of North Carolina's Eshelman School of Pharmacy and Gillings School of Global Public Health, Chapel Hill, said in a statement.
"But it is important to analyze these relationships and the potential impact they have on care guidelines because they do influence patient care decisions and the cost of providing patient care."
The study was published online August 25 in JAMA Oncology.
Under lead author Aaron P. Mitchell, MD, University of North Carolina at Chapel Hill School of Medicine, researchers identified 125 guideline authors who were all physician members of the NCCN guideline committees for lung, breast, prostate, and colorectal cancer as of the end of 2014.
They then set out to quantify the presence and extent of FCOIs among these authors as revealed by the Open Payments provision or so-called Sunshine Act of the Affordable Care Act.
Since 2013, the Sunshine Act has required all US drug and device manufacturers to disclose transfers greater than $10 to physicians and teaching hospitals.
"We identified 125 authors across the 4 guidelines, of whom 108 (86%) had at least 1 reported FCOI," Dr Mitchell and coauthors report.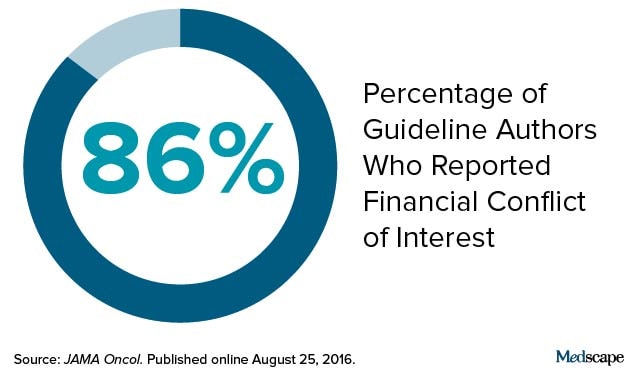 Each author received a mean of approximately $10,000 in general payments. General payments were received for items such as food, accommodation, or speakers fees.
"Research payments were of much higher monetary value than general payments, but were less common among NCCN guideline authors," the study authors add.
For example, guideline authors received a mean of $236,066 in research payments.
However, only 47% of the group received industry money for research vs 84% who reported one of more general payments from industry.
In fact, 39% of the authors studied received general payments and no payment for research, the researchers report.
Conversely, only 3 authors who received research payments reported receiving no general payment at all.
Eight authors, or 6% of the group overall, also declared FCOIs in excess of $50,000 net or a maximum of $20,00 for a single company, as stipulated by NCCN guideline policy.
The study was not designed to assess whether industry payments influenced a physician's practice or the recommendations made in the guidelines.
However, as the authors point out, earlier work has suggested that FCOIs can influence not only prescribing behaviour but recommendations made by guideline committees and can even influence interpretation of clinical trial data.
FCOIs Taken Seriously
Approached by Medscape Medical News for a reaction, Robert Carlson, MD, chief executive officer at the NCCN and adjunct professor of medical oncology, Fox Chase Cancer Center, Philadelphia, Pennsylvania, said that the NCCN takes the issue of FCOIs among panel members and staff very seriously and that it works very hard to minimize conflicts of interest as much as possible.
"The challenge is that people who have the depth and breadth of experience within these focused areas are actually fairly few in number and because of this, those individuals are sought after by every organization that wants that sort of expertise so if you really want that expertise, then there just simply will be FCOIs," Dr Carlson said.
"So it becomes a question of what's a reasonable FCOI and how do you go about managing those," he added.
Primarily, the NCCN is mainly concerned about honoraria and consulting fees because they go to the individual, whereas general payments covering flights and accommodation go directly to the companies that provide these services, as Dr Carlson explained.
Dr. Carlson also noted that the NCCN recently investigated 100% of its panels and 100% of the physician members of those panels and found that fewer than 1% of all panel members exceeded the NCCN's financial thresholds on their self-reported FCOIs with industry.
"The few panel members who exceeded those thresholds were removed from the panels," Dr Carlson added.
Dr Carlson also noted that the open payment reporting system is "notoriously inaccurate" and that there have been cases where payments may be reported more than once for a given panel member or a payment is reported but it's for the wrong physician.
Undue Bias
In an accompanying editorial, Ryan D. Nipp, MD, and Beverly Moy, MD, MPH, Massachusetts General Hospital Cancer Center, Boston, also suggest that not all FCOIs are "equally influential" or create the same risk for "undue bias."
"Research suggests that the oncology community views FCOIs involving stock ownership and participation in speakers' bureaus as more of a cause for concern than payment for meals or uncompensated consulting," they write.
"Therefore, policies regarding FCOI disclosure may need to go beyond just disclosing every industry relationship and should consider the relative harm or importance of the FCOI," they add.
One tactic to distance industry might be had in how authors disclose their FCOIs. The editorialists note that authors presenting at the annual meeting of the American Society of Clinical Oncology (ASCO) must make their disclosures before a presentation, and this information in turn is published on the ASCO website.
"ASCO reviews abstracts prior to the annual meeting for potentially concerning relationships among presenting authors, including employment and equity relationships, and may perform onsite audits of sessions," they add.
However, a research letter in the same issue of JAMA Oncology points out that the disclosure before the presentation is usually made very rapidly. Almost 40% of the disclosure slides from last year's ASCO meeting were flashed up so quickly that they simply did not register in the minds of most in attendance, notes Aaron Boothby, BS, from Oregon Health & Science University, Portland, and colleagues.
They question whether "current disclosure protocols constitute meaningful disclosure" and suggest that "the solution would be to extend the time of the disclosure slide so that no slide exceeds established limits of reading speed."
The editorialists conclude that continued efforts are needed to "advance the field of oncology while maintaining the public's trust and promoting integrity in the scientific process."
The authors of both the paper and the research letter have disclosed no relevant financial relationships. Dr Moy has an immediate family member who is a consultant for MOTUS GI Medical Technologies Inc. Dr Nipp has disclosed no relevant financial relationships.
JAMA Oncol. Published online August 25, 2016. Article Editorial Research Letter
Follow Medscape Oncology on Twitter: @MedscapeOnc
Medscape Medical News © 2016 WebMD, LLC

Send comments and news tips to news@medscape.net.
Cite this: Conflicts of Interest Frequent Among NCCN Guideline Authors - Medscape - Aug 25, 2016.