ORLANDO, FL — For patients with early breast cancer, new research[1] suggests that taking the angiotensin-receptor blocker (ARB) candesartan cilexetil (Atacand, AstraZeneca) may decrease the risk of cardiac dysfunction, a common side effect of radiation and certain cancer medications.
The randomized, 2x2 factorial Prevention of Cardiac Dysfunction During Adjuvant Breast Cancer Therapy (PRADA) trial of 120 women showed that those who received a daily 32-mg dose of adjunctive candesartan had a significantly smaller decline in left ventricular ejection fraction (LVEF) from baseline to end of cancer treatment vs those who received matching placebo (the primary end point, P=0.03).
However, there were no significant group differences in LVEF changes between the patients randomly assigned to receive 100-mg daily of the beta-blocker metoprolol succinate vs placebo.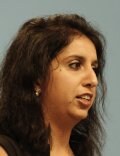 Lead investigator Dr Geeta Gulati (Akershus University Hospital, Lorenskog, Norway) said during a press briefing here at the American Heart Association (AHA) 2015 Scientific Sessions that if further research can confirm a sustained, long-term effect of early angiotensin inhibition, "preventive therapy may be indicated as standard care."
Session discussant Dr Bonnie Ky (University of Pennsylvania, Philadelphia) told heartwire from Medscape that with the growing burden of CV disease in breast cancer, this trial will hopefully shine more light on these issues.
"Although it was small, this study was thought-provoking in terms of potential clinical implications," said Ky. "It also shows that there are a lot more questions out there that need to be answered. But undoubtedly, this study is a key first step."
Largest Study of Its Type
Chemotherapy with high-dose anthracyclines, as well as trastuzumab, "have well-known cardiotoxic side events. And this cardiotoxicity may limit anticancer treatment," said Gulati. For PRADA, the investigators wanted to specifically assess if "neurohormonal blockade" can stop cardiac dysfunction, as measured by LVEF decline, in patients with breast cancer.
The 120 participants (mean age 51 years) were enrolled at one center between September 2011 and September 2014. They were randomly assigned to receive daily doses of candesartan (starting at 8 mg and titrated up to the target dose of 32 mg) or matching placebo or to receive metoprolol (starting at 25 mg, titrated up to target dose of 100 mg) or its matching placebo. All also received anthracycline-containing chemotherapy "with or without trastuzumab and radiation," reported Gulati, adding that treatment lasted for 10 to 61 weeks.
Although the total number of patients was small, "this was the largest randomized study in breast cancer to look at the effect of these medications on cardiac dysfunction," Gulati noted.
LVEF was measured by serial MRI. All participants had a baseline LVED of 50% or greater.
Exclusion criteria included symptomatic or valvular HF, CAD, or significant arrhythmias or treatment with an ARB, beta-blocker, or ACE inhibitor in the 4 weeks before baseline.
At the end of the study, the group receiving candesartan plus cancer treatment had "a modest decline in ventricular function of around 2% to 3%," vs the patients who did not receive candesartan, said Gulati. The metoprolol group showed no significant changes on LVEF at all.
However, limitations she cited were that the study was a low-risk group, excluding those with CVD disease. Plus, only 6.3% and 1.5% of the total participants had hypertension or diabetes, respectively. In addition, assessments ended at the end of cancer treatment. "Long-term follow-up is [now] necessary," she said.
Raises Many Questions
During her presentation at a late-breaking clinical-trial session, discussant Ky told meeting attendees that although she wanted to congratulate the investigators on a well-executed study, the primary outcome measure was change in LVEF, "which we have to remember represents a surrogate measure."
In addition, the study brought up many questions, she said, including: what are the mechanisms that occurred with each treatment, and why didn't the metoprolol group show an effect?
"Would other beta-blockers such as carvedilol have different results? What study population should we be targeting in terms of prophylactic therapy? And how should we be assessing cardiac outcomes in oncology?" she asked.
"Although a positive effect of candesartan may exist, additional research is of necessity prior to clinical-practice implementation."
Ky later mentioned to heartwire that it's a good sign that cardio-oncology departments are starting to become more prevalent. "I think that's a great move forward for the field. Early investigators were banging the drum about this important need, but it was a small group. It's good to see that this is finally catching on."
She added that this between-specialty partnership is especially important as newer therapies are advancing and patients are living longer after a cancer diagnosis—but then facing long-term CVD.
"We now have better tools in which we can protect patients or identify high-risk patients earlier. Then we can intervene earlier and hopefully delay or stop those untoward consequences."
This is a serious issue no matter what type of cancer a patient has, added Ky. Therefore, it'll be important to "develop a robust consensus definition of cardiotoxicity and a methodology to identify high-cardiovascular-risk patients."
Gulati reported no relevant financial relationships. Disclosures for the coauthors are listed in the abstract. Ky reported receiving an investigator-initiated award from Pfizer to study cardiotoxicity, was a consultant for Bristol Myers Squibb, and received research funding from the National Institutes of Health.
Heartwire from Medscape © 2015 Medscape, LLC

Cite this: Adding Candesartan to Cancer Therapy May Decrease Cardiotoxicity in Breast Cancer Patients - Medscape - Nov 12, 2015.