NEW ORLEANS ― An interdisciplinary pilot program effectively deals with behavioral disturbances arising from delirium, dementia, or other mental illnesses in hospitalized older adults ― while keeping both the patients and frontline clinicians safe, new research shows.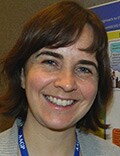 Within 2 years of implementing the Safe Patients/Safe Staff program at an acute care hospital, there was a significant decrease in behavioral problems, as well as fewer staff-reported incidents of patient-related physical violence. In addition, a majority of the staff reported that the program made them feel safer.
"We wanted something that would help provide the care that these patients need while helping staff, who had struggled before with the risk of injury," coinvestigator Carla Loftus, RN, MN, clinical nurse specialist at Mount Sinai Hospital, in Toronto, Canada, told Medscape Medical News.
"This is more than just a plan of care for when you see someone doing these challenging things. It's knowing you have a team of people who will respond," said Loftus.
The study was presented here at the American Association for Geriatric Psychiatry (AAGP) 2015 Annual Meeting.
Unsettled Patients
"When patients with behavioral and psychological symptoms of dementia (BPSD) are admitted to the hospital for an acute medical or surgical problem, the novel hospital environment, loss of routine, new caregivers, and perceived intrusiveness of care...can often unsettle patients and provoke worsening of BPSD features," write the investigators.
This can include agitation, aggression, getting lost, resistance to care, and defensiveness.
"These behaviors compromise care delivery and increase the risk of unintentional physical harm and burnout," note the researchers, adding that many frontline clinical staff members have not received the training needed to detect and care properly for patients with BPSD.
Although some facilities often use psychiatric teams to manage comorbid mental illness in these patients, "this relies on physician-initiated consultation despite the safety risks of challenging behavior falling more heavily on nursing staff."
The Safe Patients/Safe Staff program takes an interdisciplinary approach to these issues. Two advanced practice nurses and a geriatric psychiatrist make up the behavioral response team, which provides consultation, support, and care planning to target specific patient behaviors.
"Involvement of the behavioral rapid response team is supported by a policy that allows consultation to be triggered based on the presence of several high-risk/high-need criteria," report the investigators.
"Thus, frontline...team members, specifically nurses and allied health workers, can access psychiatric consultation for patients without waiting for formal physician consultation," they add.
In addition, e-learning modules on screening and management, classroom lectures, and interactive training sessions were provided to the staff.
Loftus reported that the program almost immediately demonstrated several positive outcomes, including improved patient care and overall safety.
Study results showed a significant decrease in "burden of behavioral disturbance" between program implementation during the perod 2011-2012, as measured by scores on the Geriatric Institutional Assessment Profile (from 4.6 to 4.2). Results from a newer survey will be released shortly.
"We were very pleased with this. We went from functioning quite poorly compared with other hospitals to making a big difference. So we were quite excited about that," said Loftus.
Decreased Violence
There were also significant improvements on the Employee Experience survey. In 2012, 39% of the hospital staff reported being the victim of physical violence from patients during the previous year, with only approximately 22% reporting this in 2014.
Interestingly, the number of reported incidents increased, "showcasing a dedication to building a culture of safety," said Loftus. In 2012, there were 47 formal employee safety reports of "client to staff aggressive behavior" vs 67 of these reports in 2014.
"We saw this as desirable that these numbers went up. This meant that people felt like they should report these incidents, they should take it seriously, and that the hospital cared," explained Loftus.
In addition, more patients and staff received support through use of the behavioral rapid response team, with geriatric psychiatry consultations increasing significantly between 2012 and 2014.
"Increasing numbers of consultations demonstrates increased access to services," write the investigators, adding that 79% of 64 members of the staff reported that having the psychiatric teams helped increase their safety.
"It's very validating. Some staff reported that when charting just to document an incident and not calling for help, the team quickly showed up anyway to ask if they could provide any assistance. So it really made them feel supported and like someone cared," said Loftus.
The staff also showed significantly more self-efficacy after undergoing the program's educational components, reflected in an increase from an average score of 7.15 to a score of 8.23 on a rating scale of 0 to 10. Knowledge scores were also improved and sustained, as shown at a 6-month posttraining follow-up.
The investigators note that they now hope to explore whether the Safe Patients/Safe Staff program can translate to other settings, including post–acute care and nursing homes.
"I think it's helpful to have a program that addresses these issues in multiple ways and provides education and hands-on training up front, including simulations," said Loftus.
She added that she is not necessarily recommending that clinicians use this particular program, but that some type of structured plan is needed.
More Than a Band-Aid Solution
"We see a lot of older people with medical comorbidities having a problem with agitation and behavioral consequences of that, whether or not they have underlying dementia," Elizabeth Kostrey, MD, adult and geriatric psychiatrist with an outpatient and a nursing home practice in Los Angeles, California, told Medscape Medical News.
"I think having support for the staff at the hospital to know how to manage and deal with that so patients and caregivers can be safe is important. And it probably does need some sort of interdisciplinary approach, both in the actual care of patients and in educating the nursing staff and the rest of the caregivers in the hospital setting," she said.
Dr Kostrey, who was not involved with the research, noted that it is also important to have programs, or at least structured plans, that are more than just "Band-Aid" solutions.
"Many times we're in a situation where our knee-jerk reaction is just to eliminate the behavior. But I think many times it's important for us to understand where that behavior is coming from and understand that there's a reason for it," she said.
"In certain situations, Band-Aids are important. But so is digging deeper to figure out how we can alleviate that suffering that clearly agitation is a reaction to."
Overall, Dr Kostrey said that specific plans regarding dealing with these patients are needed.
"People get busy. So when we have those rules and that structure, it does keep us on task," she concluded.
The study authors and Dr Kostrey have reported no relevant financial relationships.
American Association for Geriatric Psychiatry (AAGP) 2015 Annual Meeting. Abstract NR-18. Presented March 29, 2015.
Medscape Medical News © 2015 WebMD, LLC

Send comments and news tips to news@medscape.net.
Cite this: Novel Program Keeps Dementia Patients, Frontline Staff Safe - Medscape - Apr 03, 2015.