NEW ORLEANS ― The rapid growth of information technology has left the medical field grappling with how new innovations fit into research and clinical practice. This is especially true when it comes to geriatrics, according to a popular session here at the American Association for Geriatric Psychiatry (AAGP) 2015 Annual Meeting.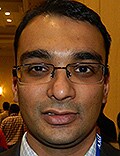 Ipsit Vahia, MD, assistant professor of psychiatry at the University of California, San Diego (UCSD), and director of research at UCSD Senior Behavioral Health, told conference delegates that there is a strong need for better ways to access information sources.
"In trying to take care of patients effectively, even the most skilled clinician is only as good as the data he or she has to work with. I've been hampered by not knowing that patients aren't following instructions or taking their meds correctly," said Dr Vahia.
"The field needs to become more tech savvy. But there are some key questions that need to be answered when it comes to new and emerging technology ― and how to use it for clinical care," he added.
In the session entitled Geriatric Psychiatry in the Digital Age, Colin A. Depp, PhD, also from UCSD, discussed new findings from his study Personalized Real-Time Intervention for Stabilizing Mood (PRISM), which was published in the March 15 issue of the Journal of Affective Disorders.
It assessed an automated mobile-phone intervention for patients with bipolar disorder (BD) and showed that use of the intervention plus brief psychoeducation decreased depressive symptoms, but only as long as the self-management intervention was continuously used.
Still, most electronic applications (apps) or mobile health–delivered programs can provide at least some benefit as long as they are personalized in a way that works for clinicians so they can track it, Dr Depp told Medscape Medical News following his presentation.
"Whatever self-monitoring tool that is out there that can help or encourage people, I'd say give it a shot."
More Is Better
The PRISM feasibility study included 82 patients with BD who completed four sessions of psychoeducation and were then randomly assigned to undergo 10 weeks of either the mobile-phone-delivered intervention (n = 41) or standard, paper-and-pencil mood monitoring (n = 41).
The mobile-phone intervention linked a patient's mood state with several personalized coping strategies. For example, if a patient determined that when depressed in the past, it helped to take a walk, the investigators would help the patient to draft a very specific statement about that, such as, "Go outside for 15 minutes – you'll always feel better," and then enter into it the mobile-phone-based program.
Then, on the basis of answers the patient gives to daily questions on the mobile phone about their mood, these personalized help statements would pop up automatically.
The published results showed that the mobile-phone-intervention group had significantly greater reductions in depressive symptoms on the Montgomery-Åsberg Depression Rating Scale (MADRS) than did the standard-use group at 6 and 12 weeks, (P = .03 and .04, respectively). Unfortunately, the effects were no longer significant at the 24-week follow-up.
"With the phones, there was an effect. But when we took the phones away, there wasn't an effect," said Dr Depp. "We were hoping that people would learn the process by monitoring their symptoms and then linking them to their own self-management strategies, which didn't happen. Instead, people used this as a supplemental device in the same way you'd use an automated medication reminder."
In further research presented at the AAGP meeting, the investigators looked at whether using the intervention made a real difference by assessing the responders, those who had a change on the MADRS. Results showed that the PRISM responders were in adherence 77% of the time, as shown by daily surveys. By contrast, the nonresponders were in adherence only 55% of the time.

"It's the idea that more use is better. So that was confirmatory, and I think promising," said Dr Depp.
"But we realized that we might want to change some intervening variables, with the understanding that many people aren't necessarily going to want to use these devices forever. So we might target intervening things, such as beliefs about medications and about their symptoms."
Still, session discussant Laura B. Dunn, MD, from the University of Michigan, in Ann Arbor, called the study interesting and compared the idea of having personalized service of the well-self talking to the less-well self to a "Ulysses contract," a pact designed to guide oneself in the future.
"I felt like that was really powerful. A Ulysses contract by global device is just really cool and has many further applications in the form of messages that patients could give to themselves," she said.
Possible Barriers
Dr Depp noted that in the future, the investigators would also like to target interventions specifically at the critical time between receiving inpatient care and transitioning to outpatient care. "At least in California, around a quarter of people released are rehospitalized within a month."
Barriers to the development of effective, personalized, and adaptive mobile interventions, however, include "a digital divide, oversight, the huge amount of data that is generated, and privacy concerns," he noted.
He reported that there are some apps that have been approved by the US Food and Drug Administration, such as glucose monitors. But there are also many unregulated apps, such as those that automate simple tasks.
"This creates a real gulf between what we see in the research field and what you would see on the iStore or Android Market. There are currently around 100,000 health apps available, with little or no supporting research," said Dr Depp.
In addition, he noted that few evidence-based apps are commercially available for download, "because institutions are not in the business of selling apps."
Some additional stats he reported included the following:
77% of adults older than 65 years in the United States have cell phones.

52% of this population keep track of some aspect of their health on a day-to-day basis. By comparison, 20% of 18- to 29-year-olds do so.

But only 1% of older adults used any mobile device for health tracking vs 17% of the younger group.
"The most commonly reported way of doing this over time for older people was by keeping track in their head, which is not so good for a group that is aging and could potentially face some cognitive issues," he said.
Geriatric Cyborgs
In his presentation during the same session, Dr Ipsit said that "cyborgs," individuals from science fiction that are enhanced with biomechanical parts, actually look more like today's geriatric patients than like Arnold Schwarzenegger in the Terminator movies.
He added that "gerontechnology" is the field of scientific research looking at technical applications directed toward these older cyborgs. It can focus on assistive technology, smart homes, and information/communication technology ― which includes the Internet, mobile phones, and electronic tablets.
When it comes to healthcare, he said that important questions to ask when evaluating new technology include, "Does it do the task it's supposed to do? Is it effective, and is it helpful?"
He is currently working with an engineer on a pilot study of small, wearable "bandaids" with embedded transmitters for measuring electrolytes and metabolites in geriatric patients.
As reported by Medscape Medical News, Dr Ipsit presented a poster later in the day showing that use of customized iPad apps was safe and well tolerated by a group of geriatric psychiatry inpatients with dementia and associated behavioral problems. He gave a short teaser about that study during the technology symposium.
"The iPad was the intervention, and what you do with it is personalized medical treatment," he told meeting attendees.
He added that past research has shown that many older adults prefer using state-of-the-art technology, such as an iPad, to something of much simpler design.
"The reason is they feel good about having and using something that their grandkids would want to use instead of something that is simplified and interpreted as ageist," said Dr Ipsit.
Serious Questions
Dr Dunn noted that both talks showed innovative thinking but raised several questions.
"I'm curious how these cyborgs, the aging population, will feel about these assisted and communication technologies and how it will affect their relationships with their providers and caregivers," said Dr Dunn.
"And since I'm particularly interested in ethics, how will these technologies affect patients' sense of autonomy? Will assisted information–communication technologies enhance a patient's ability to be autonomous?"
She added that Dr Depp's PRISM study made her wonder what the ethical burden is on clinicians if and when their patients adopt new technology. "What is our obligation as the uptake of these becomes greater?"
Earlier, Dr Depp reported about an older patient in a manic state who called with an invitation to view his twitter account ― which included 1900 tweets made during a 3-day period with no breaks.
"Was tweeting contributing to his mania? What if his posts had included statements of harm, either to self or others? This issue raises questions we need to face," said Dr Depp.
"I don't have answers to that, but it really does raise the issue: what is the clinician's responsibility when there are all these other channels of communication out there beyond our face-to-face interaction or phone messages?" asked Dr Dunn.
"I also worry about the addition of uncompensated time physicians may face with all of these apps. So it's great to see that medical folks are consulting with developers," she concluded.
Dr Vahia, Dr Depp, and Dr Dunn have reported no relevant financial relationships.
American Association for Geriatric Psychiatry (AAGP) 2015 Annual Meeting. Session 202. Presented March 28, 2015.
Medscape Medical News © 2015 WebMD, LLC

Send comments and news tips to news@medscape.net.
Cite this: Geriatric Psychiatry Needs to Be More Tech Savvy - Medscape - Apr 02, 2015.