NEW ORLEANS ― Computer applications (apps) on electronic tablets such as iPads may offer a safe, effective, nonpharmacologic option for addressing agitation in dementia patients who have associated behavioral problems, new research shows.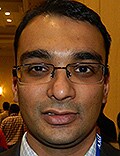 Preliminary results from a small pilot/feasibility study of geriatric psychiatry inpatients showed that use of iPad apps was safe and well tolerated. In addition, episodes of agitation/restlessness were reduced in patients with mild, moderate, and severe cognitive impairment after using apps of varying difficulty.
"We found that the iPad was an incredibly versatile tool; and we found it was a way to do several different things using a single device," principal investigator Ipsit Vahia, MD, assistant professor of psychiatry at the University of California, San Diego (UCSD), and director of research at UCSD Senior Behavioral Health, told Medscape Medical News.
"The most striking finding was that even those with the most severe forms of cognitive engagement were able to interact with the device in a safe and effective manner," said Dr Vahia.
The study was presented here at the American Association for Geriatric Psychiatry (AAGP) 2015 Annual Meeting.
Commercially Available Apps
The investigators note that health apps for older adults have led to "a quickly emerging market." Although previous research has preliminarily suggested that electronic tablets can help with behavioral control, "guidelines are lacking regarding the extent to which the nature and severity of cognitive deficits may be associated with ability to use specific types of apps."
For this study, the researchers examined whether use of an iPad in this population was safe and feasible ― and whether it could be used as a redirection tool when inpatients became agitated.
"At our unit, there is a broad interest in engaging patients in the treatment environment in diverse ways," said Dr Vahia.
The study included 39 inpatients (61.5% women; mean age, 80.1 years). On the basis of the Montreal Cognitive Assessment (MoCA), which was administered upon admission, three of the participants were classified as having "normal" cognition (MoCA >26), 13 as having mild cognitive impairment (MoCA = 18-25), seven as being moderately impaired (MoCA = 10 - 17), and 16 as being severely impaired (MoCA <10).
A total of 70 free, commercially available apps were downloaded onto five iPads, to be used when the participants were observed to be agitated or restless. Dr Vahia reported that the iPads were chosen because they were found to be the most user-friendly tablet by staff and patients.
He noted that some of the apps were chosen as part of customized care for individual patients, such as those that contained specific, meaningful music choices or that allowed a participant to view family pictures.
The apps were classified with a number between 1 and 10 on the basis of their degree of complexity. Those with a 10 rating were seen as "highly demanding," requiring the use of more than five cognitive domains at a higher level.
For example, a puzzle-solving app received a 10 rating because it involved problem-solving and higher-order planning skills. On the other hand, a photograph-viewing app received a 1 rating because it only involved passive visual attention and used less than two domains.
No Safety Issues
For this study, the Institutional Review Board (IRB) required that the iPads be locked down and only allowed to be used under staff observation for safety purposes.
"They were afraid that the patients might use the tablets as a weapon and possibly throw them at each other. But we didn't find any aggression toward the device. There were no safety risks or safety issues," reported Dr Vahia.
Other results showed that every participant at least "tolerated" use of the iPad apps. The apps used by the severely impaired group were significantly less complex than those used by the group with MCI (mean rating, 2.1 vs 5.3, respectively; P = .02), and each app-using session was significantly shorter for those with severe impairment (13 minutes vs 21 minutes, P = .03).
Although the greatest benefit in reduced agitation/restlessness was in the MCI group compared with the severely impaired group (P = .02), all three cognitively impaired groups showed benefit after iPad use.
Some of the interactive apps that proved especially popular included a pottery creation app that required hand-eye coordination, as well as one that showed water "ripples" or frogs jumping whenever a participant touched the screen as it displayed an image of a pond.
"It was an engaging visual impact experience, which is not very easy to do on a normal basis. So the device really added a whole dimension of how we were able to engage these patients," said Dr Vahia.
Translation apps were also popular with bilingual patients.
"For those where English was not their first language, we found that they weren't as stimulated or engaged at first. For example, a patient who spoke primarily Romanian was found to be quite apathetic and did not engage with staff. But when we showed Romanian videos from YouTube on the devices, this person seemed to come alive," said Dr Vahia.
"We realized from that that what looked like apathy was possibly just boredom," he added.
Preventive?
Female patients had significantly lower levels of agitation/restlessness after an iPad session compared with the men (P = .02). And, not surprisingly, greater frequency of iPad use was associated with a higher prestudy familiarity with computers (P < .01).
"iPads may serve as a tool for engagement and providing stimulation in the environment, as well as for control of agitation," write the investigators.
Dr Vahia added that the study also suggests the need for the development of apps with lower cognitive demands for this patient population and the need for app navigators for both patients and their caregivers.
He noted that appropriate personalization is key for these patients. "If you customize use, taking into account complexity of the apps, this can be quite an effective tool."
The study is ongoing, and Dr Vahia reported that the investigators are now examining whether use of the iPads on a regular basis to engage with the environment reduces the incidence of agitation ― instead of just using the devices as a postproblem intervention.
"It's seeing if this could potentially be preventive. That's the question we're looking at right now," he said.
"People are already using apps for care of older adults. Our work will hopefully give them evidence to direct what the most effective way of using the devices might be. Overall, I'd say that apps, when chosen thoughtfully, may have clinical applications."
"Quite Exciting"
"I'm actually quite excited about this, because we're always looking for nonpharmacological methods to treat agitation. And I think this is a really interesting concept," Connie Marsh, MD, clinical associate professor at the University of Kansas School of Medicine, in Wichita, told Medscape Medical News.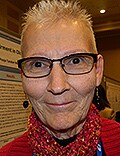 Dr Marsh, who was not involved with this research, noted that she would now like more information on which exact apps were used in the study.
"I just think this is fascinating, because it shows that people with severe dementia actually can use an iPad and, secondly, targeting agitation as a symptom you're trying to improve is pretty great," she said, adding that she is "pretty optimistic" about the findings.
"This is all preliminary, but I'm hoping that as we get a little more skilful at which apps would be more useful in which situations, this really has potential. So I'm pretty excited about it."
The study authors and Dr Marsh have reported no relevant financial relationships.
American Association for Geriatric Psychiatry (AAGP) 2015 Annual Meeting. Abstract EI-29. Presented March 28, 2015.
Medscape Medical News © 2015 WebMD, LLC

Send comments and news tips to news@medscape.net.
Cite this: Reducing Dementia-Related Agitation: There's an App for That - Medscape - Mar 31, 2015.