SAN DIEGO, CA — A randomized trial of patients with atrial fibrillation undergoing mitral-valve surgery largely confirmed the 1-year safety and efficacy of concomitant surgical ablation of the arrhythmia, but patients who had the ablation did not benefit clinically, and, unexpectedly, they had a 2.5-fold higher rate of pacemaker implantation.[1].
"We conclude that surgical ablation improves rhythm control in mitral-valve patients with persistent and long-standing persistent atrial fibrillation, [but] establishing the impact of ablation on long-term survival, freedom from stroke, and need for anticoagulation will require further investigation," said Dr A Marc Gillinov (Cleveland Clinic, OH) presenting these findings at a late-breaking clinical-trials session here at the American College of Cardiology (ACC) 2015 Scientific Sessions. The study was simultaneously published in the New England Journal of Medicine.
Among these mitral-valve-surgery patients, 63.2% of patients who had concomitant ablation vs 29.4% of patients who had none were free of atrial fibrillation determined by Holter monitoring, at both 6 months and 1 year later, the primary efficacy outcome (P< 0.001).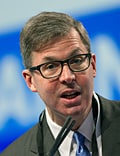 The rate of freedom from atrial fibrillation was similar in patients who had a simple pulmonary-vein isolation (61%) or a complex bilateral maze (66%), which is "encouraging, because it means you don't have to do the elaborate procedure; you can do the simple procedure and you'll get the same level of benefit," said Dr John Jarcho (Harvard Medical School, Boston, MA), deputy editor of the New England Journal of Medicine, the assigned discussant at the media briefing. The surgical techniques had been compared in the trial in a second prospectively defined randomization.
This study is unlikely to dramatically change the rate of concomitant ablation in mitral-valve surgery in North America, but it can help identify patients who might benefit most, according to Dr Hartzell V Schaff (Mayo Clinic, Rochester, MN) writing in an accompanying editorial[2]. "This includes patients who have severe symptoms of tachyarrhythmia and patients undergoing mitral valvuloplasty who would not require long-term anticoagulation therapy if sinus rhythm could be maintained postoperatively."
When, Why, and How Should Ablation Be Done?
About 30% to 50% of patients who undergo mitral-valve surgery also have atrial fibrillation and have reduced survival and increased risk of stroke, Gillinov and colleagues write. According to the 2014 AHA/ACC/HRS guidelines, surgical ablation is reasonable for selected patients with atrial fibrillation undergoing cardiac surgery for other indications, but there is only C-level evidence for this. It is unclear "when, why, and how adjunctive surgical ablation should be applied," Schaff writes.
Between 2010 and 2013, the researchers randomized 260 adult patients with persistent (>7 days)or long-standing persistent (>12 months) atrial fibrillation who required mitral-valve surgery to undergo this surgery with or without surgical ablation for atrial fibrillation at 20 centers in the Cardiothoracic Surgical Trials Network in the US and Canada.
Patients in the ablation group were randomized have pulmonary-vein isolation or a bilateral maze procedure. All patients had closure of the left atrial appendage.
The primary safety end point was a composite of death, stroke, heart failure, MI, rehospitalization for cardiac causes, transient ischemic attack, pulmonary embolism, peripheral embolism, excessive bleeding, deep sternal-wound infection, need for a permanent pacemaker, or damage to peripheral structures before hospital discharge or 30 days.
These were relatively elderly patients, with a baseline mean age of 70. Slightly more than half (54.2%) had long-standing persistent AF, and the rest (45.8%) had persistent atrial fibrillation. Slightly more than half had mitral-valve repair (55.6%) while the rest had mitral-valve replacement (44.4%). A total of 61.4% of the patients also had non-ablation–related procedures, and cardiopulmonary bypass was about 15 minutes longer in the ablation group than in the control group (P=0.03).
The 1-year mortality was similar in the ablation group and the control group (6.8% and 8.7% respectively, P=0.57) and in patients who had pulmonary-vein isolation or the bilateral maze procedure. The 1-year risk of any major cardiac or cerebrovascular adverse event was also similar in the ablation group and in the control group (23.3% and 20.5%, respectively; P=0.58), and there were no significant between-group differences for overall serious adverse events or hospital readmissions.
More patients received pacemakers in the ablation group than in the control group (21.5 vs 8.1 per 100 patient-years respectively, P=0.01), possibly, the authors speculate, because about half of the ablation group were >70 years old, half had multivalve surgery, and 40% had valve replacement instead of repair—all factors that could increase the risk of atrioventricular block.
There were no significant differences NYHA functional class, quality of life, or medication use between patients in the ablation or control groups, but the study was underpowered to detect such differences, according to the authors.
Surgical Ablation? And if So, Which Type?
"The decision to perform concomitant surgical ablation of atrial fibrillation . . . depends not only on confirmation of early safety and effectiveness, but also on clinical benefit," Schaff points out. "Readers will notice [a puzzling] absence of even a trend toward fewer major cardiac or cerebrovascular adverse events in patients undergoing concomitant ablation of atrial fibrillation," Schaff continues. This may be partly because this was an older population, and some patients had mitral-valve replacement and many had additional, non-ablation–related procedures; underlying valve disease and ventricular function rather than cardiac rhythm determine outcomes in such cases, he notes.
Following Gillinov's presentation, panelist Dr Richard Fogel (St Vincent Heart Center, Indianapolis, IN), president of the Heart Rhythm Society, asked, "In your practice, if you have a patient such as the case you presented [a 69-year old woman, NYHA class 2, 4+ mitral regurgitation, long-standing persistent atrial fibrillation], is there ever a time not to do a maze procedure?"
Gillinov replied that "there will be a clinical scenario where a patient is very sick, you're doing an extremely difficult, long operation, and in some rare instances even 15 minutes of extra operating time may be too much. But what this [study] says is that the default operation is 'treat the atrial fibrillation.'
"I would routinely do a maze. Do people live longer? Are they free of anticoagulant? We don't know that yet," he admitted.
The study was supported by a cooperative agreement with the National Heart, Lung, and Blood Institute, including funding by the National Institute of Neurological Disorders and Stroke and the Canadian Institutes of Health Research. Gillinov reports receiving consulting fees from AtriCure, Medtronic, Edwards Lifesciences, On-X Life Technologies, Abbott, Tendyne, and Clear Catheter Systems and royalties from Clear Catheter Systems for a chest-drainage system that he coinvented. In addition, he reports that his institution has the right to receive royalties from AtriCure for a device used to treat the left atrial appendage. Disclosures for the coauthors are listed in the article. Jarcho has no relevant financial relationships.
Heartwire from Medscape © 2015 Medscape, LLC

Cite this: AF Ablation at Mitral-Valve Surgery Works, but Without Clinical Gains in Randomized Trial - Medscape - Mar 20, 2015.