SAN DIEGO, CA — Long-term results of the PARTNER cohort A study were presented this week at the American College of Cardiology (ACC) 2015 Scientific Sessions, with positive findings closing the chapter on this landmark trial[1].
Five-year results showed transcatheter aortic-valve replacement (TAVR) in high-risk patients with aortic stenosis achieved similar long-term clinical outcomes compared with patients who underwent surgical aortic-valve replacement. At 5 years, the mortality rate was 67.8% in the TAVR arm compared with 62.4% in the surgical valve-replacement arm, a difference that was not statistically significant.
"If we look at all stroke rates, and this trial was done without a neurologist evaluating the patients before and afterward, there was an initial increased stroke risk associated with TAVR compared with surgical aortic-valve replacement," said Dr Michael Mack (Baylor Scott and White Health, Plano, TX). "By the time we got to 2 years, the [stroke] rates converged, and there was no difference in stroke between the two approaches at 5 years."
The 5-year results of the PARTNER cohort A study were presented during the late-breaking clinical-trials session and published online simultaneously in the Lancet. Patients in the study were considered high risk for aortic-valve replacement surgery, with an average STS score of 11.7%. As reported previously by heartwire from Medscape, patients in the TAVR arm were treated with a first-generation Sapien (Edwards Lifesciences) balloon-expandable heart valve. It was available only in the 23-mm and 26-mm size and is no longer on the market.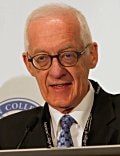 With no difference in all-cause mortality and stroke at 5 years, Mack, who spoke with the media following the late-breaking clinical-trials session, also said there was no evidence of structural valve deterioration. In the study, patients treated with the Sapien device did experience a significantly higher rate of paravalvular leak. Moderate or severe aortic regurgitation was documented in 14% of patients treated with TAVR and 1% of those who were treated surgically.
"The negative part of this study is the ongoing issue of paravalvular leak," said Mack. "Even mild paravalvular leak was associated with increased mortality at 5 years compared with patients who had none or trace [aortic regurgitation]."
Dr Jeffrey Popma (Beth Israel Deaconess Medical Center, Boston, MA), who was not affiliated with the PARTNER study, said the 5-year follow-up is impressive, noting one-third of patients in the trial were still alive and that they lived, on average, approximately 3.5 more years. As for what it means for surgery, Popma asked whether or not TAVR should be the standard of care in high-risk patients. Currently, the clinical guidelines state that surgery and TAVR are both acceptable alternatives in the treatment of aortic stenosis at high risk for surgery.
Mack noted that as experience grows, physicians are getting better at selecting the right patients for surgery and TAVR. In PARTNER cohort A, for example, there were some patients who underwent surgery who would never undergo surgery today, such as those with an STS score >15%.
"We just weren't smart enough, in terms of the heart-team evaluation, to determine who was dying with aortic stenosis but not from aortic stenosis," said Mack. "That's brought the risk down some. Second, anytime you have two treatments and one's more invasive than the other, the less invasive treatment always wins, from a patient's standpoint and from a physician's standpoint."
In an editorial accompanying the Lancet publication[2], Dr Arte Kappetein (Erasmus University Medical Center, Rotterdam, the Netherlands) noted that Mack predicted as far back as 2008 the benefits of new, less invasive procedures for percutaneous heart-valve treatment would equal or surpass the benefits of surgery. He also predicted that patients would select the less invasive approach over a more invasive one even if there is uncertainty.
The 5-year findings, writes Kappetein, "challenge whether surgery can still be considered the gold standard for patients at high surgical risk." However, patients respond to information the way it is presented to them, he adds, noting that there are still uncertainties about benefit and durability beyond 5 years. Surgery is described as having a higher likelihood of short-term discomfort and mortality, but patients often will not consider the long-term outcomes and will more often than not select the less invasive TAVR.
Mack has received travel reimbursements from Edwards Lifesciences relating to his position as an unpaid member of the PARTNER trial executive committee. Disclosures for the coauthors are listed in the article. Kappetein reports he has no relevant financial relationships.
Heartwire from Medscape © 2015 Medscape, LLC

Cite this: Five-Year PARTNER Data: Mortality, Stroke Rates With TAVR Equivalent to Surgery - Medscape - Mar 18, 2015.