SAN DIEGO, CA — Two-year results from the Medtronic-sponsored CoreValve High-Risk Study confirm the data observed at 1 year, with investigators reporting a significantly lower rate of death from all causes at 2 years compared with surgical-valve replacement in patients with symptomatic aortic stenosis at increased risk for surgery[1].
Presenting the 2-year results at the American College of Cardiology (ACC) 2015 Scientific Sessions, Dr Michael Reardon (Houston Methodist Hospital System, TX) said the new data show that the 1-year "survival advantage was durable, sustainable, and actually widening out, which makes one wonder about years 3, 4, and 5."
At 2 years, the mortality rate among patients randomized to surgical aortic-valve replacement was 28.6%. Among the transcatheter aortic-valve replacement (TAVR) patients, the mortality rate 22.2%. The difference between TAVR and surgery was statistically significant. Stroke rates were also significantly lower with TAVR, with 10.9% of TAVR-treated patients having a stroke at year 2 compared with 16.6% of the surgically treated patients.
The difference in the rate of major stroke was not statistically significant between the 2 treatment arms at 2 years, with stroke rates of 9.8% and 6.8% in the respective surgery- and TAVR-treated arms (P=0.25). Overall, 1.3% of patients had severe aortic regurgitation at 2 years and 5.2% had moderate aortic regurgitation. In terms of the echocardiographic findings, there was no structural valve deterioration evident at 2 years.
"Stroke, which was one of our early worries, really seems to be put to bed," said Reardon.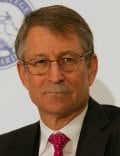 As reported by heartwire from Medscape, the CoreValve High-Risk Study included 795 patients randomized at one of 45 US centers to either surgical valve replacement or the CoreValve transcatheter valve. The average STS and EuroSCORE scores, indicating degree of surgical risk, were roughly 7.5% and 18%, respectively, in both treatment groups. From 1 year, approximately 93% of patients were available for follow-up at 2 years.
Speaking during the late-breaking clinical-trials session, as well as with the media, Reardon said he believes TAVR with the self-expanding valve should be considered the preferred therapy—not just a reasonable alternative as the guidelines currently state—for symptomatic patients at high risk for surgery. "Our conclusions are if you have this type of data," he said, "we really should change the guidelines and make TAVR the preferred treatment in this patient group."
Dr Susheel Kodali (Columbia University Medical Center/New York Presbyterian Hospital, New York), who was not affiliated with the trial and who conducted research with the Sapien 3 (Edwards Lifesciences) device, said he still sees a role for surgery in certain patients. "I think as we go forward, decisions are going to be made on the patient's anatomy and the risk/benefit discussion. . . . Surgery is still a good alternative."
The CoreValve is currently approved by the US Food and Drug Administration for use in patients with symptomatic aortic stenosis considered high risk for aortic-valve-replacement surgery and for patients deemed inoperable.
The CoreValve High-Risk Study was sponsored by Medtronic. Reardon serves on a Medtronic advisory board.  Kodali reports grant/research support from Edwards, Medtronic, Boston Scientific, and Claret Medical, equity in Thubrikar Aortic Valve and honoraria from St Jude Medical and Claret Medical. Disclosures for the coauthors are linked to the abstract.
Heartwire from Medscape © 2015  Medscape, LLC

Cite this: Two-Year Data Confirm CoreValve Superiority in High-Risk Surgical Patients - Medscape - Mar 16, 2015.