SAN DIEGO, CA — In one of the first prospective follow-ups of patients given QuickSite and QuickFlex (St Jude Medical) leads for biventricular pacing, before they were pulled from the market three years ago, conductor wires protruding through the silicone sheath appear to be "purely a cosmetic failure," according to a group presenting here at the American College of Cardiology 2015 Scientific Sessions.
"There was no evidence of any electrical abnormality that we could find in our patients," said Dr Madhu Reddy (University of Kansas Medical Center, Kansas City), about his center's cohort of 70 predominantly male patients who had the leads in place for an average of 68 months. They agreed to undergo high-resolution fluoroscopy and extensive device interrogation for the current study and represented a bit less than half the institution's living patients implanted with the leads there.
Imaging disclosed the orientation of the leads' internal conductor wires relative to the silicone sheath, showing 63% with normal positioning, which they called grade 0; 20% with stretching of the internal wire-containing lumen in a way that suggested imminent externalization, grade 1; and 16% with protrusion of part of a conductor wire, usually in a loop, outside the silicone sheath, grade 2. A grade of either 1 or 2 was deemed mechanical failure, and its development was independent of patient age, time since lead implantation, or any other evaluated patient or lead features.
QuickSite or QuickFlex electrical abnormalities were identified in 7% of the cohort, although not in any cases of mechanical failure. But it's true, Reddy told heartwire from Medscape, that other groups have identified electrical abnormalities associated with mechanical failure of the leads.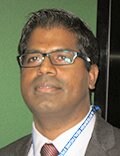 A concern is that LV pacing with an electrically flawed externalized lead might compromise resynchronization therapy and lead to worsening heart failure; with that as probably their only clinical manifestation, most externalizations could be missed without routine imaging.
But no one, including Reddy, thinks that routine radiographic follow-up of QuickSite and QuickFlex leads is needed or wise. "There's no recommendation at this point in time to screen these patients or even be worried about them," he said.
Even externalized, he pointed out, the conductor cables remain thinly coated with a plastic insulation, ethylene tetrafluoroethylene (ETFE), which apparently has preserved their electrical integrity. The silicone sheath, according to Reddy, is mostly "structural," not primarily for electrical insulation.
In past heartwire coverage of externalized pacing and defibrillator leads, however, experts have expressed concern that, over time, even the ETFE coating would wear away from the externalized conductor wires, setting the stage for electrical failure.
But that might not be a big issue with transvenous pacing leads like QuickSite and QuickFlex, the way it apparently was with St Jude's Riata and Riata ST implantable defibrillator leads, which were formally recalled in December 2011.
"In Riata, there's a lot of movement, so the ETFE-coated cable is quite mobile," Reddy said. But with operators at his center, at least, the CRT leads are positioned somewhat firmly in small veins, "so there is not much motion stress. That's why ETFE is probably good enough to keep it insulated without any clinical consequences."
Reddy reports that he has no relevant financial relationships. Disclosures for the coauthors are linked to the abstract.
Heartwire from Medscape © 2015  Medscape, LLC

Cite this: Late Follow-Up of Protruding-Wire Flaw in Discontinued St Jude CRT Leads: No Electrical Issues - Medscape - Mar 14, 2015.