SAN DIEGO, CA — This resortlike port city only a short drive from Mexico, with its reliably sunny days and expected 75ºF/24ºC temperatures, should make an especially entrancing destination this March 14 to 16, but not only to the snow-weary and others looking to shed their winter coats.
Also on offer: the latest clinical trials and vibrant discussions on issues confronting cardiology every day, presented at the American College of Cardiology 2015 Scientific Sessions featuring the TCT@ACC-i2 learning pathway. Assuming high-profile late-breaking-trial (LBT) positions this year are studies exploring imaging modalities for suspected chest pain, optimal antiplatelets post-PCI and in chronic CAD, the maturation of transcatheter aortic-valve replacement (TAVR), and even weight loss as potential therapy for an arrhythmia.
Saturday: Promises, Promises
The Saturday late-breaker sessions, with extra time devoted to expert panel discussion, kick off at 9:00 am with the Prospective Multicenter Imaging Study for Evaluation of Chest Pain (PROMISE) trial, a long-awaited comparison of functional vs anatomic testing for patients with suspected CAD.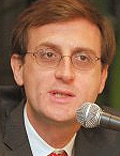 At last, observed Dr George D Dangas (Icahn School of Medicine at Mount Sinai, New York, NY) for heartwire , a huge randomized trial entering a broad range of patients will provide evidence-based guidance needed for imaging in this population. Dangas is on the TCT@ACC-i2 2015 program executive committee.
Launched 5 years ago and randomizing >10 000 patients, enormous for an imaging trial, PROMISE looked at hard clinical end points over at least a year for those evaluated with either computed tomographic angiography (CTA) or conventional, echocardiographic, or nuclear stress testing.
The data it generates, according to Dangas, will make for "an interesting new chapter in cardiology research." Imaging for patients with suspected CAD, he said, is moving toward clinical trials with clinical end points, the same level of scrutiny demanded of most any intervention.
Sweetening the deal, Dangas observed, is the PROMISE economic comparison of functional and anatomic testing, slated for presentation the next day at the Sunday 8:00 am late-breaking-trial sessions.
And at the same Sunday session, investigators from the Scottish Computed Tomography of the Heart (SCOT-HEART) trial will present their evaluation of multidetector CT for coronary calcium scores and angiography vs usual care in >4100 patients presenting to rapid-access chest-pain clinics throughout Scotland.
After PROMISE on Saturday, the venerable TIMI group will flesh out top-line results announced in January from the Prevention of Cardiovascular Events in Patients With Prior Heart Attack Using Ticagrelor Compared to Placebo on a Background of Aspirin-Thrombolysis in Myocardial Infarction 54 (PEGASUS-TIMI 54) study.
That trial, as heartwire then reported, showed a significant reduction in major adverse cardiac events by adding ticagrelor (Brilinta, AstraZeneca) to aspirin in patients with a prior MI (1 to 3 years previously) and other important cardiac risk factors. The trial's patients, >21 000 strong, had been randomized to three arms testing two ticagrelor dosages against placebo.
The patients were somewhat high risk but not as acute as those in the controversial Platelet Inhibition and Patient Outcomes (PLATO) trial, observed Dangas. PLATO tested the same thienopyridine antiplatelet in acute coronary syndrome, the indication for which ticagrelor is approved in the US. It isn't currently approved here for secondary prevention, per its use in PEGASUS.
"It's a very large study with a lot of statistical power for meaningful data, for efficacy as well as safety, which from my point of view are equally important," Dangas said.
Sunday: Ischemic Preconditioning, TAVR, and a New Paradigm
Analysis of the first and second Open Label Study of Long Term Evaluation Against LDL-C trials (OSLER-1 and OSLER-2) leads off the 8:00 am late-breaking-trial sessions on Sunday, which will address perhaps the most asked question about dyslipidemia treatment with evolocumab (Repatha, Amgen) and other proprotein subtilisin kexin type 9 (PCSK9) inhibitors: will the unprecedented steep drops in LDL cholesterol translate into better clinical outcomes than are possible with other lipid-lowering agents, particularly statins?
OSLER 1 is complete, but its >1100 patients continue to be followed; OSLER 2, with >3500 patients, has a few years before it officially ends but has patients available for its primary end point, clinical events at 2 years.
Scheduled for presentation after the OSLER trials, the randomized EMBRACE STEMI tested intravenous administration of the mitochondria-targeting peptide Bendavia (Stealth Peptides) for possible infarct-limiting effects in patients undergoing early PCI for acute anterior-wall STEMI. The agent has shown promise in animal studies. The current trial's primary end point is troponin-defined infarct size, but it's also looking at nuclear imaging parameters and hard clinical end points.
Next on the schedule, the REGULATE-PCI trial, an open-label exploration of what Dangas called "a new paradigm for trying to do anticoagulation during PCI." Since no reversal agent is available for bivalirudin, he proposed, why not test it against an anticoagulant that does have a reversal agent to call on for controlling bleeding? Filling that role, the REG1 system (Revolixys Kit, Regado Biosciences) consists of the anti–factor IXa aptamer pegnivacogin paired with the oligonucleotide reversal agent anivamersen.
New paradigm notwithstanding, randomization in REGULATE PCI had been halted at about 3200 patients out of a planned 13 200 due to "serious allergic adverse events" in the REG1 group, as heartwire reported. Dangas said the trial's bleeding experience, however abbreviated, should be instructive.
The third late-breaker session at 10:45 am highlights the maturing of a technology that has captivated interventionalists and others the past few years, TAVR. In recent years there were primary data that generated much excitement, and "this year we will have some true longer-term data with both types of balloon-expandable and self-expanding valves," Dangas said. On tap will be 5-year outcomes from PARTNER 1 as well as 2-year data from the CoreValve US Pivotal High Risk Trial. Early echocardiographic outcomes with the SAPIEN 3 system will also be presented.
Finally, that session will highlight a fairly new wrinkle in the TAVR story, insertion of a filter or other device via catheter during the procedure to prevent distal embolization, possibly protecting the brain. The tiny, preliminary DEFLECT III trial randomized 86 patients undergoing TAVR to receive or not receive the TriGuard HDH embolic deflection device (Keystone Heart).
"The level of scrutiny is very high for these procedures," Dangas observed, because as TAVR operators gain experience, "the rate of these embolic events is already dropping. So the window of opportunity for these embolic-protection or -deflection devices may get narrower and narrower."
Monday: AF Burden and Ablation, Thrombectomy, and More
The fourth late-breaking-trials session launches with the 120-patient multicenter AATAC trial, which randomized patients with persistent atrial fibrillation, heart failure, and an implantable defibrillator to either catheter ablation or amiodarone for the AF.
AATAC will be followed by a trial with about 260 patients with persistent or longstanding AF and mitral-valve (MV) disease randomized to MV surgery alone vs paired with surgical AF ablation.
Next up: weight reduction as antiarrhythmic therapy, sort of. The observational Long-Term Effect of Goal Directed Weight Management on an Atrial Fibrillation (LEGACY) study looked at the effect of weight loss on Holter-documented AF burden in an estimated 356 overweight or obese men and women younger than 65 with paroxysmal or persistent AF.
"Because overweight and obesity may be associated with diabetes, metabolic syndrome, high blood pressure," and so forth, Dangas observed, "if you lose weight, lots of things improve." But if weight loss curtails the arrhythmia independently or because of secondary effects, who cares? he said, as long as the patient winds up with less AF.
Presentations following LEGACY include the Bypass Surgery versus Everolimus-Eluting Stent Implantation for Multivessel Coronary Artery Disease (BEST) noninferiority trial, which enrolled >800 patients; and the approximately 1600-patient Effect of Remote Ischaemic Preconditioning on Clinical Outcomes in CABG Surgery (ERRICA) multicenter randomized trial.
ERRICA is looking at the cardioprotective effect of remote ischemic preconditioning, measured by troponin levels over 3 days, and has a primary end point of major adverse cardiac and cerebral events 1 year after surgery. The preconditioning intervention consists of a blood-pressure cuff inflation to 200 mm Hg for 5 minutes followed by deflation for 5 minutes, repeated another three times; the trial has a sham control.
The final session opens at 10:45 am with the TOTAL randomized trial of PCI with or without routine aspiration thrombectomy in patients with acute STEMI, which enrolled >10 000 patients and was set to follow them for 6 months for the primary end point of cardiovascular events, including new NYHA class 4 heart failure.
The TOTAL results will arrive about 6 months after presentation of the similar TASTE trial at the European Society of Cardiology 2014 Congress, which found no justifying advantage to the routine catheter adjunct to primary PCI in its >7200 patients.
Dangas points out that the larger TOTAL trial could shed light on the effects of varied thrombus burden on the potential gains from adding thrombectomy to PCI—a key unknown.
"The study is so big, I expect that every bracket of clot [burden] stratification is going to have more patients than some previous [thrombectomy-in-STEMI] studies had on their own," Dangas said. "So I think we'll get a good general view as well as secondary analyses on the amount of clot burden and how that might be a modifier of results."
Next on the docket, the MATRIX trial, with its 2x2 randomization scheme and approximately 7200 patients with ACS, including STEMI, compared transradial vs femoral access for PCI and also compared bivalirudin vs conventional heparin with provisional GP IIb/IIIa inhibitors. Primary end points included clinical events and bleeding at 30 days.
Outcomes for the two randomizations will be unveiled in separate presentations, one after the other, Dangas observed. But importantly, "They are also going to present the interaction between the two [randomizations], which I think is very exciting," he said.
"So far with radial-access PCI, "the data have not been very conclusive. They have been driven by the radial-access–oriented centers, and none have produced overwhelming results in favor of transradial access, except for the very obvious end point," meaning access-site bleeding. And MATRIX, Dangas added, "was done under the auspices of the Italian Society of Invasive Cardiology [that is, throughout Italy], not at one or two selected centers."
Keep up with breaking news from ACC 2015 by following @theheartorg|Medscape Cardiology on Twitter and by following our conference coverage from the heart wire news team and theheart.org contributors.
Heartwire from Medscape © 2015  Medscape, LLC

Cite this: ACC 2015 Scientific Sessions: Contemporary Cardiology Embellished With San Diego Sunshine - Medscape - Mar 10, 2015.