Using the American Diabetes Association (ADA)–recommended body mass index (BMI) cut point of 25 kg/m2 or greater to screen for diabetes may fail to identify 1 in 5 Asian Americans who are diabetic, according to new research.
Instead, a BMI cut point of 24 or greater may be more appropriate to detect diabetes in this population, which includes Japanese and Filipino Americans.
Maria Rosario Araneta, PhD, from the University of California, San Diego (UCSD), presented the findings from the UCSD Filipino Health Study and the North Kohala Study here at the American Diabetes Association 2014 Scientific Sessions. The trial grew out of observations in the Veterans Affairs system that many of the patients with diabetes on renal dialysis were thin Asians.
"We questioned whether [these dialysis patients] were inadequately screened or if the physiology of diabetes differs among Filipinos," Dr. Araneta said.
"Establishing a BMI screening cut point with high sensitivity will facilitate early diagnosis and is feasible, since diabetes screening is relatively inexpensive," she told the audience.
Her results also indicate that limiting screening to HbA1c levels and fasting plasma glucose failed to identify almost one-half of Asian Americans with diabetes, and she speculates that one reason for the elevated risk for diabetes in nonobese Asians could be excess visceral adipose tissue.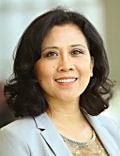 In an earlier study, she said her team had shown that Filipino women with a BMI below 23 had significantly more adipose tissue than African American women at every level of waist circumference and percent body fat.
Her research earned her the Vivian Fonseca Scholar award, which recognizes and promotes diabetes research in South Asian, Asian American, Native Hawaiian, or Pacific Islander populations.
"Every population is different, [and] in the United States, African Americans get diabetes at a higher BMI and Asians get diabetes at a lower BMI, so defining it is important," Vivian Fonseca, MD, the award's namesake, of Tulane University, New Orleans, Louisiana, and a past medicine and science president of the ADA, told Medscape Medical News.
High Rates of Diabetes, Dialysis, in Thin Asians
"Asian Americans have surpassed Latinos as the largest immigrant wave in the United Sates and are currently the fastest growing racial group, making up 6% of the US population — 1 out of every 7 Californians and 1 out of 3 people living in San Francisco," Dr. Araneta told the meeting.
Japanese, Vietnamese, and other Asians have higher rates of diabetes compared with whites, at lower BMIs, she noted. At the Veteran's hospital in La Jolla, they observed a conundrum: many of the diabetic dialysis patients were thin Filipino men, who were Navy veterans, exercised frequently, were not overweight, and had access to healthcare.
Explaining that diabetes screening is currently recommended for adults aged 45 and older with a BMI of 25 or greater and with one known risk factor, including Asian descent, she said they decided to investigate if this were sufficient for an Asian population.
The aim was to identify the optimal BMI cut points for detecting diabetes in Asian Americans aged 35 and older — they chose a younger cohort, since diabetes seems to appear at a younger age in this population.
The 702 participants were of self-reported Chinese, Filipino, Japanese, Korean, and mixed Asian ancestry, living in San Diego and Hawaii. They had a mean age of 58.4 years, a mean BMI of 25.5, and most (80%) were women.
Using 3 types of screening tests for diabetes — an oral glucose tolerance test, fasting plasma glucose, and HbA1c — the researchers detected diabetes in 21.2% of the participants.
There were 17.2% with 2-hour plasma glucose greater than 200 mg/dL, 6.3% with fasting plasma glucose greater than 126 mg/dL, and 10.4% with HbA1c higher than 6.5%.
To detect diabetes, a BMI of greater than 23 kg/m2 was more sensitive than a BMI of greater than 25 kg/m2 (sensitivity of 89.3% vs 65.8%, respectively), but was less specific. Sensitivity was poor (37.5%) at BMI of 27.5 or greater (obese levels).
The optimal BMI cut point to detect diabetes was BMI greater than 24 kg/m2 in the total sample, among women, among participants aged 55 and older, and among participants with isolated postchallenge hyperglycemia.
The optimal BMI cut point was greater than 25 kg/m2 if screening was limited to fasting plasma glucose or HbA1c measures. It was greater than 26 kg/m2 among men and participants aged 35 to 54.
Accuracy of Different BMI Cut Points to Detect Diabetes in Asian Americans
| | | | | |
| --- | --- | --- | --- | --- |
| BMI (kg/m2) | Diabetes, n (%) | Sensitivity (%) | Specificity (%) | Positive Predictive Value (%) |
| > 23 | 133 (18.9) | 89.3 | 28.9 | 25.3 |
| > 24 | 117 (16.7) | 78.5 | 41.8 | 26.7 |
| > 25 | 98 (14.0) | 65.8 | 53.9 | 27.8 |
| > 26 | 82 (11.7) | 55.0 | 67.8 | 31.5 |
| > 27 | 68 ( 9.7) | 45.6 | 75.1 | 33.0 |
| > 27.5 | 56 ( 8.0) | 37.6 | 79,2 | 32.8 |
Dr. Araneta has reported no relevant financial relationships. Dr. Fonseca is on the editorial board of Medscape Medical News.
American Diabetes Association 2014 Scientific Sessions; June 14, 2014. Abstract 71-OR
Medscape Medical News © 2014 WebMD, LLC

Send comments and news tips to news@medscape.net.
Cite this: Usual BMI Cut Point May Miss Diabetes in Thin Asian Americans - Medscape - Jun 14, 2014.