DALLAS — In the not-too-distant future, patients with multiple sclerosis (MS) may simply strap on an iPad to complete their balance and walking tests, without the need for a technician.
The test results would be automatically uploaded to a clinical or research database, eliminating the chance of human error.
And patients may be doing the tests in the comfort of their own home, eliminating the need to visit a clinic, a boon to those living in rural areas or with mobility issues.
"It's an entirely new way of measuring the clinical impact of MS," said Richard A Rudick, MD, who recently left the Cleveland Clinic Mellen Center for Multiple Sclerosis Treatment and Research in Ohio to become vice president, development sciences, Value-Based Medicine, Biogen Idec."The bottom line on this is a new method to collect, display, aggregate, and analyze neurological performance data that has potential to have a major impact in MS patient care and research."
Dr. Rudick was addressing the 6th Cooperative Meeting of the Consortium of Multiple Sclerosis Centers (CMSC) and the Americas Committee for Treatment and Research In Multiple Sclerosis (ACTRIMS).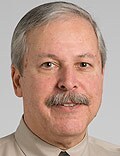 Major Impact
The iPad is designed to simulate the standard tests administered by a technician: for example, the analogous test for the Timed 25-Foot Walk is the Walking Speed Test on the iPad, the 9-Hole Peg Test is called the Manual Dexterity Test, the Sloan Low Contrast Visual Acuity Test translates to the Low Contrast Visual Acuity, and the Symbol Digit Modalities Test to the Processing Speed Test.
The iPad is attached to a belt clip worn by the patient. A specially engineered device that sits on top of the iPad and is connected to it collects the relevant data, said Dr. Rudick.
He and his team performed a validation study that included 51 patients with MS and 49 healthy controls. Over and over, they found that the 2 methods were similar. For example, the test-retest reliability for various dimensions, including the T25FW and the 9 HPT, was "very good," said Dr. Rudick. "The correlations were mostly above .9, showing that it's highly reliable whether the technician does it or the iPad does it."
As for sensitivity to MS with tests of manual dexterity, visual acuity, and other tests, again, "what you see is that all of these tests, whether the technician or the iPad does them, distinguish MS patients from healthy controls," said Dr. Rudick.
Results were "very similar" for progressive versus relapsing types of MS, he added.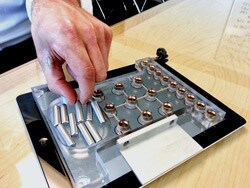 In some instances, the device was superior to a human tester. For example, with respect to how well a test distinguishes MS from healthy control, "for virtually every case, except the visual test, the iPad actually does a little bit better than the technician," said Dr. Rudick.
As for how well iPad or the technician measurements correlated with patient reports, that seemed to depend on the dimension. There was some correlation with certain lower-extremity patient reports, but not some upper-limb reports.
Dr. Rudick noted that the processing speed test correlated with just about everything except cognition. "MS patients don't recognize their cognitive dysfunction as a symptom they would call a cognitive problem," he explained. He added that the literature shows that cognition correlates better with depression than actual cognitive performance.
Easy to Use
The technology was well accepted. Patients found the applications were easy to understand and to use. "They said that completing the test on the iPad using a touch screen was easy, and they didn't have difficulty wearing the iPad for balance and walking," said Dr. Rudick.
Patients with MS, however, were more likely than healthy controls to find that the testing caused fatigue. "The way I interpret this is that it just reflects that patients have fatigue and can only tolerate so much testing," said Dr. Rudick.
The technology has several implications. The data can be transferred wirelessly to the "cloud" and scored instantly, enabling automatic entry into research and clinical databases. "You could theoretically send this right to the doctor at the time of the testing so he or she can see it, and at the same time send it to a research database," said Dr. Rudick.
This should reduce errors because there's no transcription of data, he added. "Whenever a human transcribes data there will be some error rates" which are estimated at about 1% or 2%.
The iPad data collection could lower costs of testing, too, because it lessens the need for extensive quality control of data and for human input. "If this can be transformed into a completely self-administered test, which we're working on right now, you don't need the technician," said Dr. Rudick.
"Nobody has the money for a technician to test their patients in practice," Dr. Rudick added in an interview with Medscape Medical News. "Also, a single technician can test a single patient, one at a time; with the iPad, several patients could test themselves simultaneously."
The technology could be adapted for "nontraditional" settings, such as rural areas, said Dr. Rudick. Because data could be collected at home, collection could be done more often, allowing for "trend analysis" over time, he said. Another implication, he noted, is that it allows researchers to develop a patient "profile" to determine how a patient is doing relative to healthy matched controls. "You can immediately grasp what is going on with patients over time." The technology also allows for input of additional tests the clinician might find useful, said Dr. Rudick.
The advantage of this technology, Dr. Rudick told Medscape Medical News, is that "walking speed, manual dexterity, vision function, and cognitive function information can be available to the neurologist." This, he said, "would allow the neurologist to track his or her patient over time, monitor the impact of medication, and make data-driven treatment decisions after discussion with the patient."
The technology still needs some tweaking. "We have to solve issues such as data transfer and integration with medical records, and we have to start building some databases from this," said Dr. Rudick. He said he hopes the technology will be available for widespread dissemination in about a year.
Work to Be Done
Asked for a comment, Robert P. Lisak, MD, professor and chair, Department of Neurology, Wayne State University School of Medicine, Detroit, Michigan, and the new president of CMSC, said the study is very interesting and promising.
"It's nice to see modern electronics and computer technology applied to the practice of medicine in a useful manner that has the potential to enhance care and cut costs but not cut costs by reducing the amount and quality of care," Dr. Lisak told Medscape Medical News.
However, he added that "there is still some work to be done on some of the measures, and we need to see if this approach can be confirmed and validated at other centers."
The validation study was supported by Novartis Pharmaceuticals. Dr. Rudick is an employee of Biogen Idec. Dr. Lisak has disclosed no relevant financial relationships.
6th Cooperative Meeting of the Consortium of Multiple Sclerosis Centers (CMSC) and the Americas Committee for Treatment and Research In Multiple Sclerosis (ACTRIMS). Symposium: iTechnology in MS: Transformation or Chaos? Presented May 29, 2014.
Medscape Medical News © 2014 WebMD, LLC

Send comments and news tips to news@medscape.net.
Cite this: iPad Performance Testing in MS - Medscape - Jun 16, 2014.