WASHINGTON, DC — One-year data from the Transcatheter Valve Therapy (TVT) Registry has shown that 56% of patients undergoing transcatheter aortic-valve replacement (TAVR) therapy are alive and have not been readmitted to the hospital for any cause. The overall mortality at one year was just over 26%, a finding that is in line with previous studies.
The rate of stroke at one year was 3.6%, a rate that is significantly lower than in previous trials.
"Of great interest was the fact that the only factor associated with an increased risk of stroke, of all the baseline characteristics that we looked at, the only factor was female gender," said lead investigator Dr David Holmes (Mayo Clinic, Rochester, MN). Male gender, on the other hand, was associated with an increased risk of mortality at one year.
The one-year results from the TVT registry, which is sponsored by the Society of Thoracic Surgery (STS)/American College of Cardiology (ACC) and included 5980 patients, 19% deemed inoperable, were presented yesterday during the late-breaking clinical-trials session at the American College of Cardiology 2014 Scientific Sessions .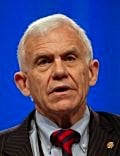 Overall, investigators did observe an age-related gradient with regard to mortality, noting that older patients had a significantly higher risk of death when compared with younger TAVR patients. The average age of patients in the TVT registry was 85 years, although the registry did include some patients older than 95 years of age.
In terms of patient and procedural characteristics, the researchers report that those with chronic obstructive pulmonary disorder (COPD) and impaired renal function had a higher risk of death. They also observed significantly higher rates of death among patients who underwent TAVR via an access site other than the femoral artery. Similarly, higher-risk patients also had an elevated risk of death at one year compared with lower-risk patients, with investigators reporting a mortality rate of 40% for those with an STS score >15.
"These associations will be used to develop risk-prediction models for physicians and patients trying to determine the optimal strategy for the treatment of their severe aortic stenosis," said Holmes.
Potential for Risk Creep in Clinical Practice
Following TAVR, 61% of the patients were discharged home and 32% were discharged to an extended-care or rehabilitation facility. The rate of in-hospital mortality was 5.3% and in-hospital stroke was 1.7%. In total, 1.4% of patients were converted to open-heart surgery.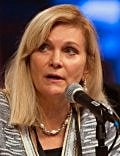 Speaking during the late-breaking clinical-trials session, cochair Dr Cindy Grines (Detroit Medical Center, MI) expressed surprise at the nearly 6000 patients already included in the TVT registry. Holmes noted that 230 clinical centers in the US participated in the registry, a number that reflects the pent-up interest in the procedure.
In terms of the patient population, one in five patients was considered inoperable, but the average STS score, indicative of surgical risk, was 7.1. Overall, just 12% of patients had an STS score >15, while 57% had an STS score <8. This led to questions about "risk creep," a phenomenon where clinicians perform the procedure in patients with increasingly lower risks compared with the clinical trials.
"As increasing numbers of patients are seen and as people become more familiar with the technology, it will be used, undoubtedly, in patients who are at lower risk," said Holmes. "Part of that relates to the fact that patients now know about this and are very keen on this technology."
Holmes explained that physicians sometimes make decisions on less invasive procedures based on factors the STS score might not capture. "Some of time, you'll look at the patient and say, 'I don't really care what the score says, I think they're going to have problems.' There is something about them that is unmeasured in the STS score. It's not a perfect score by any means."
Holmes added that in the high-risk cohort of the PARTNER A trial, some patients, when looking strictly at the STS scores, might not appear to be high risk for open-heart surgery. Yet two surgeons still decided to recommend the patient undergo TAVR rather than surgical replacement.
Speaking during the press conference, Grines said retrospective registry data have consistently shown that physicians are performing TAVR in lower-risk patients. "There is something to be said for the eyeball estimate of how sick a patient is," said Grines. "There's no registry on earth that can collect all of that information."
Earlier this week, Dr David Adams (Mount Sinai Medical Center, New York, NY) presented the results of the CoreValve High-Risk Study during another late-breaking clinical-trial session. In the CoreValve study, the mean STS score was 7.5. According to Grines, the results are reassuring, given that there was a mortality advantage with the percutaneous valve over the surgical approach. "If there is, in fact, creep to a less sick population, at least it's reassuring to know that they're going to be doing equally as well as, if not perhaps even better than, [surgery patients] in some cases."
Heartwire from Medscape © 2014

Cite this: One-Year TAVR Mortality and Stroke Data Reassures - Medscape - Apr 01, 2014.