WASHINGTON, DC — Just a day after investigators presented sobering findings from SYMPLICITY HTN-3 , a randomized sham-controlled trial that showed renal denervation failed to lower systolic and ambulatory BP compared with controls, registry data show the procedure did result in significant reductions in office and ambulatory BP from baseline.
Such is the confusing state of the field these days.
Yet not 24 hours later, investigators shared positive data on the first 1000 patients included in the Global SYMPLICITY Registry during a late-breaking session. Presented by Dr Michael Böhm (Saarland University Hospital, Homburg/Saar, Germany), the prospective, open-label, multicenter, international registry will eventually include 5000 patients with uncontrolled hypertension and "some with conditions associated with sympathetic nervous system activation."
"It is true that we now have conflicting data," said Böhm. But, he added, there are so many differences between the patient groups in the registry and trial that this is completely two stories. Instead, he sees the two data sets as complementary, something that will help investigators determine exactly who benefits from the procedure.
What the Registry Showed

In the registry study, patients were taking an average of 4.5 antihypertensive medications, with 79% taking beta-blockers, 67% taking angiotensin-receptor blockers (ARBs), 76% taking calcium-channel blockers, and 78% taking diuretics. Approximately 15% were taking direct-acting vasodilators.
At six months, the mean reduction in office systolic BP from baseline was 11.9 mm Hg in 751 patients retained at follow-up. For patients with baseline systolic BP >160 mm Hg, the mean reduction in systolic BP was 21.4 mm Hg. In the SYMPLICITY HTN-3 trial, as reported by heartwire , the mean change in office systolic BP was 14.1 mm Hg in the treatment arm and, surprisingly, 11.7 mm Hg in the control arm.
Regarding the change in ambulatory BP at six months, the reduction from baseline was 7.9 mm Hg in the 404 registry patients who underwent monitoring. The reduction was greater in patients with higher BP at baseline. In the clinical trial, the reduction in ambulatory BP was 6.8 mm Hg.
"Taken together, this is the largest database of real-world experience with the SYMPLICITY catheter, with a considerable reduction in BP that was more pronounced than in the SYMPLICITY HTN-3 trial," said Böhm. "However, the differences are that we do not have blinding, there might be differences in antihypertensive treatment such as uptitration [of doses], and we have no African Americans in this European, South American, Australian population."
Most important, in a registry study it is impossible to account for a possible placebo effect without a sham-control arm, added Böhm.
Asked about the procedure itself, Böhm said that the physicians participating in the registry have performed at least 30 renal-denervation cases and most participated in the SYMPLICITY HTN-1 and HTN-2 studies. Although there remains no way to determine the efficacy of the denervation procedure—for example, there is no measure of treatment success—operator experience may also explain the positive results of the registry data.
So, What Now?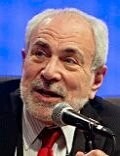 Speaking with the media during a press conference, Dr Allan Jaffe (Mayo Clinic, Rochester, MN) said medicine frequently encounters such problems in rapidly advancing fields, especially when the technology developed can help address an unmet need in clinical practice. Caution should be emphasized around such early technologies, though, given that there are other factors, such as patient selection or treatment, that have the potential to influence the results.
"This is why it is terribly important to do randomized controlled trials," said Jaffe. "Otherwise, it is easy to get ahead of ourselves and implement therapies in large numbers of patients prior to knowing they really have the efficacy we would like."
Böhm said that it is too early to make the decision whether to proceed with renal denervation or stop its use given the negative results of SYMPLICITY HTN-3, although he agrees that it's time to take the hype down substantially. He'd much prefer to leave the procedure in the hands of clinical centers with a genuine interest in understanding and furthering the science of renal denervation. For example, he said there remain open questions about the technique, such as how to best denervate the renal artery, and patient populations who might benefit the most.
Medtronic has announced that it is not abandoning the technology despite the negative SYMPLICITY HTN-3 results. It has canceled the SYMPLICITY HTN-4 trial but will continue to enroll patients in the global registry. It also confirmed the company would be continuing to supply the Symplicity device to countries in which it is market approved.
Interestingly, the registry data showed that just one-third of patients met the stricter definition of resistant hypertension (systolic BP >160 mm Hg and ambulatory BP >135 mm Hg) despite taking three or more antihypertensive medications. Böhm said some of the patients were included in the registry as part of "compassionate use," such as those with electrical storm.
Jaffe, however, sees things differently: "I think the randomized controlled trial really should put the brakes on the widespread utilization [of renal denervation]." He even went as far to say he'd like to see the brakes applied on its use in patients with resistant hypertension and said he would not be an advocate for it being approved. Although it's not a good idea to approve the device in the US until further data are available, Jaffe does agree that physicians need to treat patients individually and manage their risk accordingly.

Dr Prediman Shah (Cedars Sinai Medical Center, Los Angeles, CA), who moderated the press conference and was not involved in the trial, said one of the major limitations of renal denervation is that there remains no consistent technique to monitor the acute and long-term efficacy of the procedure. "Until that becomes available and is incorporated into clinical investigations, we will always have this question: Did you really denervate or not?"
To heartwire , Shah said the biology behind renal denervation is compelling, and he does not want to "see the baby thrown out with the bathwater." In the meantime, he would like to see a moratorium on the free availability of the procedure, with the exception of patients enrolled in clinical trials.
The Global SYMPLICITY Registry is sponsored by Medtronic. Böhm consults for AstraZeneca, Bayer, Boehringer Ingelheim, Novartis, Pfizer, Sanofi, Servier, and Medtronic. He has received speaking fees from AstraZeneca, AWD Dresden, Bayer, Boehringer Ingelheim, Berlin-Chemie, Daiichi-Sankyo, MSD, Novartis, Pfizer, Sanofi, and Servier. Jaffe consults for Radiometer, Abbott, Ortho Diagnostics, Beckman-Coulter, Trinity, ET Healthcare, Alere, Amgen, Roche, and Critical Diagnostics. Shah receives research grant support from CardioVax.
Heartwire from Medscape © 2014  Medscape, LLC

Cite this: SYMPLICITY Registry Data Spur Further Debate on Role of Renal Denervation - Medscape - Mar 31, 2014.