ORLANDO, Florida ― The risk for violence in elderly dementia patients, including homicide and suicide, is often overlooked and highlights the need to allow clinicians to ask about gun access and ownership in this population.
Paul Kirwin, MD, immediate past president of the American Association for Geriatric Psychiatry (AAGP), told meeting delegates attending the AAGP 2014 Annual Meeting that older white males are 5 times more likely to die by suicide than their younger counterparts and that there have also been serious reports of elder violence toward others.
"Gun-related homicides by the elderly, while rare, are concerning," said Dr. Kirwin.
The Coalition on Mental Health and Violence Issues was first struck in 2013 under the leadership of then-president of the American Psychiatric Association Dilip Jeste, MD, and involved several organizations, including the AAGP.
It calls for the cooperation of mental health programs, federal and local government agencies, and the public to prevent violence in individuals of all ages.
But Dr. Kirwin, who is also a director at the Veterans Affairs (VA) Connecticut Healthcare System and an associate professor of psychiatry at Yale University School of Medicine in New Haven, noted that the risk for violence is often overlooked in senior patients.

"In 2004, the VA found that 40% of veterans with mild to moderate dementia had guns in their homes. Deferring to a patient's autonomous choices only makes sense when that patient is capable of making logical decisions," he said.
"Guns, like cars, signify independence and individualism. And the right to own a gun is not in dispute. But one's ability to handle a deadly weapon when physical or mental acuity begins to deteriorate is an issue of public safety."
Elderly Gun Violence Common
Dr. Kirwin noted that Dr. Jeste and immediate past president of the American Medical Association (AMA) Jeremy Lazarus, MD, convened the Coalition in Washington DC soon after the 2012 shootings at Sandy Hook Elementary School in Newtown, Connecticut.
"AAGP has no official position on this other than to advocate for safety, including in our elders. And I'm trying to stay politically neutral," said Dr. Kirwin.
"Instead, I want to discuss research done on the topic in our patient population."
He noted that according to a 2004 national survey, more than 25% of those older than 65 years own guns. Other recent studies have shown that firearms are the most common method used in suicides by both men and women in later life.
"According to the CDC [US Centers for Disease Control and Prevention], from 2005 to 2010, firearm injuries accounted for 72% of the suicides among those 65 and older compared with 51% of all suicides," said Dr. Kirwin.
"Elderly men used a gun 79% of the time to end their life. And every day, an estimated 22 veterans kill themselves in the United States, according to the VA."
In an attempt to prevent such events, the VA recently launched a public awareness campaign about gun access and dementia patients.
Its brochure, which can be downloaded from the VA Web site, states that if a patient has dementia, a provider should counsel the patient and family to remove any firearms. If that's not possible, the VA recommends several safety tips. It also began distributing free safety locks in 2008 ― a move Dr. Kirwin suggested clinicians could emulate in their practices.
Locked and Loaded
Dr. Kirwin also noted that a brief report released in 1999 looked at 106 consecutive outpatients referred for dementia workups. It showed that 60% of these households had firearms, and 45% of those were loaded.
Another report in 2004 of 1000 outpatients showed that 30% had some type of firearm in their home.
"Inquiries about gun ownership and discussions of gun safety should be a routine part of care. Some geriatric patients with unsecured firearms in their homes are not autonomous decision makers," said Dr. Kirwin.
"Also, confusion, paranoia, and chronic pain can sometimes lead to serious occurrences," he added.
In 2013, Carolyn Block published a study examining homicides among the elderly in Chicago between 1965 and 2000. It showed that 25% of older women who were killed died at the hands of an intimate partner. A common scenario was a husband killing his wife and then himself.
"The issue is not political, it's about public safety," Dr. Kirwin reiterated to Medscape Medical News after the presentation.
"The point of my talk was to suggest that people with dementia or severe physical degeneration may not be able to safely handle a gun and should be assessed," he said.
Tying Physicians' Hands
"A lot of people, and even physicians, don't realize that this is a problem in the elderly community," said Dr. Lazarus during the same presentation.

"We aren't talking about taking guns away from competent grandmas and grandpas. Instead, it's important to talk about what we need to do in a reasonable way," he said.
"We believe that physicians should be able to have frank discussions with their patients and their families about firearm safety issues and risks."
However, as reported by Medscape Medical News, the state of Florida has tried to keep clinicians from asking about gun ownership. In addition, 9 other states are considering legislation governing conversations about guns between doctors and patients.
"This is a pretty dramatic law that we have been fighting against for some time. Studies have shown that asking about gun ownership issues and safe storage options protects people from unfortunate accidents," said Dr. Lazarus.
"I think it was very helpful when we got clarification from the White House that the Affordable Care Act does not prohibit doctors from discussing gun safety. And physicians can report credible threats of violence without fears of penalties from the Health Insurance Portability and Accountability Act [HIPAA] Privacy Rules."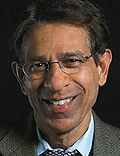 Dr. Jeste noted that many people in the field have a pessimistic view of the future and believe that changes are unlikely, especially because of political infighting, and that there are severe limits to being able to predict individual violence, especially if a patient refuses treatment.
"But there is also an optimistic view based on societal wisdom." He noted that the Mental Health Parity Act is an example of slow but major progress.
"Society has come a long way, and we have become more compassionate and collaborative. I truly believe that common sense and reasoning will prevail sooner or later. And I'm hoping that it's sooner rather than later," concluded Dr. Jeste.
American Association for Geriatric Psychiatry (AAGP) 2014 Annual Meeting. Session 207. Presented March 15, 2014.
Medscape Medical News © 2014 WebMD, LLC

Send comments and news tips to news@medscape.net.
Cite this: Homicide, Suicide Risk 'Overlooked' in Dementia Patients - Medscape - Mar 27, 2014.