ParkinsonNet, a collaborative model that shifts care away from institutions and into the community, is gaining attention. A decade after it was launched in The Netherlands, research shows that the ParkinsonNet program provides improved care and saves healthcare dollars. Experts are already planning to expand the model to other chronic conditions and launching the program in other countries.
In many ways, the concept, which brings together specially trained health professionals and patients with Parkinson's disease (PD), has "revolutionized" the approach to care, says Bastiaan R. Bloem, MD, PhD, professor and medical director, Parkinson Center Nijmegen, Department of Neurology, Radboud University Nijmegen Medical Center, The Netherlands.
Whereas in many places, including the United States, healthcare is delivered primarily in a hospital setting, "this is a national network extending from hospital, to community, to care delivered in the patient's home, specialized around one particular condition," said Dr. Bloem. "The other model is everything in 1 building; this is 1 disease in a national network across all echelons of healthcare."
In an analysis published online March 19 in the British Medical Journal, Dr. Bloem and Marten Munneke, director, ParkinsonNet, elaborated on the benefits of the ParkinsonNet model.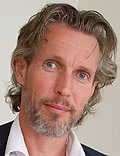 Technology Platform
The first regional network, established in 2004 in the catchment area of 2 cities in The Netherlands, included only 19 physiotherapists, 9 occupational therapies, and 9 speech language therapists. Today, ParkinsonNet has national coverage and includes 66 regional networks with 2970 trained professionals, including neurologists, rehabilitation specialists, pharmacists, psychiatrists, and occupational therapists. About 50,000 patients are now involved.
A key component of the model is an information technology platform that includes a Web site (www.ParkinsonNet.nl) with a search engine and Web-based communities where both patients and healthcare providers can chat. There's also a place where patients can find important background information, including evidence on various treatment options.
Studies show that the model results in reduced costs of care. Dr. Bloem estimates that at a national level, the program has saved up to €20 million (almost $28 million US) mainly by transferring care away from hospital clinics into the community.
The model also leads to better health outcomes. One large observational study (KPMG-Plexus, Vektis, 2011:1-42) that looked at health insurance claims found that patients living in the 2 oldest ParkinsonNet areas sustained fewer fractures, including a 55% decrease in hip fractures, than those in 27 control regions, and a 28% increase in patients receiving physiotherapy.
For neurologists, the model "makes life better," Dr. Bloem commented. "Many complications of Parkinson's disease can't be treated by neurologists alone. We play a crucial role, but the problem before was that we had no clue where to find an expert in the community who could provide a good physiotherapy service or an occupational therapy service. Now, we have easy access to expert therapies in the community who can help deliver the treatment plan that's in my head."
The program empowers, engages, and informs patients, and it allows them to keep in contact with specialists via video link from home, instead of having to make a trip to the hospital. Patients also appreciate being seen by trained experts who understand the complexity of their condition, said Dr. Bloem.
The model can be expanded to any chronic disease with a complex presentation that could benefit from a multidisciplinary team of experts who communicate and collaborate with each other. Already, a variation on the program is being started for patients with chronic obstructive pulmonary disease, said Dr. Bloem.
And the model is being expanded to other countries. Dr. Bloem reported that similar programs are expected to get off the ground soon in Germany, the United Kingdom, and the United States.
Dr. Bloem has received honoraria for serving on the scientific advisory board of GlaxoSmithKline, UCB, and Danone and has received research support and grants from the National Parkinson Foundation, the Netherlands Organization for Scientific Research (NOW), the Michael J. Fox Foundation, Prinses Beatrix Spierfonds, Stichting Parkinson Fonds, and Alkemade-Keuls Fonds.
BMJ. Published online March 19, 2014. Abstract
Medscape Medical News © 2014 WebMD, LLC

Send comments and news tips to news@medscape.net.
Cite this: Parkinson's Care Network Improves Outcomes - Medscape - Mar 25, 2014.