Compared with women without migraine, those who suffer these headaches have more deep white matter brain hyperintensities, indicative of lesions, a new study shows.
In the past such lesions have been linked to ischemic stroke risk and cognitive decline, but in this study researchers found no direct correlation between these lesions and migraine type, headache frequency, treatment approach, or effect on cognitive function.
Although the results raise questions about the direct consequences of these deep white matter lesions, they shouldn't be of much concern for women suffering migraines or their physicians, study author Mark C. Kruit, MD, PhD, a neuroradiologist from Leiden University Medical Center, the Netherlands, told Medscape Medical News.
"After 9 years, there was an increase of lesions selectively in migraine patients, but the fact that this is not related to the frequency or the type of headache, etc., makes it less worrisome. Patients needn't be concerned that each attack could cause damage to the brain."
The study was published in the November 14 issue of the Journal of the American Medical Association.
Imaging Findings
The original Cerebral Abnormalities in Migraine, an Epidemiological Risk Analysis (CAMERA-1) study included 295 patients with migraine and 140 age- and sex-matched controls. MRI examinations were completed in 2000 when the participants' mean age was 48 years. All participants were invited for follow-up MRI in 2009.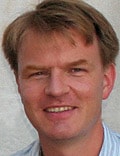 The current CAMERA-2 study included about two thirds of the original cohort (203 in the migraine and 83 in the control groups) who underwent physical examinations, cognitive testing, and a structured computer-guided phone interview to gather information on migraine status, patterns, and treatments since 2000. They also received detailed MRI of the brain, particularly the cerebellum.
The study showed no difference in white matter hyperintensities between men with migraine and their matched controls. This finding, said Dr. Kruit, wasn't surprising because it fits with earlier research.
However, among women, deep white matter hyperintensity volume was higher in the migraine group than among controls at baseline (0.02 vs 0.00 mL; P = .009) and at the 9-year follow-up (0.09 vs 0.04 mL; P = .04).
Women with migraine also had a higher incidence of progression of deep white matter hyperintensities (defined as > 0.01 mL) than controls. This progression was highest among women who had migraine without aura.
In regression analyses involving only women, migraine was independently associated with progression of deep white matter hyperintensity (adjusted odds ratio, 2.1; 95% confidence interval, 1.0 - 4.1; P = .04). Women in the migraine group had a higher incidence of high progression than women in the control group (23% vs 9%; P = .03).
The increase in total deep white matter hyperintensity volume among women with migraine was related to the increased number of new lesions rather than an increase in the size of preexisting lesions, the authors note.
Same Effect
The direction of this relationship is the same as that seen for ischemic stroke in some women, said Dr. Kruit.
"We know from several studies that in younger female migraine patients, there is a higher risk for getting ischemic strokes — the same kind of effect that we see for deep white matter hyperintensities."
Of note, in this current study, hypertension was not associated with a higher incidence of progression of white matter hyperintensity (P = .06).
Although variables such as hypertension alone may have a predictive role with regard to white matter hyperintensities, "you have to see migraine as separate from other risk factors that can cause or are related to these kind of changes in the brain," explained Dr. Kruit. "Migraine is an independent risk factor for these type of lesions."
Further analysis showed that the number, frequency, severity, and type of migraine and migraine therapy were not associated with lesion progression.
The lesions did not seem to affect cognition. There were no significant differences between groups with respect to cognitive function, including a composite score for memory, executive function, attention, visuospatial ability, and speed.
No Effect on Cognition
Participants with a high deep white matter hyperintensity load at baseline did not experience greater change in cognitive function at follow-up than those without a high load at baseline.
"We couldn't demonstrate a clear relationship between higher lesion load and worsening cognitive function," said Dr. Kruit.
Although migraine was associated with a higher prevalence of infratentorial hyperintensities in women, the study uncovered no significant association of migraine with progression of these small infarcts in the cerebellum or of posterior circulation territory infarct-like lesions, in women or men.
However, Dr. Kruit noted that for the infratentorial hyperintensities, the progression variable for women is "on the edge" (P = .05). "I would call this a nonsignificant association or a nearly significant association."
The study results should not in any way prompt clinicians to change treatment for patients with migraine in an effort to decrease risk of developing lesions, said Dr. Kruit. "We don't have any clues from this study that this would help patients."
It's not known what causes the relationship between migraine and brain lesions, but one theory is that ischemia occurs during migraine attacks.
However, the fact that migraine was not significantly associated with progression of most brain lesions in this study puts the role of cerebral ischemia in doubt, said Dr. Kruit.
It's possible that having blood that is more prone to clot, certain inflammatory factors, and impaired endothelial function may somehow increase the risk of developing lesions, he said.
Although the study findings should not be a reason for alarm, certain subpopulations of patients with migraine who have white matter hyperintensities may be at increased genetic risk for significant white matter disease and neurologic morbidity, including cognitive impairment, stroke, and transient ischemic attack, according to an accompanying editorial.
Timeline
In the accompanying editorial, Deborah I. Friedman, MD, University of Texas Southwestern Medical Center, Dallas, and David W. Dodick, MD, Mayo Clinic, Scottsdale, Arizona, note that addressing modifiable risk factors for stroke, including obesity, smoking, physical inactivity, hypertension, and hypercholesterolemia, and, for women older than age 35 years, avoiding high-dose combined oral contraceptives, "seems prudent."
Tobias Kurth, MD, adjunct associate professor of epidemiology, Harvard School of Public Health, Boston, Massachusetts, and a Director of Research, Institut national de la santé et de la recherche médicale (INSERM), University of Bordeax, France, commented that the study, which he said must have been challenging to conduct, provides further insight into potential structural brain lesions in patients with migraine.
"The study is useful from a research perspective and will help us in setting up new studies for further understand the issue," Dr. Kurth told Medscape Medical News. He added that although the results are in line with previous research, "this study adds a timeline to it."
The study results may not shed any more light on cerebral vascular changes in migraine, said Dr. Kurth.
"We don't really fully understand what white matter hyperintensities mean. One hypothesis is that they show pathologies of smaller vessels. However, it does not necessarily help in understanding the association between migraine with aura and stroke, as here, aura does not seem to play such a strong role, and many strokes in previous studies were not related to small vessel pathologies. "
Dr. Kurth also agreed that the findings should not have any effect on clinical practice.
"We need to understand what these changes in the white matter mean for patients with migraine before we call for changes in clinical practice or give advice to patients. I judge this as an important research finding that calls for further targeted research," he said.
The authors and Dr. Kruit, Dr. Friedman, Dr. Dodick, and Dr. Kurth have disclosed no relevant financial relationships.
JAMA. 2012;308:1889-1897.
Medscape Medical News © 2012 WebMD, LLC

Send comments and news tips to news@medscape.net.
Cite this: Migraine Linked to Brain Lesions in Women - Medscape - Nov 13, 2012.