Medscape Publishers' Circle® Information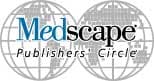 Medscape Publishers' Circle® is a collection of high-quality healthcare information from prominent medical publishers, available free on Medscape.com to registered Medscape members. It includes a broad range of full-text material from familiar print and electronic publications including clinical journals, clinical reference books, professional periodicals, newsletters, searchable databases, self-tests, and more. Our editors work closely with our publishing partners to bring you selected material from dozens of publications, including more than 90 MEDLINE-indexed journals. We continuously add material to Publishers' Circle® as new journal issues are published, updates are added to references, and new partner publications join us.
How do I find Publishers' Circle®?
If you've registered for free Medscape membership, then you have free access to all Publishers' Circle® articles and features on Medscape.com. Publishers' Circle® material appears almost anywhere on our site where you might look for information. New articles appear on your Medscape home page and are linked from the MedPulse e-newsletters. More articles appear in the topical News & Perspectives. You can also find lists of Publishers' Circle® publications on the Medscape Journals & Reference page. Click the Journals & Reference tab at the top of this page to see your specialty publications and click the "more" button to see a full list of periodicals and clinical references. Click on any title to find the publication's "home area," which includes an index of available material from that publication and information about the publication and how to contact the publisher for subscriptions or sales. You can also reach the "home area" for any partner publication by clicking on the publication's title that appears in the full-text articles on Medscape.com.
A word to publishers
If you represent a publishing company and are interested in becoming one of Medscape from WebMD's publishing partners, send e-mail to: anadel@webmd.net.