John L. Marshall, MD, is director of the Otto J. Ruesch Center for the Cure of Gastrointestinal Cancer; associate director for clinical care at the Lombardi Comprehensive Cancer Center; and professor and chief of the Division of Hematology/Oncology at Georgetown University, Washington, DC. A global leader in research for colon cancer and other GI cancers, he is the principal investigator of over 150 clinical trials.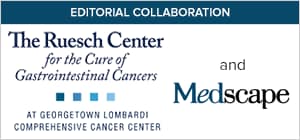 ABOUT THE RUESCH CENTER FOR THE CURE OF GASTROINTESTINAL CANCERS
Combining expertise in molecular medicine, translational research, and a patient-centered philosophy, the Ruesch Center will realize the dream of individualized curative therapies through research, care, and advocacy.