Insurer Ratings Report 2014
Leslie Kane, MA; Carol Peckham
October 21, 2014
Insurers play a huge role in the financial lives of most physicians, and they also create some frustration. More than 6300 physicians across 25 specialties took part in an online survey from July 9 through September 21, 2014, and told us how they feel about the leading insurers.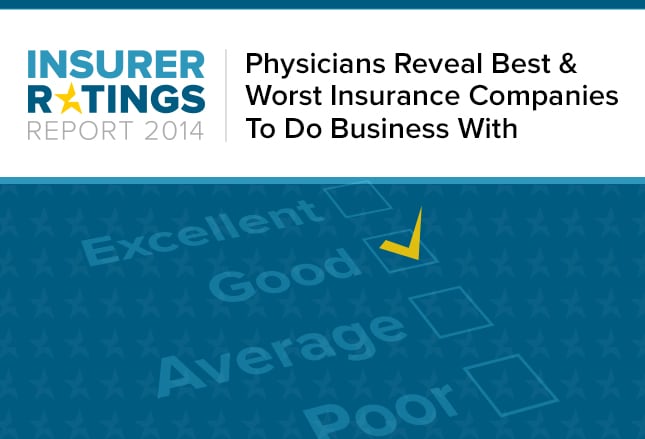 Over 80% of physicians participate with four insurers: Aetna (87%), United Healthcare and Blue Plans (85%), and Cigna (82%). Of course, national participation percentages would be highest for insurers that cover most states, and one would expect overall participation rates to be much lower for the regional insurers listed, including Medical Mutual of Ohio, Kaiser Foundation, Oxford (now a United Healthcare company), and Harvard Pilgrim.
When asked on a scale of 1 to 5 what qualities are most important in an insurer, survey respondents rated all of the options a 4 or above except one (rating system transparency), with reimbursement rate topping the scale at 4.7 and ease of doing business and frequency of denials both following closely behind at 4.4. Affecting these criteria is a dramatic shift in how insurers are paying physicians. A 2014 survey from Catalyst for Payment Reform[1] reported that although 60% of payments are still fee-for-service, 40% are now value-oriented. About half (53%) of the latter payments put providers at financial risk if they fail to meet objectives. On average, only 10% of payments to specialists and 24% to PCPs are value-oriented. Hospitals are the most affected by this approach so far. The most common value-oriented incentive is capitation, which accounts for 15% of health plans' health spending and can force physicians to absorb losses when medical bills exceed payments.[2,3]
In the Medscape 2011 survey, Blue Plans came in first (29% of respondents) and Aetna came in second (10%). They held their same spots this year, but this time around respondents were asked to rank overall performance on a scale of 1 to 5, with 1 being "very poor" and 5 being "very good." Very few insurers were rated above average. Although Blue Plans came in highest again this year, their rating was only 3.3, and Aetna rated just 3.2, as did Cigna. Six out of the 10 insurers listed were rated below average, with Oxford and HealthNet coming up shortest at 2.8. (Medicare and Medicaid were excluded from this question.)
When looking at what insured physicians rated best to least in 2011 vs 2014, Blue Plans and Aetna still held the top spots but there were some shifts among the others. Harvard Pilgrim Health Care moved up from eighth place to fourth, Medical Mutual of Ohio improved from tenth place to fifth, and United Health Care dropped from third to sixth place. Physician perspectives on insurers do not always match their patients'.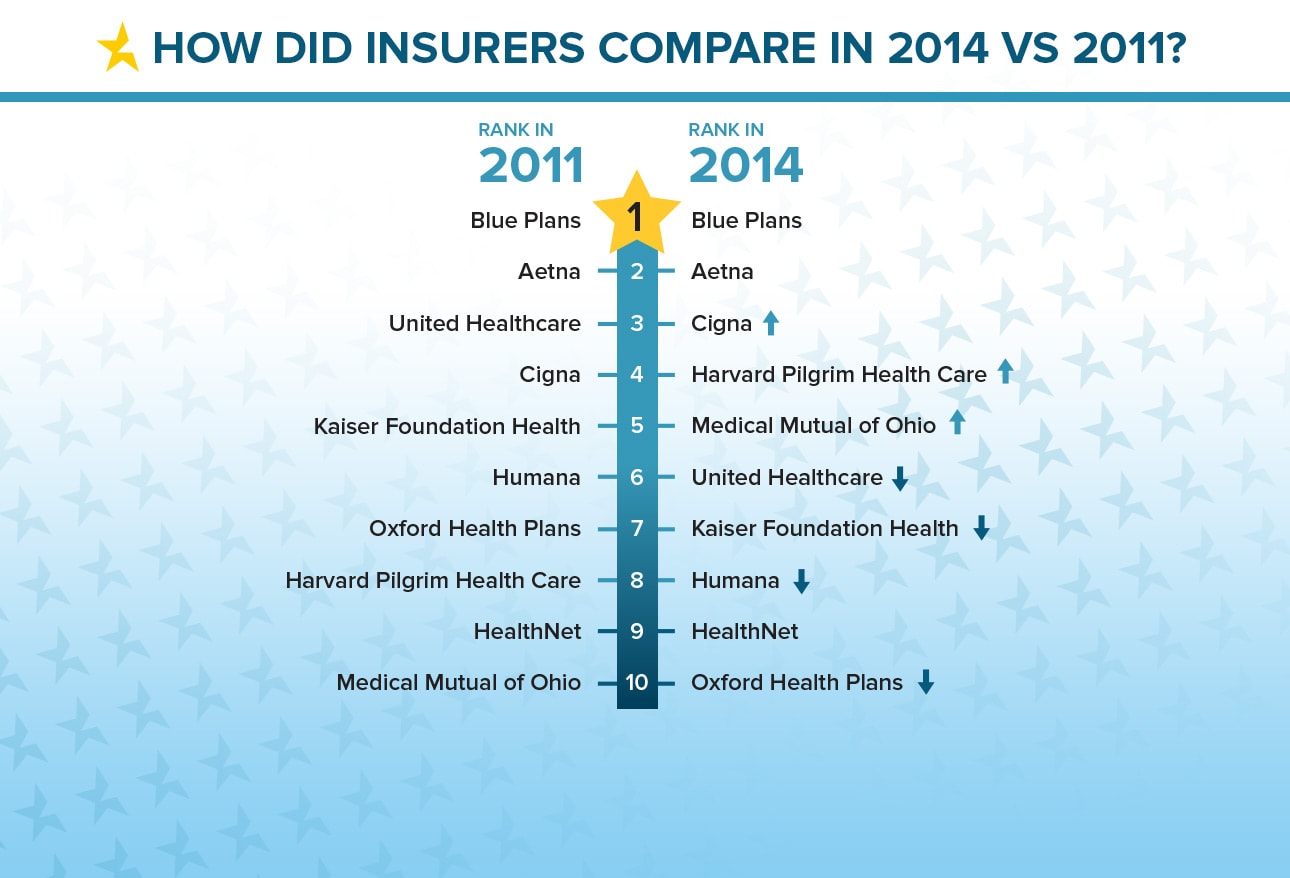 Blue Plans dominate in all US regions except the Northeast (where they come in second) and the West (where Aetna comes in first). Aetna places second in the other regions where it has members. It should be noted that even large insurers are not in every state, and each region of the country may be served by as many as 50 local insurers. Blue Shield and Blue Cross, in fact, comprise dozens of independent entities, which may be either for profit or nonprofit and are regulated very differently from state to state. Therefore, the percentages of physicians in this survey who rank the Blue Plans "good" to "very good" vary widely by state. In California, for example, only 25% of physicians rate them this positively compared with 67% in Illinois and 43% in Texas. By comparison, Aetna, a single corporation, had fairly consistent percentages across states of the highest ratings (34% in California, 35% in Florida, 37% in Illinois, 36% in New York, 35% in Texas). (Medicare and Medicaid were excluded from this question.)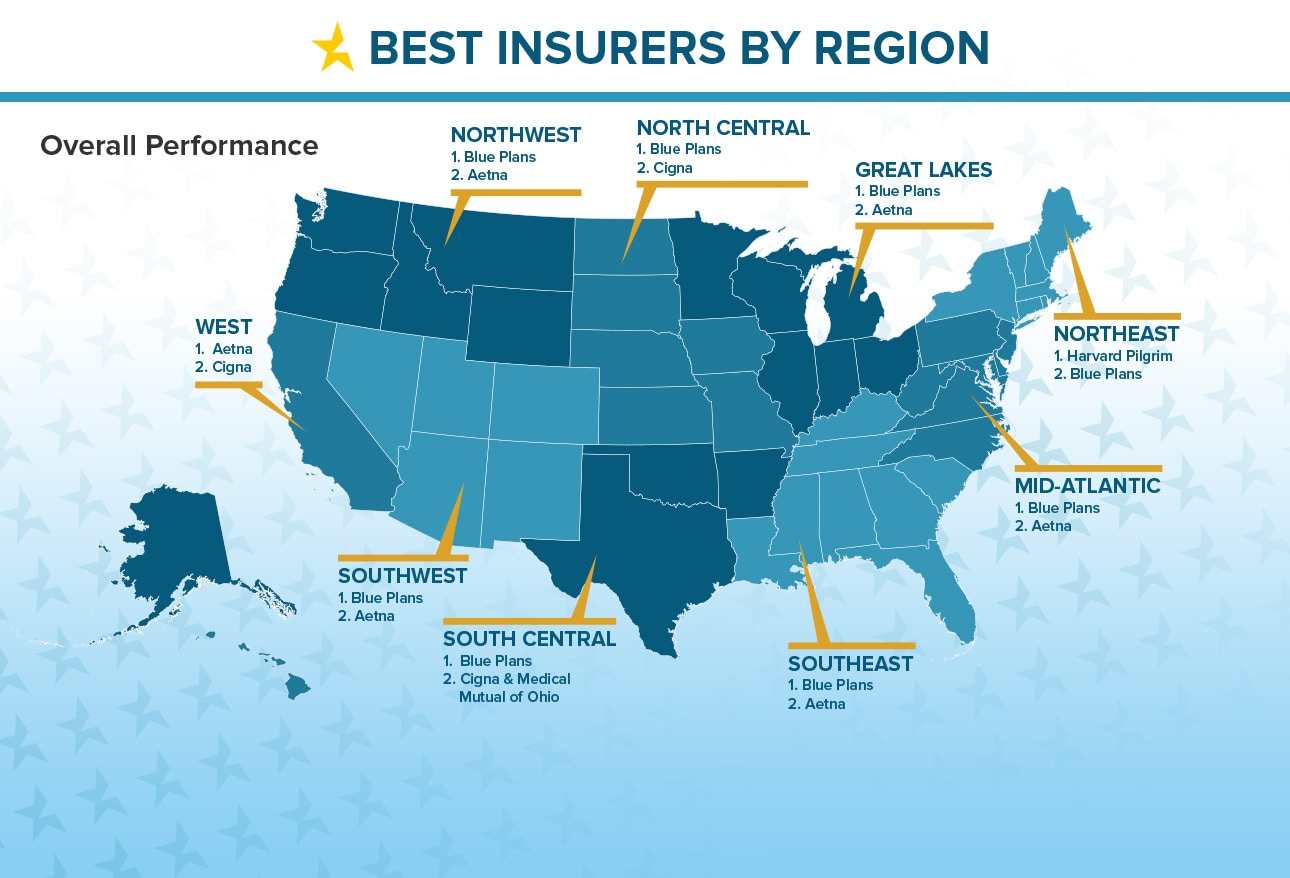 In 2011, the Blue Plans achieved the highest percentage (32%) for best payer, with United Healthcare a distant second (9%). In this year's survey, physicians were not asked who they thought was the best payer but to rank levels of reimbursement rates from 1 ("very poor") to 5 ("very good"). The responses were revealing. None came in above a 3. The Blue Plans ranked first again, but with only a 3.0 rating. Aetna was second at only 2.9. No great difference in rating could be observed in general. Medicare and Oxford pulled last at 2.5. The bottom line seems to be that no insurer reimburses at rates that physicians believe are very favorable.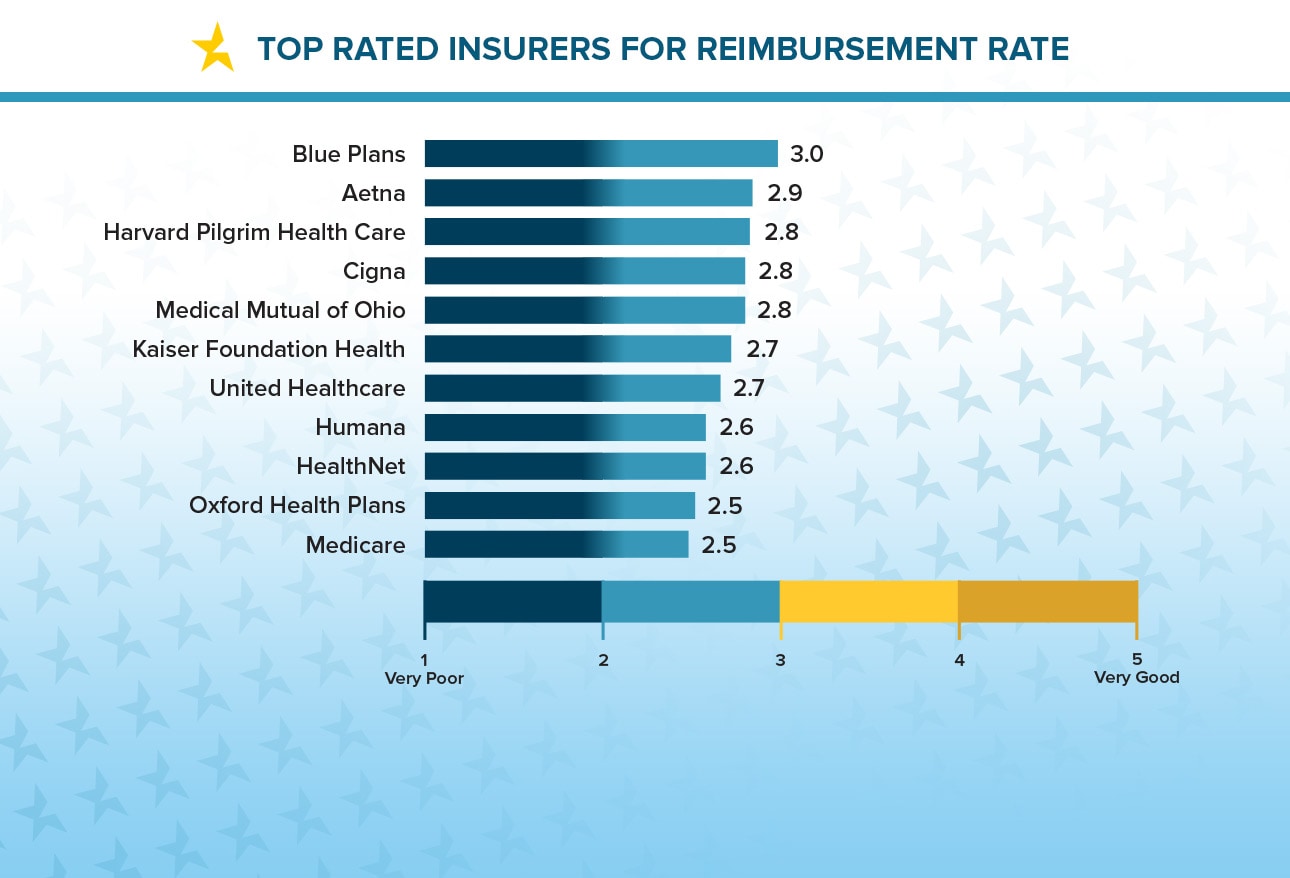 Ease of doing business was the second most important attribute for physicians. Blue Plans and Aetna led in this category, although with ratings of 3.2 and 3.1, respectively, they are both only slightly above average. Oxford and HealthNet were at the bottom of the pack at 2.8. Of interest, Medicare came in fourth at 3.1. When looking at how physicians viewed Medicare by state, results varied widely. Over 40% in Florida (43%) and New York (42%) rated it "good" to "very good," compared with only 23% in Texas. The relatively high marks for Medicare could change, as CMS has now proposed that in 2017, all physicians could be subject to its Medicare value-based payment modifier program.[4]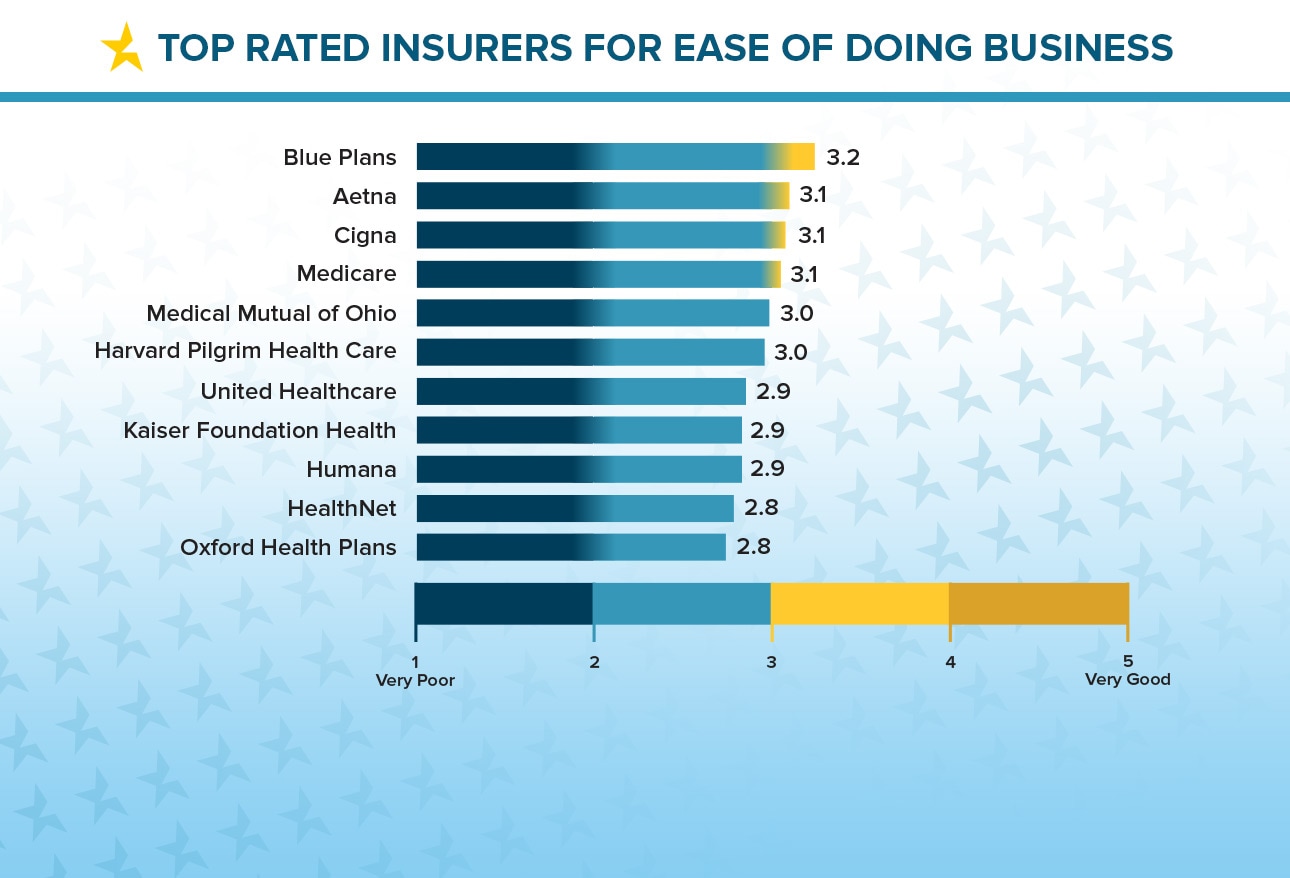 Physicians were asked to rate frequency of denials on a scale of 1 ("very poor," meaning frequent denials) to 5 ("very good," meaning infrequent denials). Contrary to what many people might believe, Medicare came in highest, with a rating of 3.2, followed by Blue Plans at 3.1. Humana fared worst in denials at 2.8, followed by Oxford (also 2.8). No insurer scored a 4 or over in the category of frequency of denials. When physicians were asked about their worst experiences with insurers, denial of claims was the most frequently and intensively described. One internist who responded to this survey said that his insurer denied over 20 claims every month for pre-existing conditions and retracted more than 20 payments per month for claims processed more than a year before.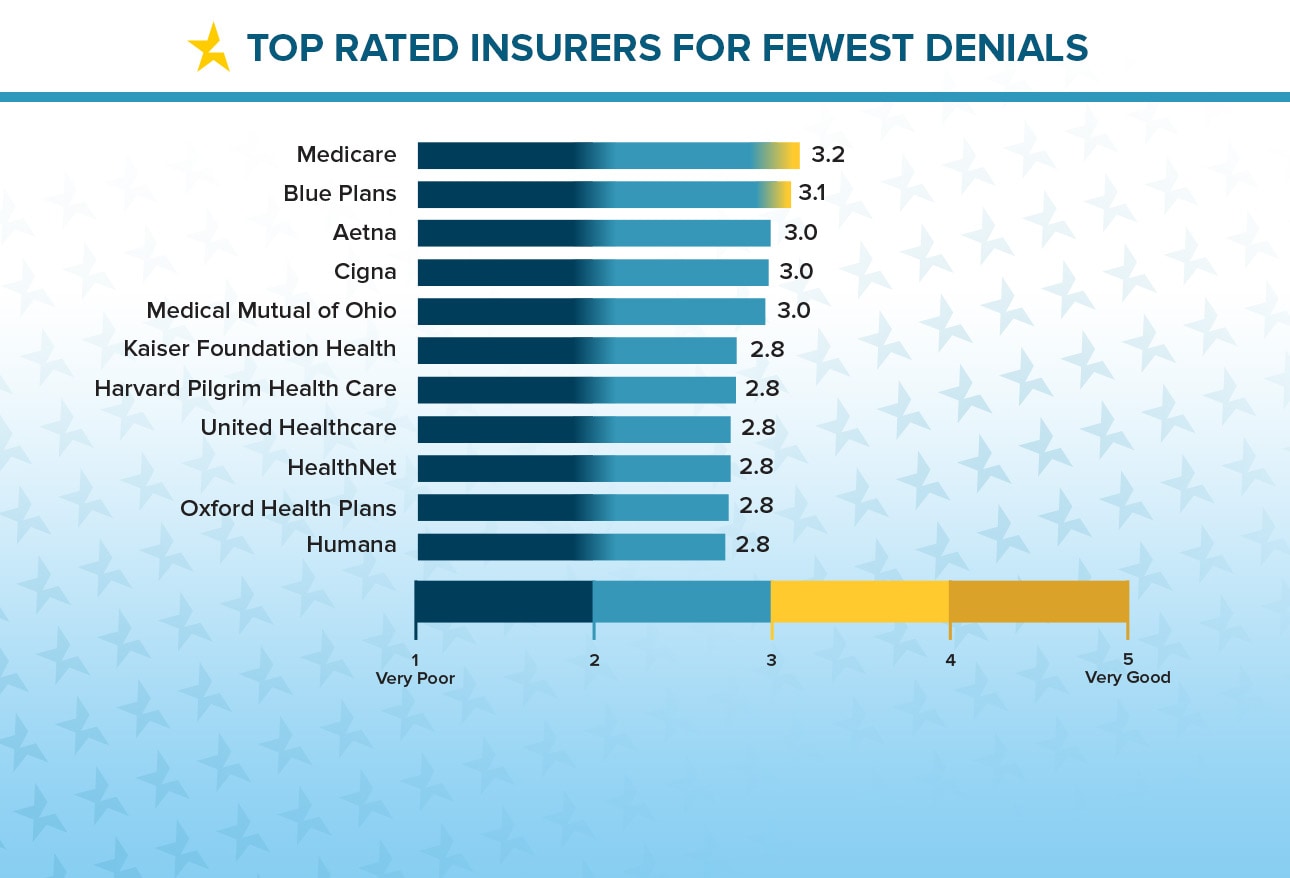 Blue Plans came out on top for being willing to reevaluate denied claims, with a rating of 3.1. Again, neither this rating nor any of others were very strong, nor was there much difference among them. Cigna, Aetna, and Medicare followed closely at 2.9. Oxford and Humana rated the worst at 2.7.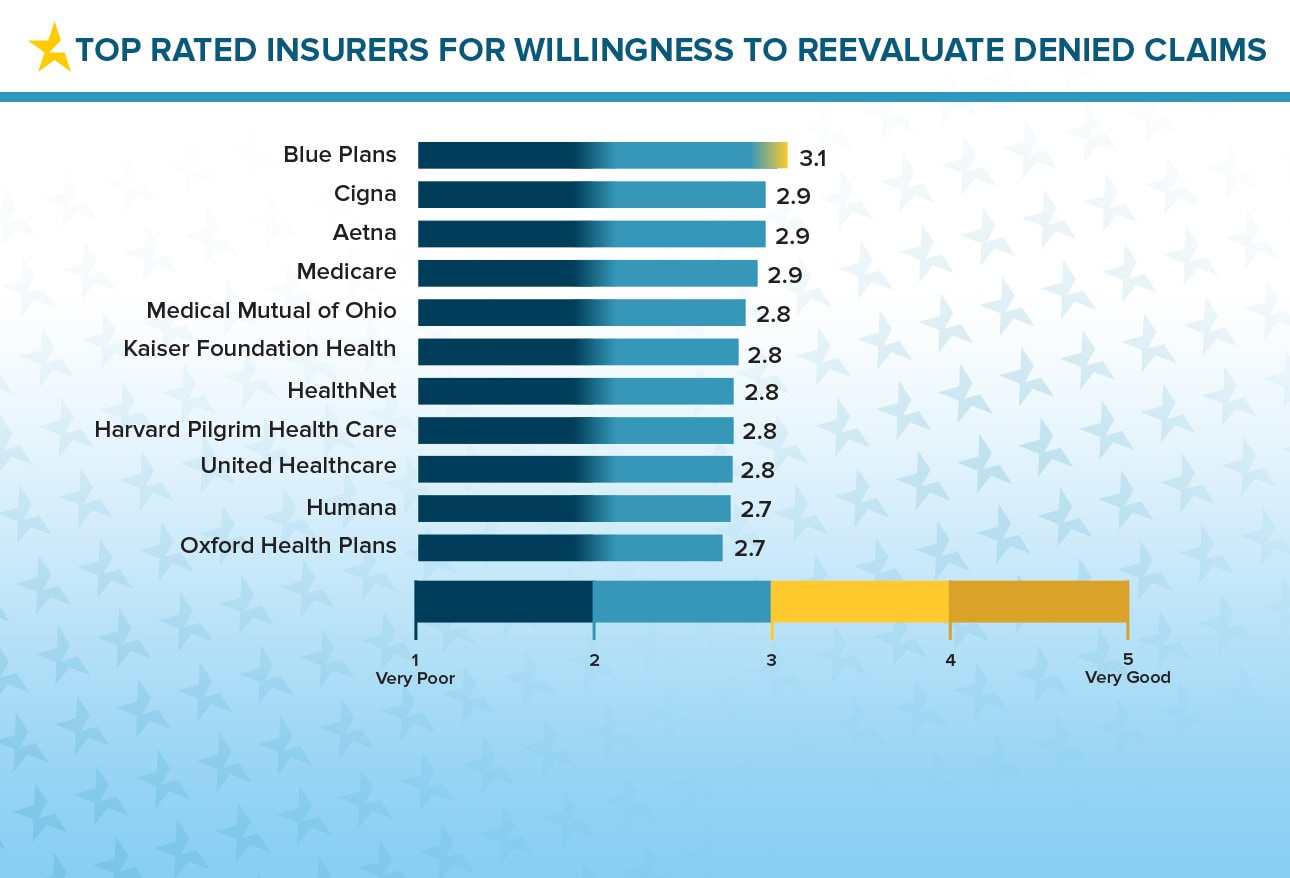 Blue Plans ranked in first place for speed of payments at 3.4. Perhaps surprising to some, Medicare came in second at 3.3. Kaiser and Oxford, at 2.9, were at the bottom.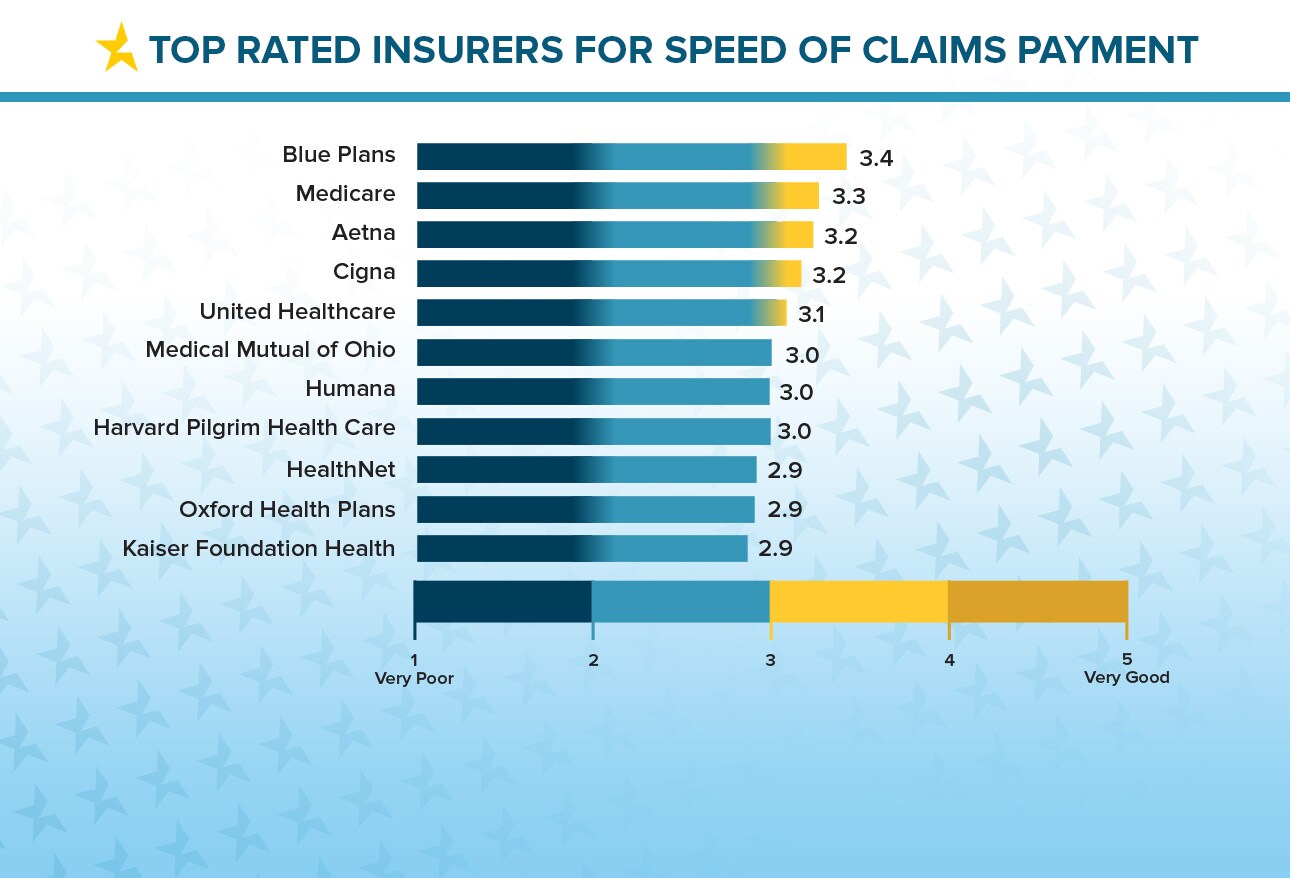 Consistent with the rankings of most of the other insurer qualities, no organization came in much above average for accuracy and speed of responses to questions. Blue Plans and Aetna came in first (3.1) and Oxford and Medicare polled last at 2.8. Many physicians offered comments about spending hours on the phone trying to clear up issues mostly pertaining to reimbursement and denial of claims. Here, no insurers—private or public—were spared.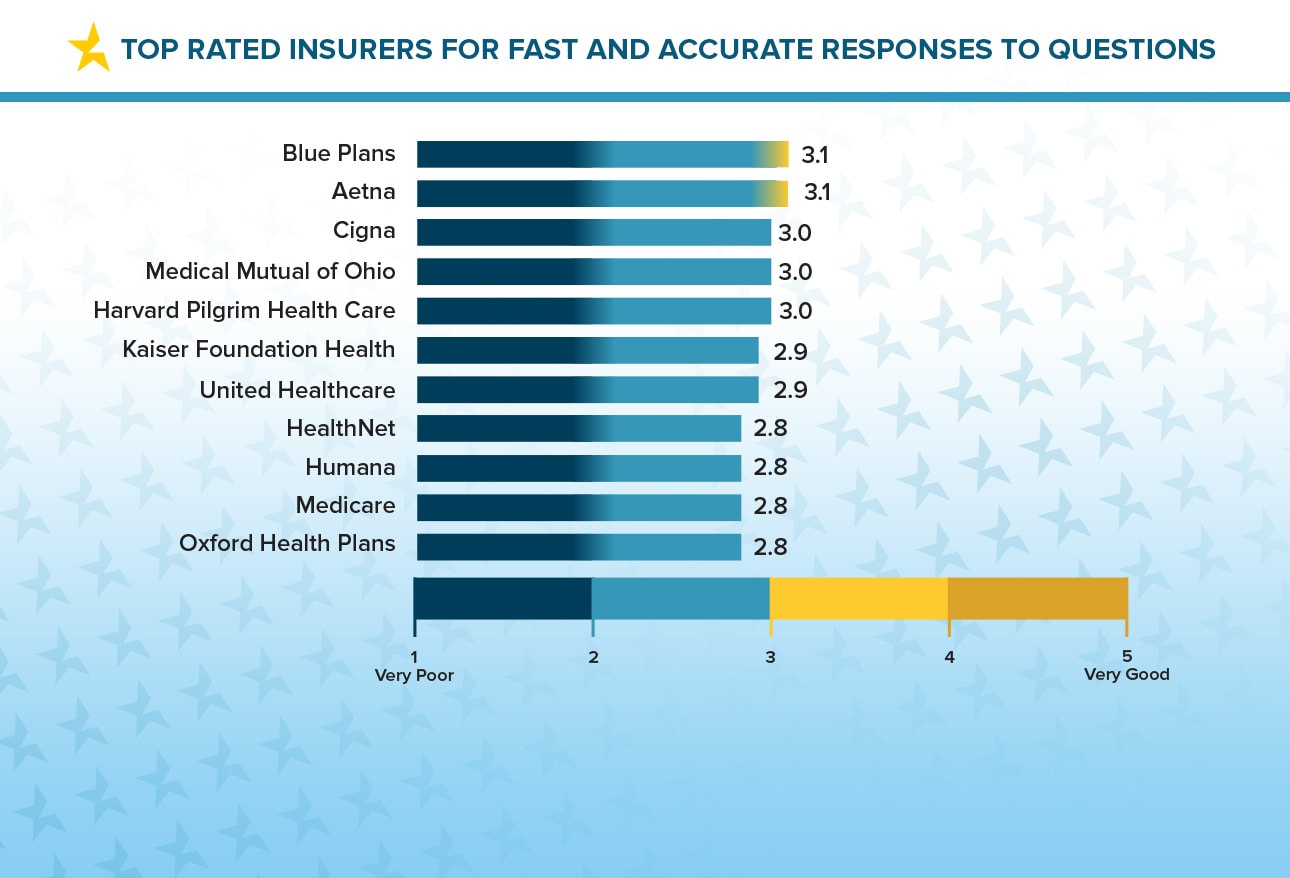 Of interest, Medicare, at 3.3, took the lead for this category, followed by Blue Plans. As with other poll questions on insurer qualities, the responses varied by state. For example, 60% of Florida physicians and 55% of New York physicians rated Medicare "good" to "very good," but only 34% of Texas physicians gave these ratings. And for the Blue Plans, only 28% of California physicians believe that they are "good" to "very good" regarding precertification and preapproval, compared with 51% of Illinois physicians.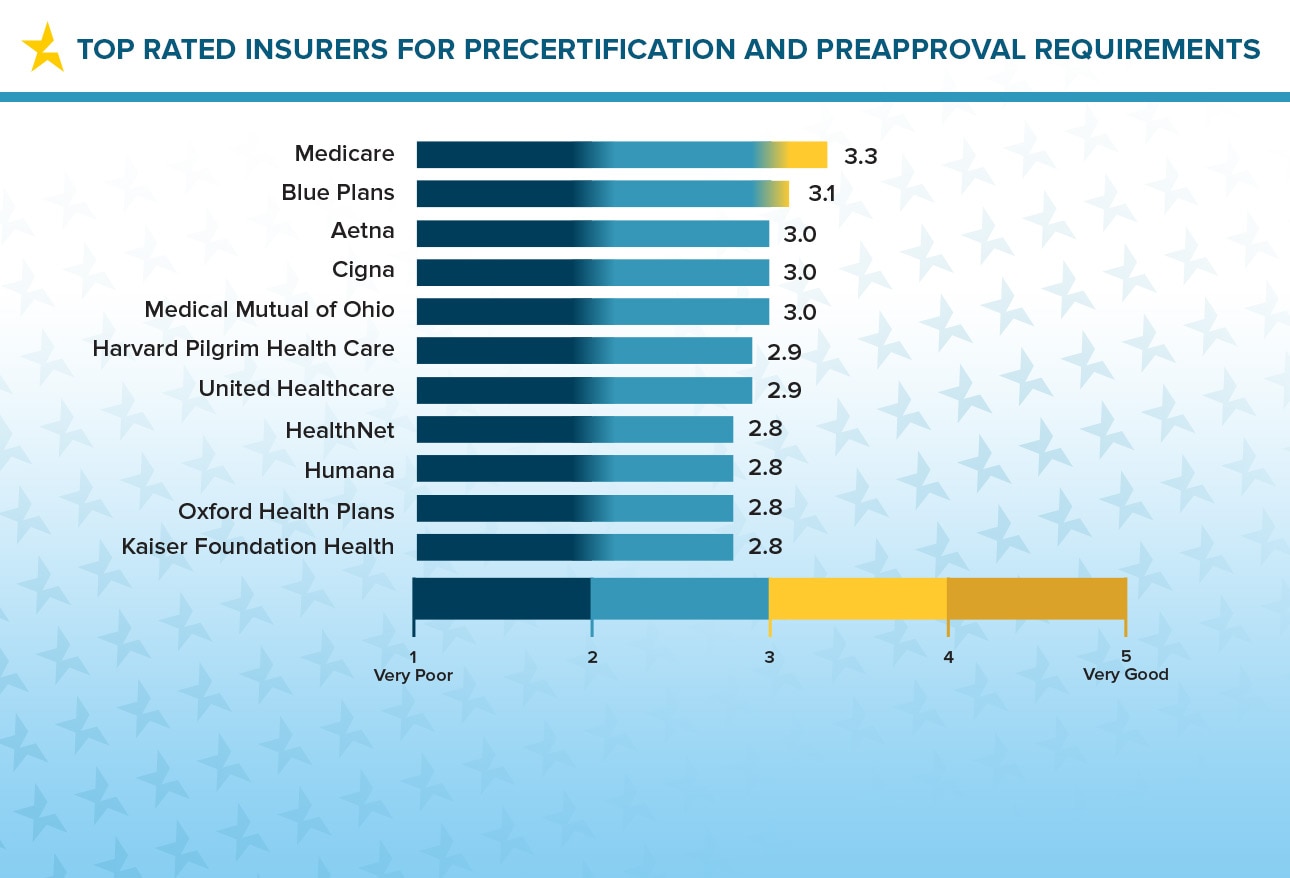 Physicians were asked to rank their top three insurers in terms of patient visits. Sixty-five percent of physicians ranked Blue Plans highest, with a steep drop to second place for United Healthcare (18%), followed by Medical Mutual of Ohio (15%). It should be noted that Blue Plans cover over 105 million patients, so their dominance in this category is not surprising. (Medicare and Medicaid were excluded from this question.)[5]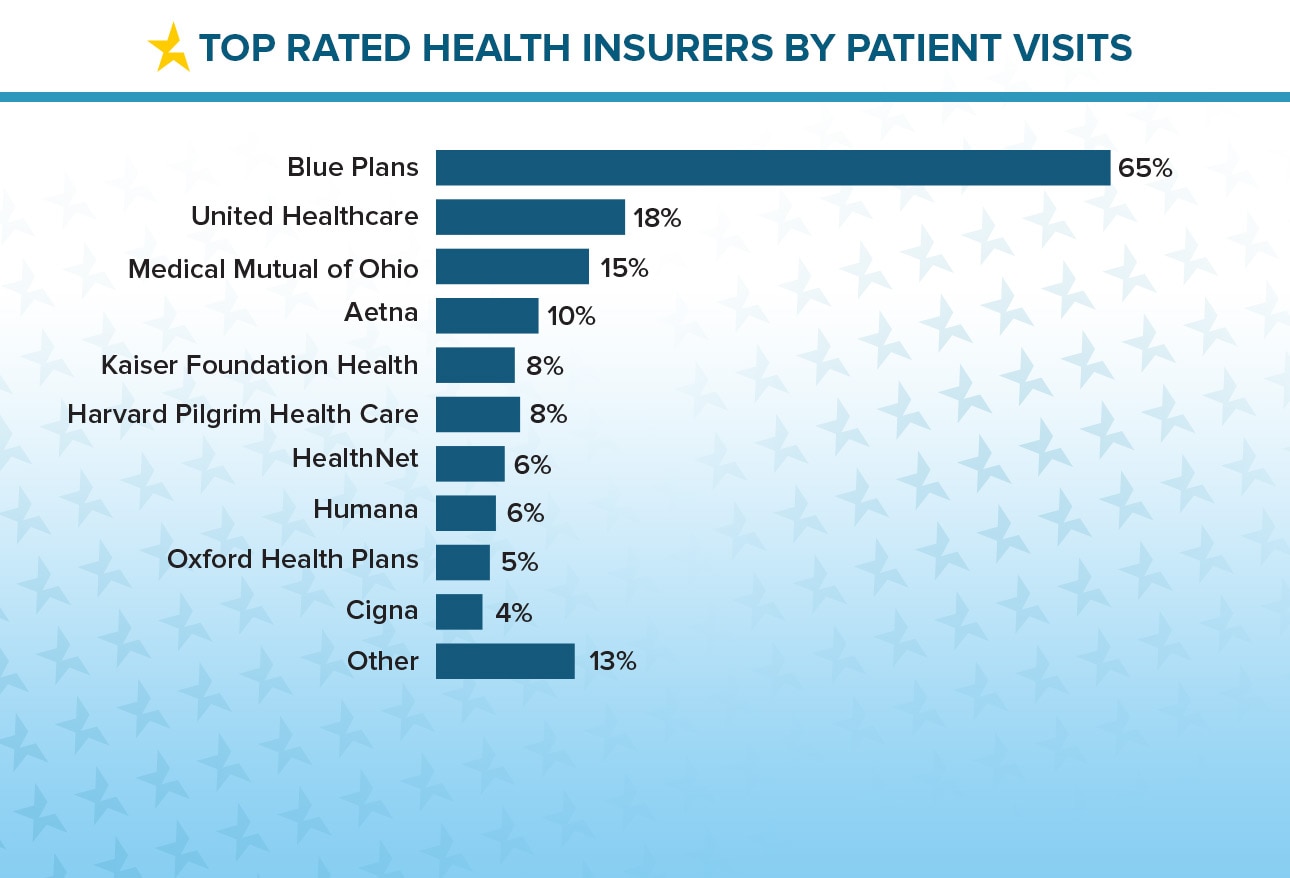 Physicians were also asked to rate their top three insurers by the amount of money they collected. As would be expected, the amount of money correlated with the number of patient visits. Blue Plans, at 60%, scored the top spot, with United Healthcare at a distant second (16%) and Medical Mutual of Ohio in third place (15%). At this time, according to a survey from Catalyst for Payment Reform,[1] 71% of dollars paid by insurers are to specialists and 29% go to PCPs.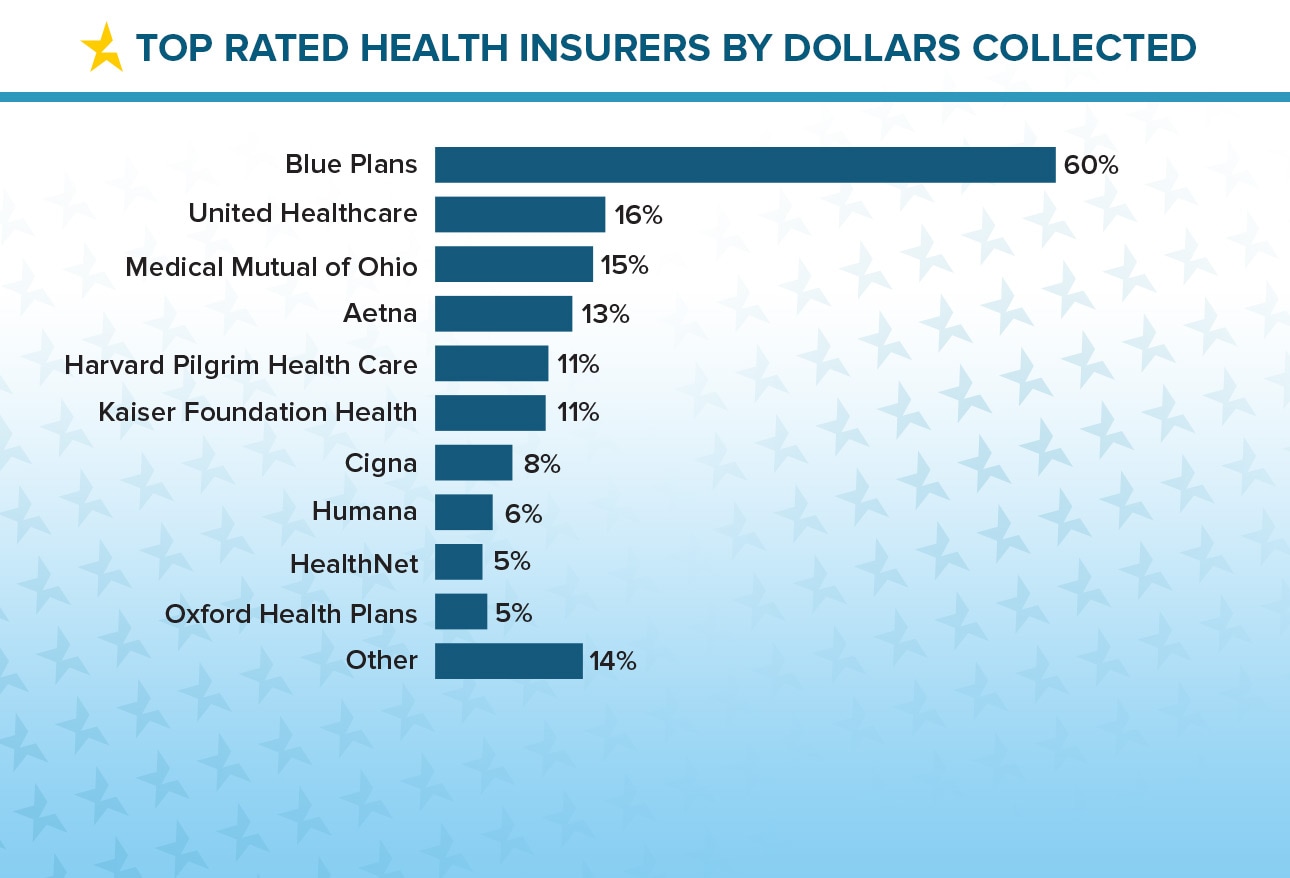 Slides 16 and 17 show the top rated insurers by specialty. The rating scale was 1 ("very poor") to 5 ("very good"). Only Harvard Pilgrim and Kaiser achieved a 4 (in critical care and emergency medicine, respectively). In fact, regional plans (including the individual Blue Plans) were in the top two of all specialties except plastic surgery. Among rheumatologists, Aetna, in second place, rated only 2.9, and among orthopedists, Humana scored a 2.8.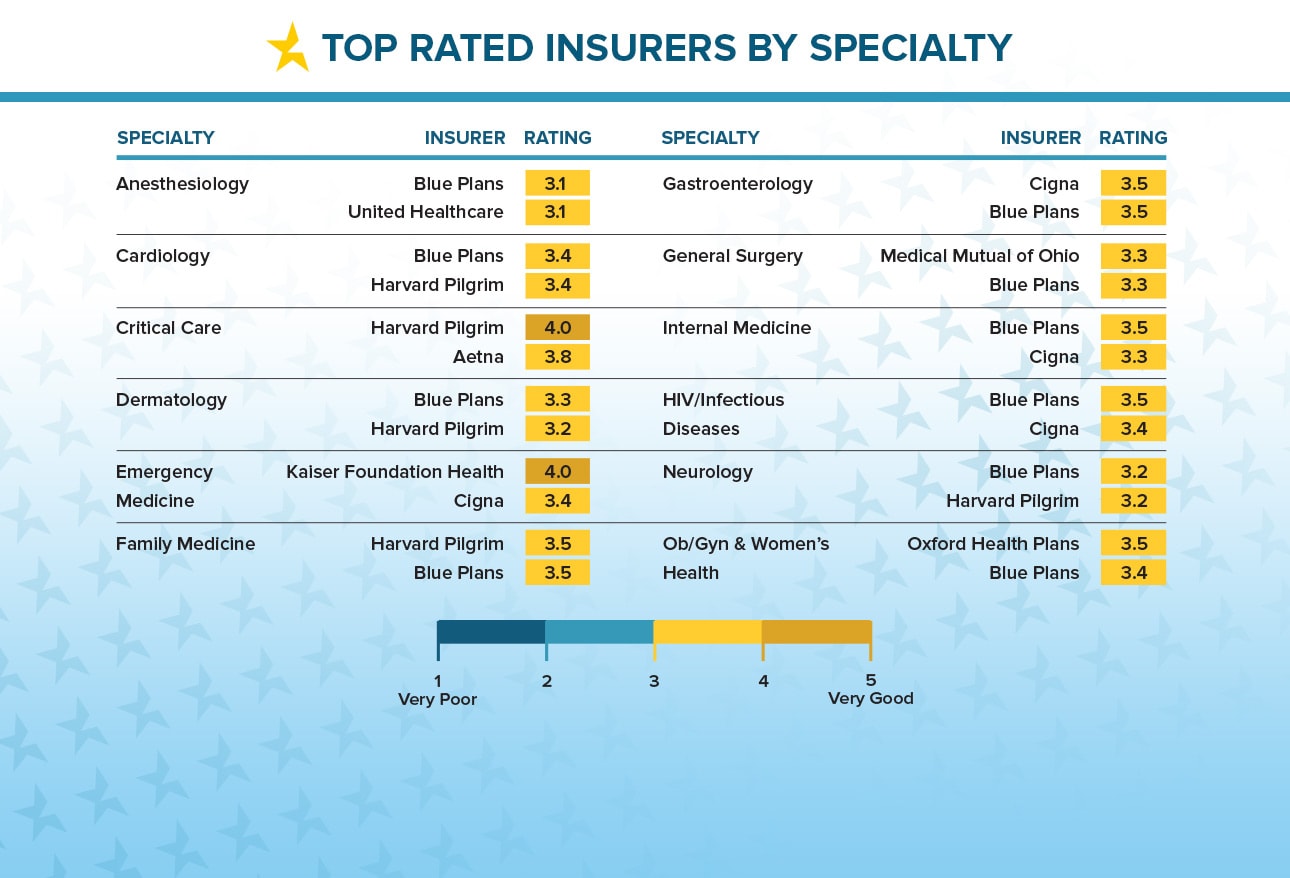 In 2014, the National Committee for Quality of Insurance ranked 1400 insurance plans by consumer satisfaction, prevention, and treatment.[6] Regional plans placed in the top 50 spots. Harvard Pilgrim plans came in second, third, and fourth. Individual plans from the big insurers Cigna and Aetna didn't appear until #51 (a Cigna plan) and #69 (an Aetna plan).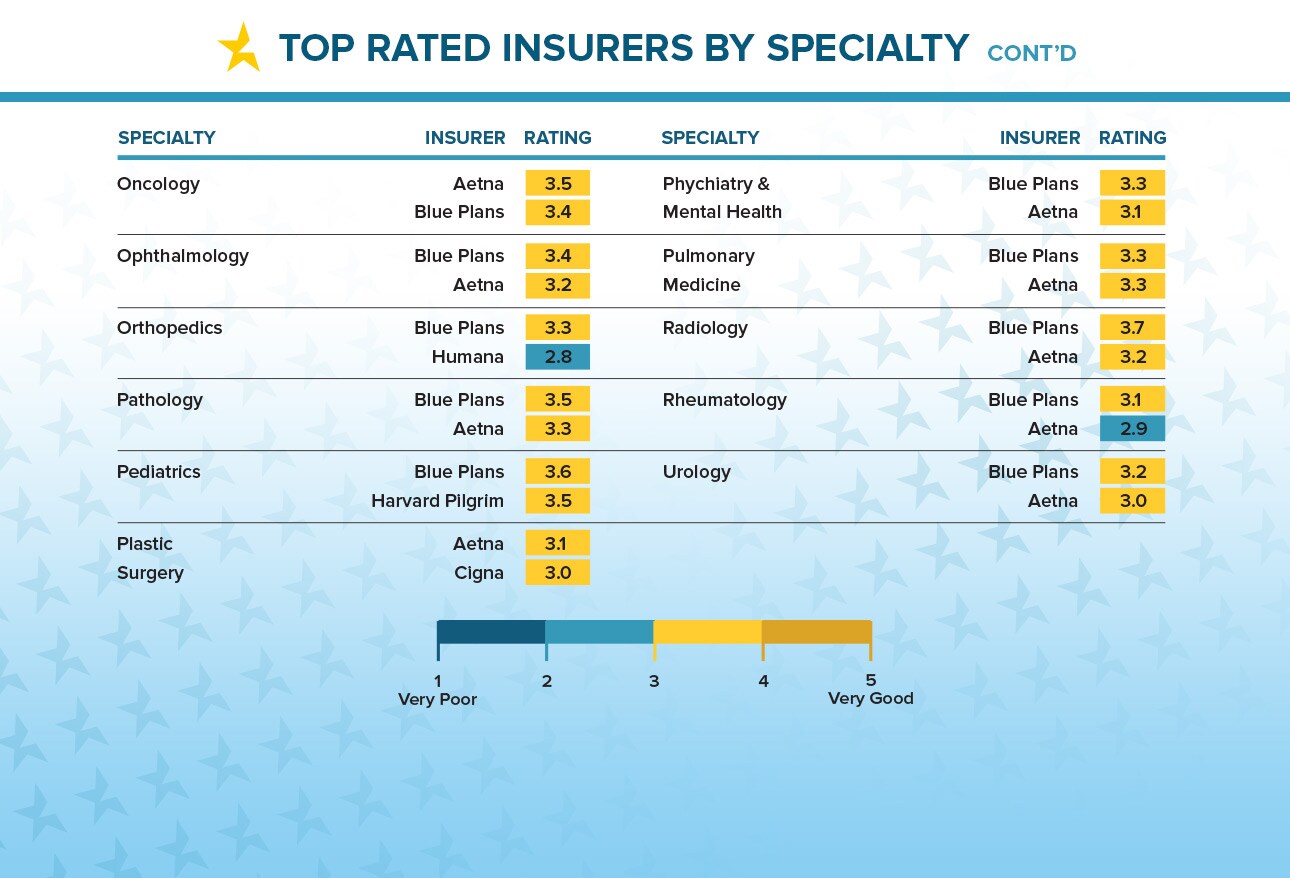 Blue Plans won out on the average reimbursement rate, with nearly half (46%) of physicians reporting payments worth 106% or more of Medicare rates. About a third of physicians reported insurers paying amounts equal to or only slightly more than Medicare reimbursements.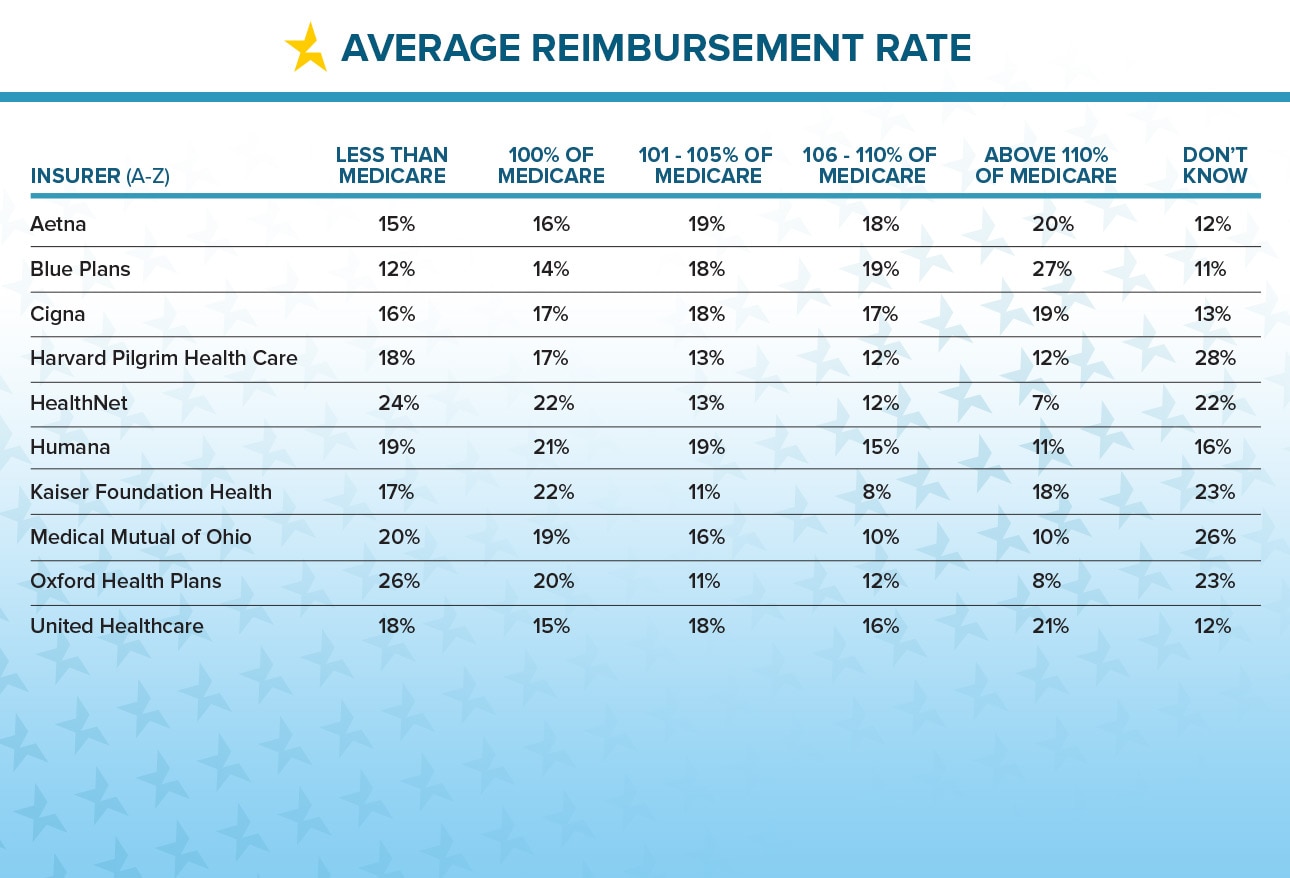 Current procedural terminology (CPT) codes were developed by the American Medical Association (AMA) and were first published in 1966. To be reimbursed for a new patient visit (99203), three components are required: a detailed history, a detailed examination, and medical decision-making of low complexity. The AMA anticipates that a physician will spend 30 minutes with a new patient.[7] Almost a quarter of physicians (23%) who answered this question reported getting less than $75 for a new visit. About a third (35%) received between $76 and $100 per visit, and 42% were reimbursed for more than this amount. (Of note, Medicare and Medicaid were not included in the insurer options for this slide.)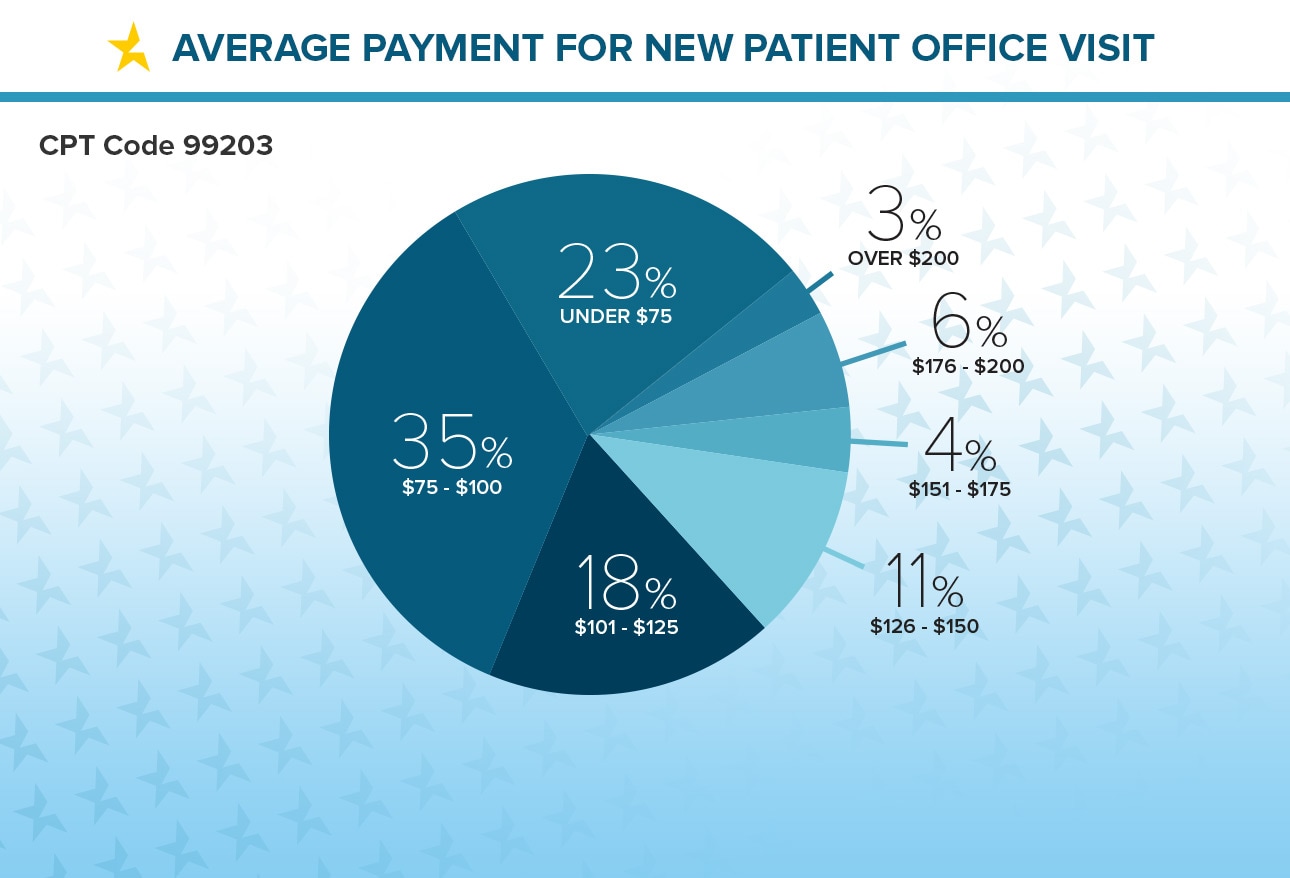 The criterion for CPT code 99213 is that the office visit be for the evaluation and management of an established patient, which requires two of three key components: an expanded problem-focused history, an expanded problem-focused examination, and medical decision-making of low complexity. The physician is expected to spend only 15 minutes with such patients.[8] Nearly two thirds (62%) of physicians answering this question are reimbursed $74 or less for this visit, with 15% receiving less than $40. (Medicare and Medicaid were not included in the insurer options for this slide.)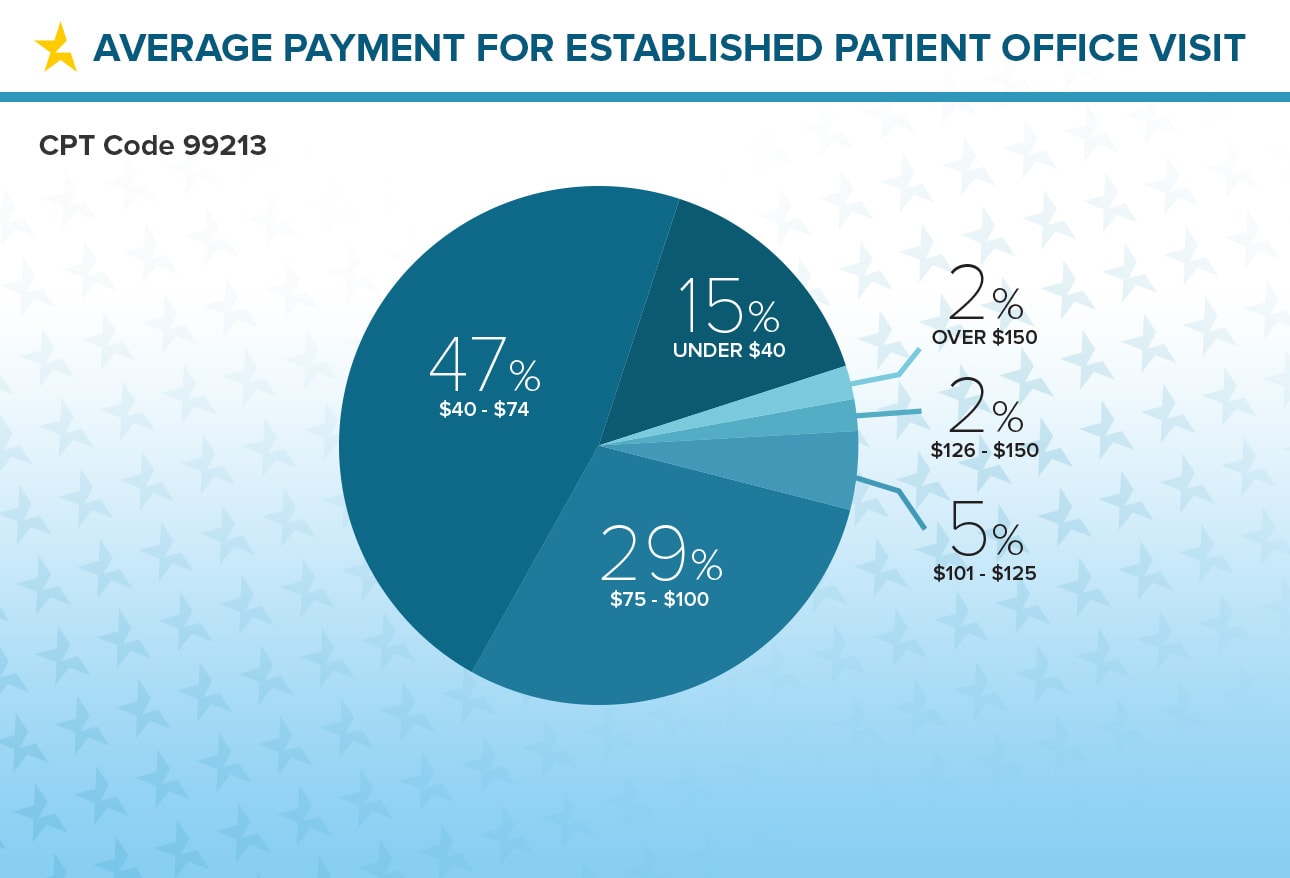 Billing for initial hospital care (CPT code 99223) requires these three key components: a comprehensive history, a comprehensive examination, and medical decision-making of high complexity. Physicians typically spend 70 minutes at the bedside and on the patient's hospital floor or unit.[9] Sixty-one percent of those who answered this question received under $150, with about a quarter (24%) reimbursed between $150 and $200. (Medicare and Medicaid were not included in the insurer options for this slide.)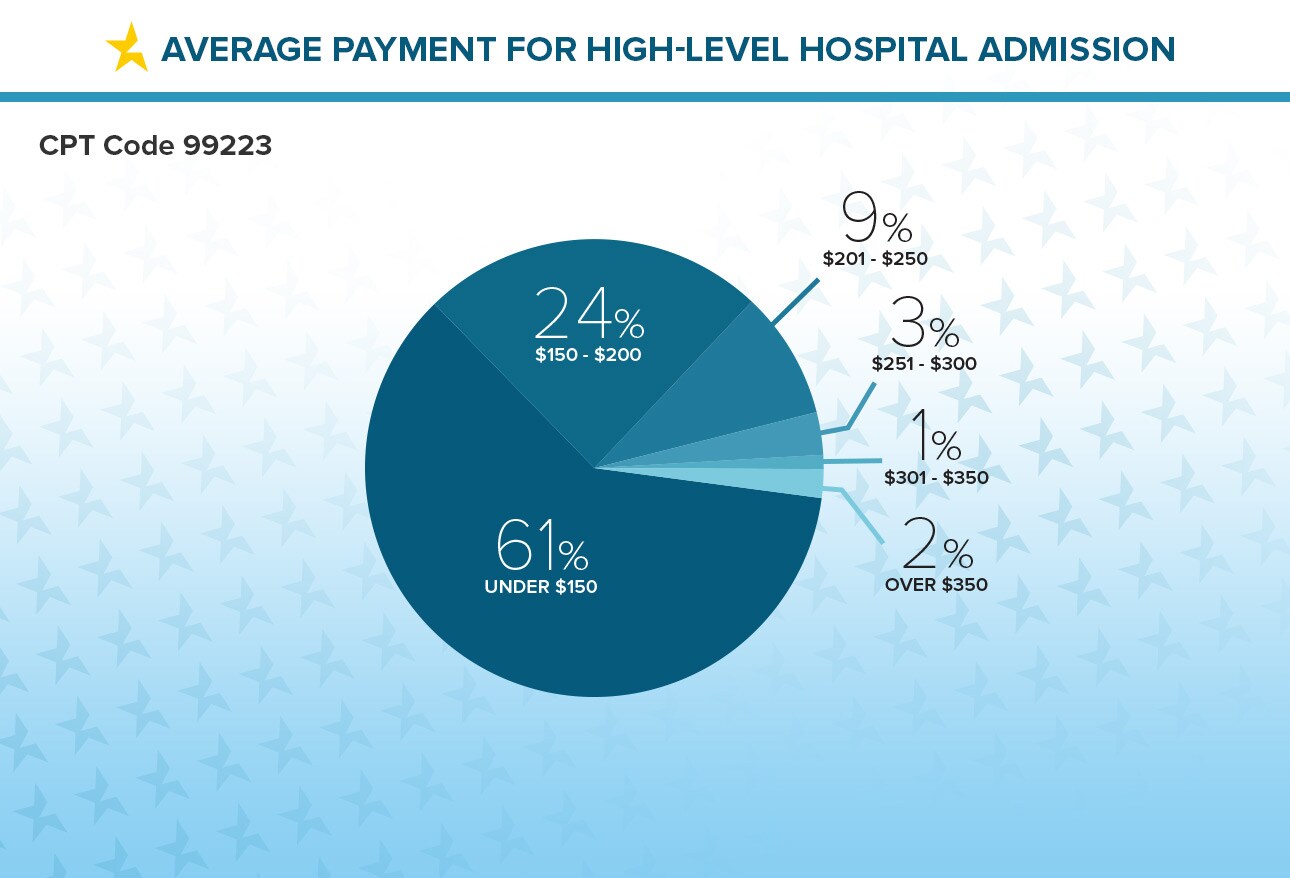 Among the private insurers listed in this report, Blue Plans and Cigna paid the highest ($100) for a new outpatient visit (CPT code 99203), followed very closely by Aetna ($99). Kaiser Foundation Health paid the least at $75. For an established patient visit (99213), Blue Plans led at $65, with Aetna and Cigna following at $63. Kaiser was at the bottom of the list at $49. Blue plans also paid the most ($120) for high-level hospital admissions (99223) and Kaiser paid the least ($98). Although not on this chart, according to the CMS physician fee schedule search, the Medicare 2014 national rate for these codes are: $108 (99203), $73 (99213), and $204 (99223), which are all higher than those reported for private insurers.[10]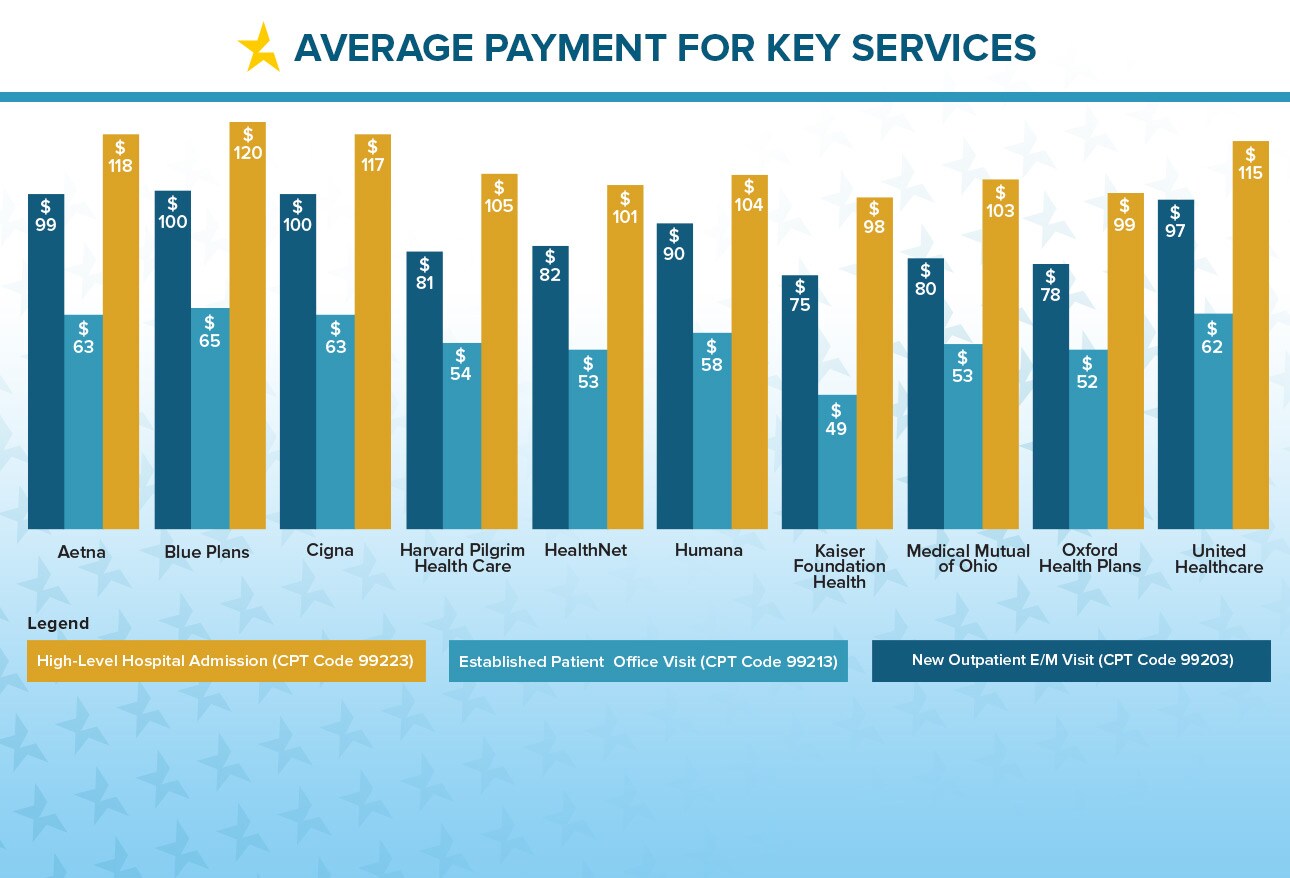 The majority of physicians (58%) accept 10 or fewer insurers, with 42% dealing with 11 or more.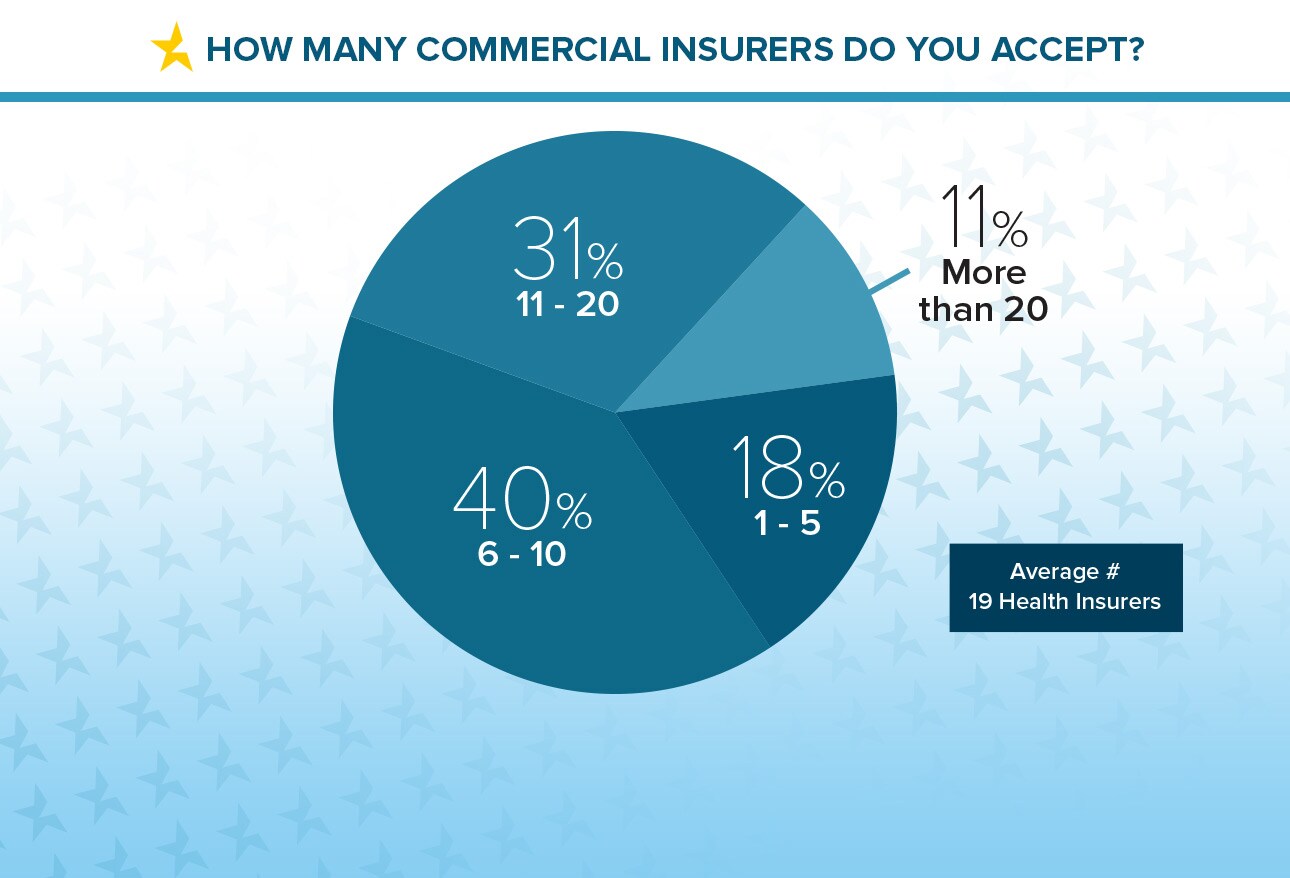 Most physicians take Medicare (84%), with fewer taking Medicaid (65%). Only 5% of physicians have dropped Medicare within the past 2 years, although 12% are planning to this year. More troublesome, considering the growing elderly population and the increase in Medicaid patients due to ACA reforms, is that 12% of physicians have dropped Medicaid patients and 21% are planning to in 2015.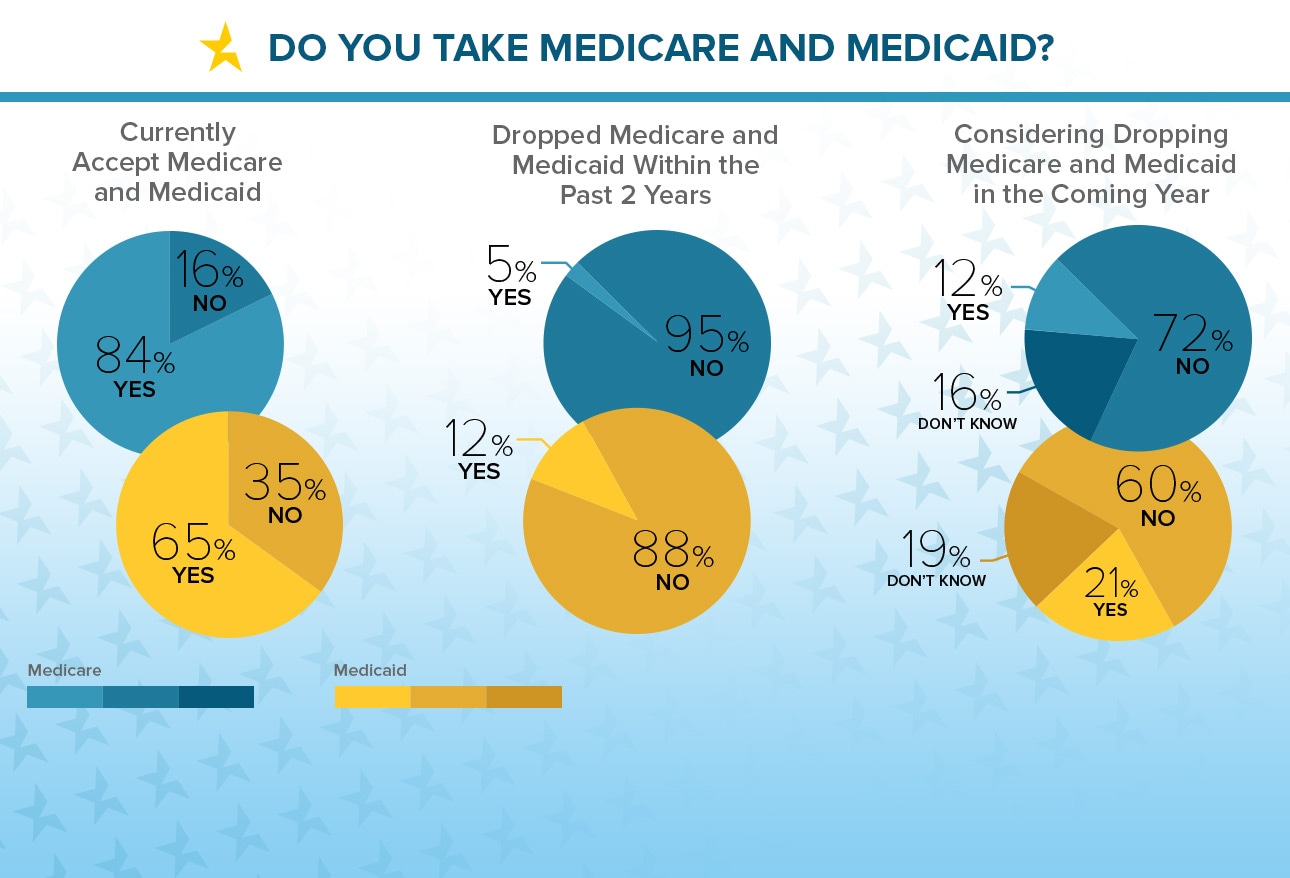 It is estimated that at least 7.9 million more people were covered by Medicaid as of July 2014 compared with the same period in 2013.[11] About a third (34%) of physicians who responded to the survey report an increase in Medicaid patients and 38% say the percentage has stayed the same since the institution of the health insurance marketplace. Ten percent of physicians report a decrease in Medicaid patients, with 17% having opted out of Medicaid since the start of the year. In 2013 and 2014, Medicaid rates were increased for primary care physicians to match Medicare rates. However, it is not known whether this attracted more physicians, and this raise may not be sustained in most states after this year.[12]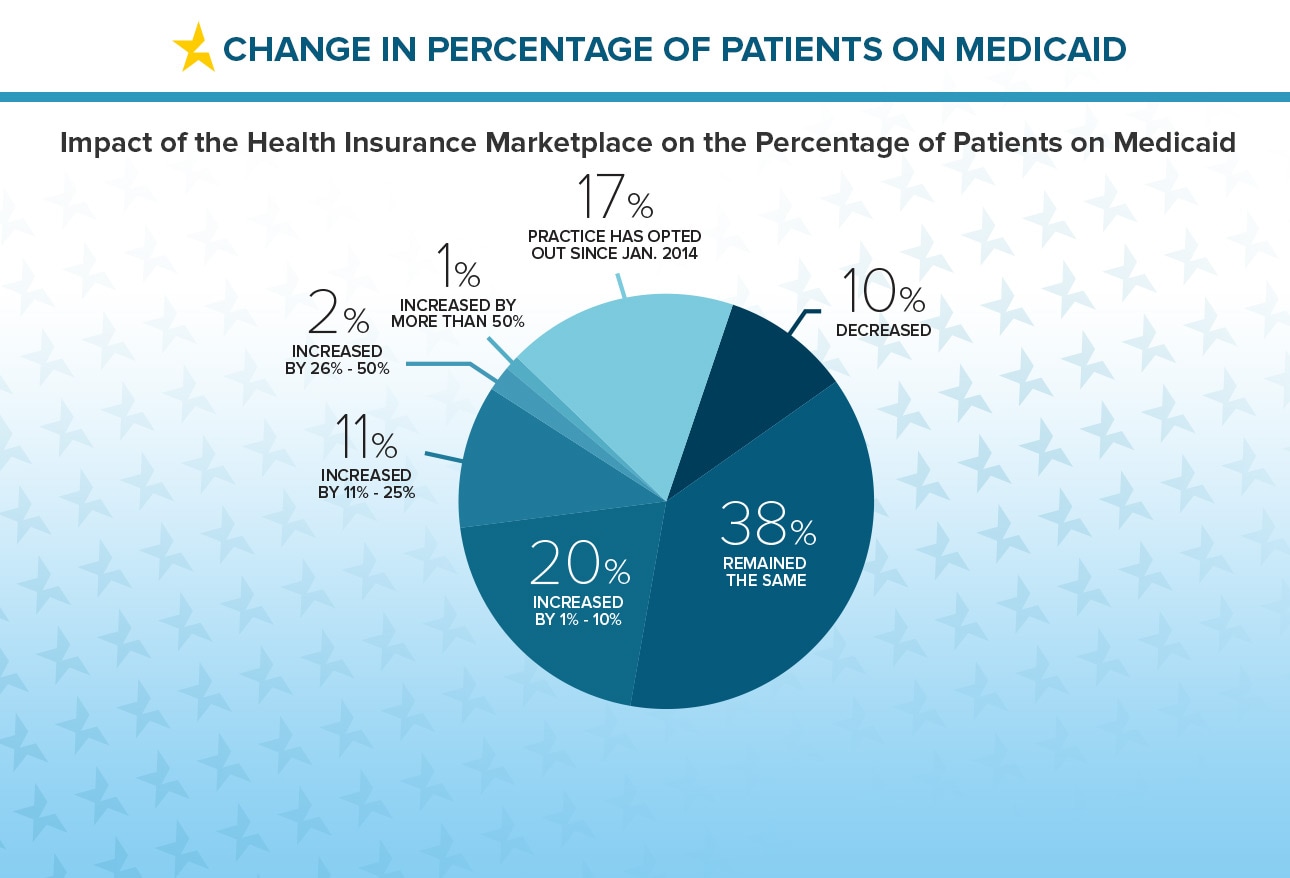 At this time, physicians report that slightly over a third (36%) of their patients are covered through the health insurance exchange plans. Since the implementation of the ACA, more than 7.3 million people purchased health plans through the insurance exchanges and nearly 8 million low-income people enrolled in Medicaid. However, 30 to 40 million people remain uninsured.[13] According to a recent brief from the HHS Office of the Assistant Secretary for Planning and Evaluation, in 2014, 191 organizations issued insurance under the federal exchange plans and 61 under the state plans; HHS anticipates a 25% increase of insurers for these plans in 2015.[14]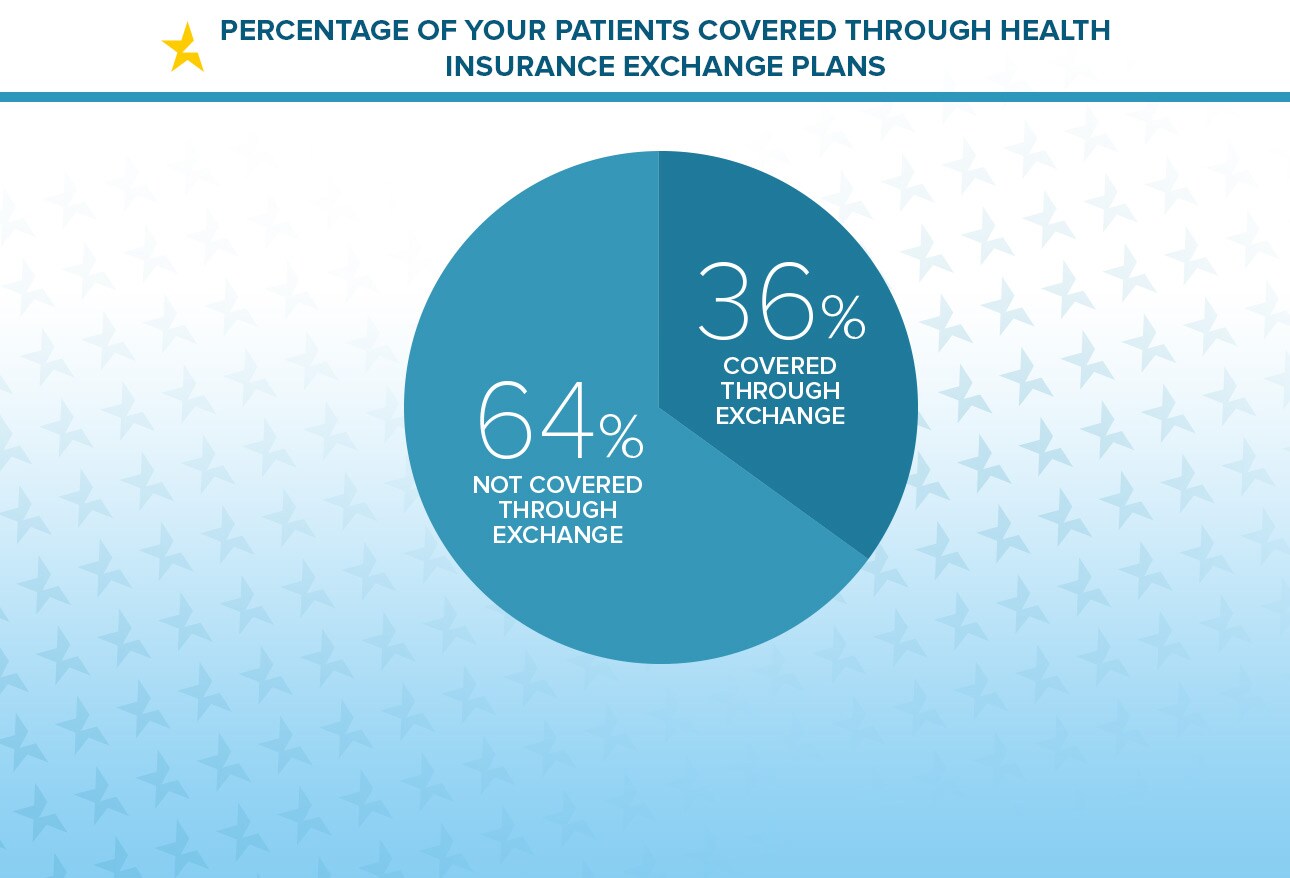 Of patients who are in the health insurance exchange, slightly over a third (36%) are enrolled in the bronze plan, about a quarter (24%) are in the silver plan, and 27% are in either the gold or platinum plan. For most patients, the bronze plan appears to be the most cost-effective option.[17]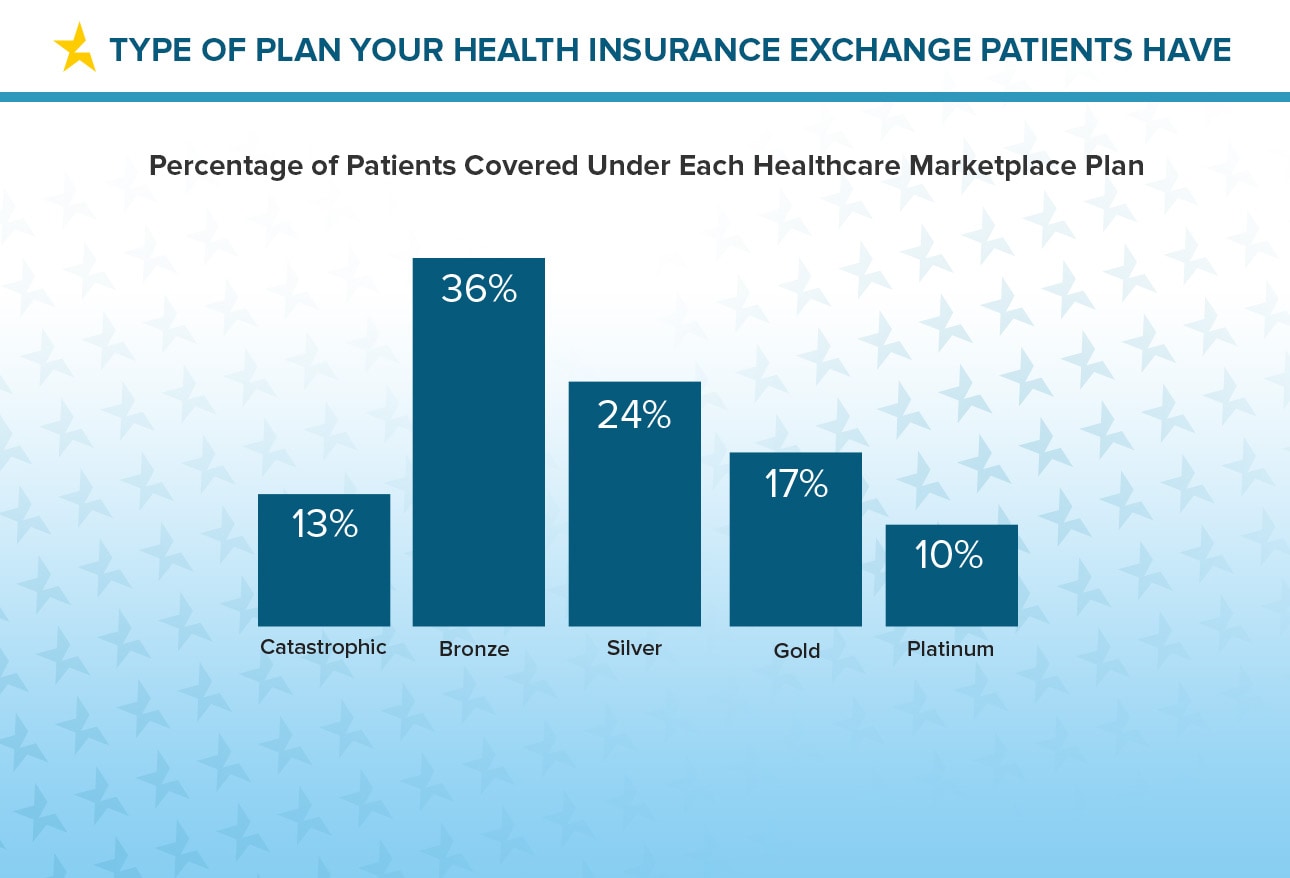 Two thirds of physicians report having problems with health insurance exchange plans, with 29% saying they have "lots of problems." As physicians appear to have difficulties with all insurers, it isn't clear how much worse health insurance exchange plans are, or whether they even are worse compared with others. It is clear, however, that enrollment-related computer systems still need fixing[18,19] and that low reimbursement rates are a concern as insurers compete for lower costs.[20] Of particular note is the rise in narrow provider networks, where providers have been dropped from plans presumably to improve quality and lower costs, but often the reasons are opaque and the results lead to less access to care.[21]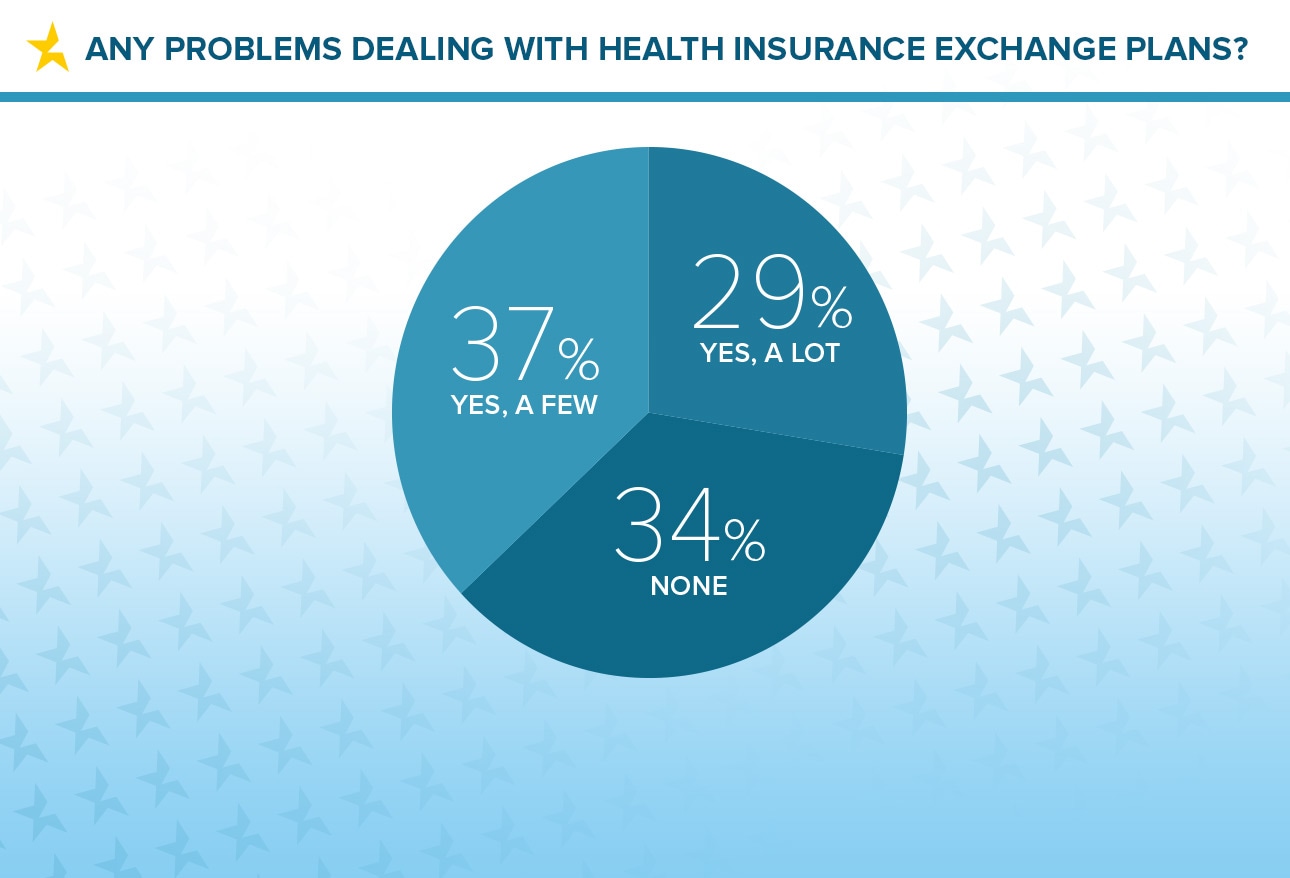 About a third of employed physicians (32%) report an increase in patient volume since the introduction of the health insurance marketplace. A 2014 study that looked at practice data found no difference in new-patient visits between states with high enrollments in the ACA exchange plan and those with low enrollments during the first 5 months. Nor was there an increase in the intensity of services provided or in the percentage of patients with chronic diseases. There are several possible reasons for this, including the slow start-up.[22]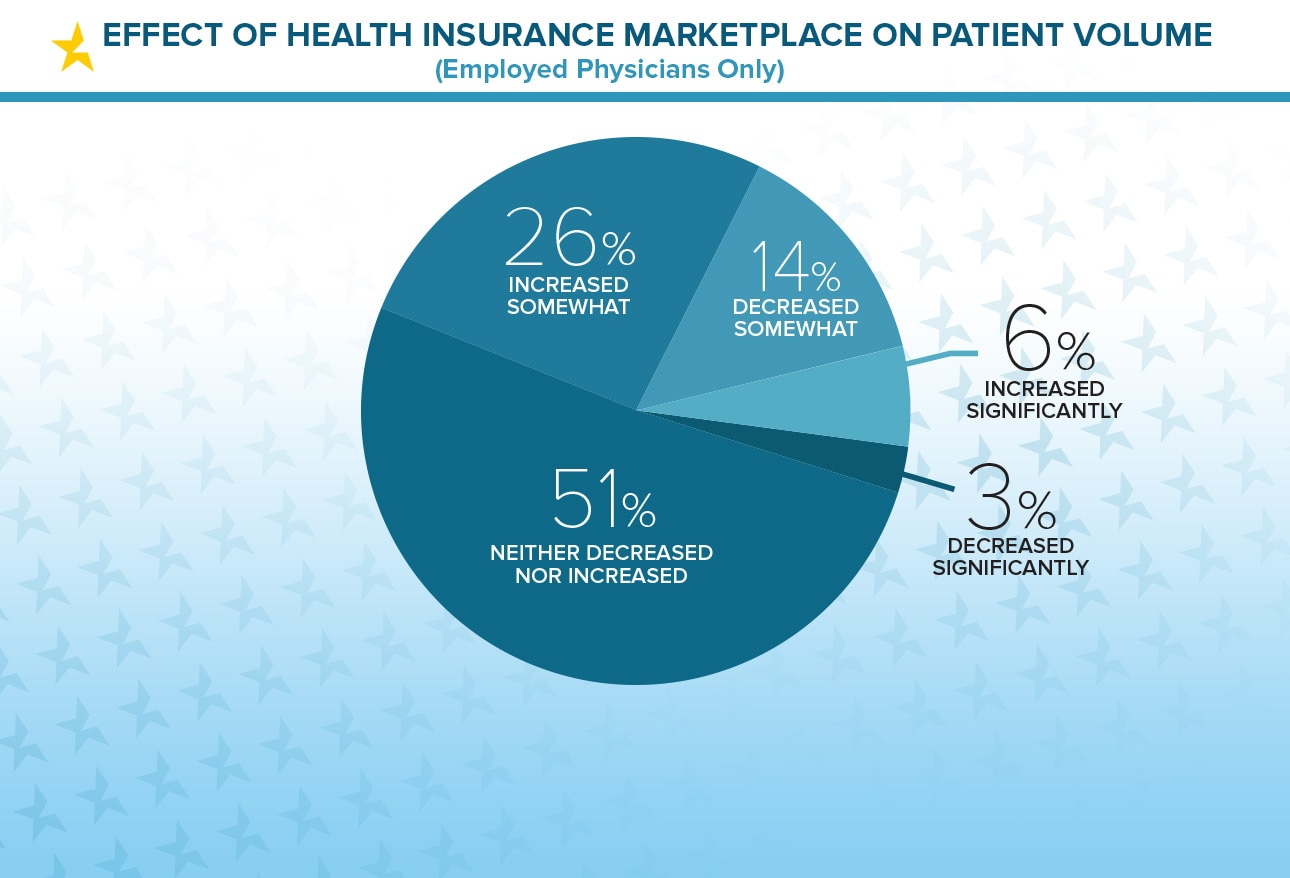 According to employed physicians, a third (33%) have experienced a decrease in their practice income since the advent of the health insurance marketplace, with only 13% reporting an increase. For about half (53%), incomes have remained the same. Of interest, in the 2014 Medscape Physician Compensation Report, published in April, 43% of physicians expected their income to decrease under the insurance exchanges.